Country Number One Format for Eight Straight Year
| | |
| --- | --- |
| RADIO ONLINE | Thursday, July 6, 2017 | 0:39am CT | |
Nielsen's recently released "Audio Today Report" took stock of the top radio formats in America last year, and for the eighth consecutive year, Country came out on top when ranked by share of total listening. According to its analysis, 13.6% of all radio listening in the U.S. went to a Country-formatted station. Country has been the top-ranked format since 2009. The last time it was bested was in 2008, when News/Talk was the top format by share of audience. News/Talk held steady at number two last year, followed by Pop Contemporary Hit Radio (CHR), Adult Contemporary and Classic Rock.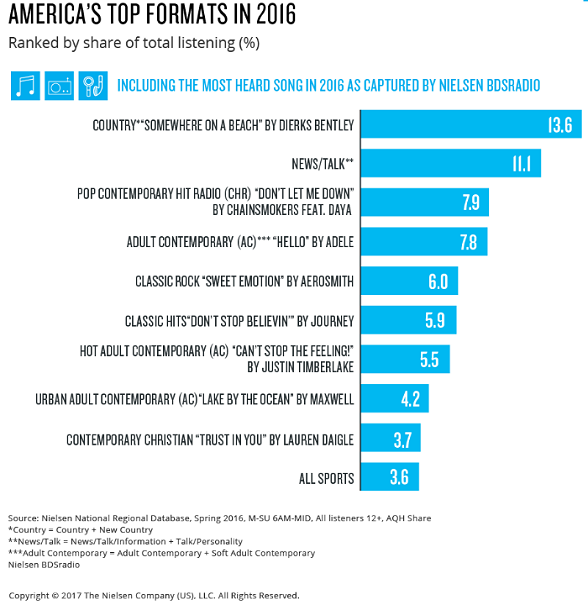 Menu
|
Contact Us
|
Subscribe
|
Advertise
|
Privacy Policy
|
About Us
---
Copyright © 1989-2017 RADIO ONLINE ®

The publisher makes no claims concerning the validity of the information posted on RADIO ONLINE and will not be held liable for its use. No part of this material may be reproduced in any form, incorporated in any information retrieval system or otherwise redistributed without the prior written permission of the publisher.
---