Redskins Add WMAL/D.C. For Game Day Broadcasts
| | |
| --- | --- |
| RADIO ONLINE | Thursday, February 16, 2017 | 1:17pm CT | |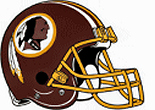 The Washington Redskins have announced that WMAL-AM & FM will carry Redskins Radio Network broadcasts the Washington, DC, metro area on game days, beginning with the 2017 NFL season. The distribution on WMAL's 105.9 and 630 signals will supplement the team's flagship home on WTEM-AM (ESPN 980), WWXT-FM (92.7) and WWXX-FM (94.3) in the market. The broadcasts represent a homecoming of sorts, as the Redskins will return to the same WMAL airwaves on which the team's broadcasts aired as early as 1942. In addition to carrying game broadcasts, WMAL will carry an hour of the Redskins Radio Network pregame show as well as an hour of Redskins Radio Network postgame programming. "We are very excited to be partnering with WMAL to provide Redskins fans enhanced coverage of our games," said Redskins Executive VP/Chief Marketing Officer. "WMAL and the Redskins organization have a long history together spanning six decades of the station carrying Redskins games. We have maintained a strong relationship over the years and now look forward to working together again to provide comprehensive coverage of Redskins football for the Washington market." "We are excited and honored to be working with the Redskins again," added WMAL VP/Market Manager Jake McCann. "The Redskins and WMAL were partners during the team's three glorious Super Bowl winning seasons. We look forward to bringing the combined assets of WMAL to this exciting, renewed partnership."
Menu
|
Contact Us
|
Subscribe
|
Advertise
|
Privacy Policy
|
About Us
---
Copyright © 1989-2017 RADIO ONLINE ®

The publisher makes no claims concerning the validity of the information posted on RADIO ONLINE and will not be held liable for its use. No part of this material may be reproduced in any form, incorporated in any information retrieval system or otherwise redistributed without the prior written permission of the publisher.
---