ESPN Radio Names Justin Craig Sr. Dir./Programming
| | |
| --- | --- |
| RADIO ONLINE | Monday, March 20, 2017 | 1:55pm CT | |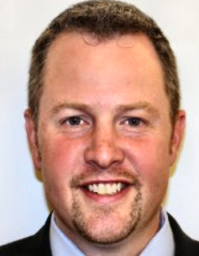 WEPN-FM (ESPN Radio New York 98.7FM) Program Director Justin Craig (pictured) is elevated to Senior Director/Programming and Operations for the ESPN Radio network. Craig transitioned out of his current role at 98.7FM earlier this month and is now based at ESPN's headquarters in Bristol, CT. Ryan Hurley, formerly the Assistant PD at 98.7FM, is promoted to Program Director. Jonathan Winthrop, who has previously served as a producer at 98.7FM, will take on a leadership role as the new Assistant PD and will continue to produce "The Stephen A. Smith Show." "Justin brings to this role a wide range of experience and winning results," said VP/ESPN Network Content David Roberts. "He clearly understands the value of how the local and national networks can collectively create an even stronger culture of success. Bottom line, Justin Craig is uniquely prepared for this extremely important leadership role. He's a winner." Craig joined ESPN/New York in 2010 and previously served as the Program Director for ESPN Chicago 1000 for four years. He also helped create the station's flagship show "Waddle & Silvy." Craig joined ESPN in January 1998 as a part-time overnight board operator, before becoming one of the original producers of "Mike & Mike" in 2000. Hurley, a graduate of Hofstra University, has been with ESPN New York since 2004 and served as a producer for "The Michael Kay Show" for 11 years, first as a lead producer, then as the executive producer. In 2015, he was named the Assistant Program Director at 98.7FM and played a vital role in developing programming at the station. He has also produced Jets, Knicks and Rangers games for the station. Winthrop joined ESPN New York in 2004 as a board operator and has been a longtime producer of "The Stephen A. Smith Show." Winthrop has worked on various 98.7FM shows, including "The Michael Kay Show."
Menu
|
Contact Us
|
Subscribe
|
Advertise
|
Privacy Policy
|
About Us
---
Copyright © 1989-2017 RADIO ONLINE ®

The publisher makes no claims concerning the validity of the information posted on RADIO ONLINE and will not be held liable for its use. No part of this material may be reproduced in any form, incorporated in any information retrieval system or otherwise redistributed without the prior written permission of the publisher.
---