Two CBS Sports Radio Show Move to New Times
| | |
| --- | --- |
| RADIO ONLINE | Monday, March 20, 2017 | 6:17pm CT | |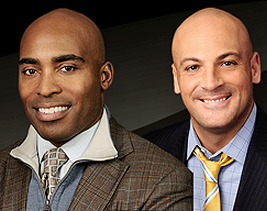 CBS Sports Radio's "Tiki and Tierney" and "The DA Show" will move to new weekday timeslots, effective Monday, April 17, as part of new multi-year deals with their respective hosts, Tiki Barber and Brandon Tierney (pictured) and Damon Amendolara. Additionally, "Tiki and Tierney" will be simulcast live on CBS Sports Network, a first for the program. "Tiki and Tierney" joins a lineup of programming on CBS Sports Network which also includes the simulcast of "Boomer & Carton" every weekday morning. "Tiki and Tierney" will move from weekday mornings, 9am-12pm, to afternoon drive, 3-6pm, replacing "The Doug Gottlieb Show" which will have its final broadcast on Friday, April 14. "The DA Show" will move from its current timeslot of weekday evenings, 6-10pm, to mornings, 9am-12pm. A new evening show and host will be named soon. "We're thrilled that our listeners will be able to enjoy Tiki, Brandon and DA for years to come," said CBS Sports Radio Director/Programming Eric Spitz. "Airing in new dayparts, these already popular shows will be introduced to scores of new listeners while undoubtedly continuing to serve their current audiences. The addition of a live simulcast of 'Tiki and Tierney' solidifies their popularity and relevance in today's competitive sports arena." He added, "Doug Gottlieb has been a trusted and sought-after voice on CBS Sports Radio since our 2013 launch and we wish him nothing but the very best in all his future pursuits."
Menu
|
Contact Us
|
Subscribe
|
Advertise
|
Privacy Policy
|
About Us
---
Copyright © 1989-2017 RADIO ONLINE ®

The publisher makes no claims concerning the validity of the information posted on RADIO ONLINE and will not be held liable for its use. No part of this material may be reproduced in any form, incorporated in any information retrieval system or otherwise redistributed without the prior written permission of the publisher.
---