640 The Hurricane Blows into West Palm Beach
| | |
| --- | --- |
| RADIO ONLINE | Monday, July 3, 2017 |2:19pm CT | |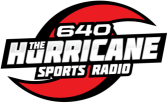 Alpha Media/West Palm Beach flips WMEN-AM (Fox Sports 640) to "640 The Hurricane." The station will still be an all sports FOX affiliate, but with more of an edge and attitude. WMEN is also the new radio home for the Miami Hurricanes. The "Canes" will join a play-by-play lineup that features the New York Yankees, Florida Panthers and weekly NFL games. In addition to the pbp, the station will offer syndicated talent including Dan Patrick, Colin Cowherd and Doug Gottlieb. Alpha Media/West Palm Beach Senior VP/Market Manager Elizabeth Hamma commented, "640 The Hurricane is like a CAT 5 storm that will whip up the South Florida market with relevant and entertaining content for men. It's a station designed for the passionate sports fan." "With big brands and big names we will be the fan's evacuation route from boring sports talk radio. 640 The Hurricane will give the sports format a much-needed edge in the market," remarked WMEN Program Director Paul Mason.
Menu
|
Contact Us
|
Subscribe
|
Advertise
|
Privacy Policy
|
About Us
---
Copyright © 1989-2017 RADIO ONLINE ®

The publisher makes no claims concerning the validity of the information posted on RADIO ONLINE and will not be held liable for its use. No part of this material may be reproduced in any form, incorporated in any information retrieval system or otherwise redistributed without the prior written permission of the publisher.
---