ESPN Radio to Debut ''Golic & Wingo'' Morning Show
| | |
| --- | --- |
| RADIO ONLINE | Monday, July 17, 2017 |1:00pm CT | |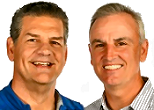 ESPN Radio will debut its new morning show, "Golic & Wingo," hosted by Mike Golic and Trey Wingo, on Monday, November 27. The program will air from 6-10am ET on ESPN Radio and will initially be simulcast on ESPN2 before moving in early January to its simulcast home on ESPNU. The show replaces "Mike & Mike," which will conclude its nearly 18-year run on November 17. Mike Golic Jr. will join "Golic & Wingo" from 6-7am daily. He'll continue to host ESPN Radio's "First & Last" from 4-6am weekdays before contributing to the new morning show at 6am. "Golic & Wingo" will also be available via ESPNRadio.com, the ESPN app, SiriusXM Channel 80, Apple Music, Slacker Radio and TuneIn. A daily podcast will also post on ESPNRadio.com and will be accessible through the ESPN app. A member of the National Association of Broadcasters Broadcasting Hall of Fame, Golic currently serves as one-half of ESPN Radio's morning duo, Mike & Mike (with co-host Mike Greenberg), which has aired since January, 2000. Golic hosted the first iteration of ESPN's morning show, "The Bruno-Golic Morning Show," with original ESPN Radio voice Tony Bruno. He joined ESPN in 1995 as an NFL studio analyst after a nine-year career in the NFL as a defensive tackle. Wingo has been one of the primary figures in ESPN's year-round coverage of the National Football League. He joined ESPN in November, 1997, as an anchor for ESPNEWS and has served as host of "NFL Live" since its inception in 2003. He is the host of ESPN's multi-day NFL Draft coverage. He added NFL Sundays in 2015 as host of NFL Insiders: Sunday Edition and he assumed the host role of ESPN's long-running highlight show NFL PrimeTime in 2007. Wingo hosted "The NFL on ESPN Radio," a day-long update, interview and analysis program on NFL Sundays (2001-03). Golic Jr. has hosted shows on ESPN Radio since 2015. Like his father, he is a graduate of Notre Dame and played college football for the Irish.
Menu
|
Contact Us
|
Subscribe
|
Advertise
|
Privacy Policy
|
About Us
---
Copyright © 1989-2017 RADIO ONLINE ®

The publisher makes no claims concerning the validity of the information posted on RADIO ONLINE and will not be held liable for its use. No part of this material may be reproduced in any form, incorporated in any information retrieval system or otherwise redistributed without the prior written permission of the publisher.
---