Curtis Media Group Launches WSJS Sports IN Triad
| | |
| --- | --- |
| RADIO ONLINE | Tuesday, September 5, 2017 | 1:34am CT | |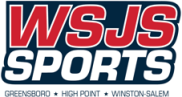 WSJS Sports in Greensboro-Winston-Salem will be heard across North Carolina's Triad on heritage signals that include 600 kHz, 1200 kHz and other Curtis Media AM and FM frequencies, beginning September 1. WSJS Sports will be a full-market Sports/Talk outlet in the Triad area including Greensboro, High-Point, Winston-Salem and High Point market. "Local sports fans have been asking for a forum like this. WSJS SPORTS is the Triad's new destination for sports talk," said Curtis Media Group's Triad GM Al Bunch. "Our roster of a local afternoon sports talk show, local high school football, NC college sports, NASCAR, and popular FOX Sports Radio hosts is unmatched. We're excited to offer this untapped audience to local businesses market-wide." "Outkick the Coverage with Clay Travis" (FOX Sports Radio, 6am-9am) will start the day followed by "The Dan Patrick Show" (FOX Sports Radio, 9am-12pm), "The David Glenn Show" (Statewide in NC, 12pm-3pm), and "One-On-One with The Schass" (Local Show/ Triad, 3pm-6pm). Other local highlights include High School Football Games of the Week for both Forsyth and Guilford counties. NASCAR, Appalachian State University Football and NC. A & T State University Football & Basketball will also return this year. WSJS SPORTS will cover Greensboro, High Point, Winston-Salem and Burlington on 600kHz, 1200kHz, 1230kHz, 1320kHz, 101.3 mHz, 104.9 mHz, 93.7 mHz, and 104.5 mHz.
Menu
|
Contact Us
|
Subscribe
|
Advertise
|
Privacy Policy
|
About Us
---
Copyright © 1989-2017 RADIO ONLINE ®

The publisher makes no claims concerning the validity of the information posted on RADIO ONLINE and will not be held liable for its use. No part of this material may be reproduced in any form, incorporated in any information retrieval system or otherwise redistributed without the prior written permission of the publisher.
---