Studies Demonstrate Continuing Power of Radio
| | |
| --- | --- |
| RADIO ONLINE | Thursday, September 28, 2017 | 1:41am CT | |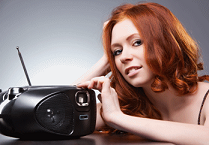 The recent release of Nielsen's Total Audience Report Q1 2017 revealed some surprising data. Radio listening levels have remained flat year over year. However, a deeper dive by Research Director Inc. finds that historically that younger demos of every generation have always spent less time with media overall. So, even with all the new media available today, plus the increased use of mobile devices, radio usage has remained constant. Research Director data collected from 1993-1999 shows that TSL to radio increased between teens and Adults 18-24. It continues to increase in every age bracket until the 65+ demo, where it declines about 17% from the 55-64 age cell. When measured as a percentage of all media consumption, Research Director found that radio's share of the pie is relatively equal across the four generations: Gen Z, Millennials, Gen X, and Baby Boomers. Further, the youngest of the four generations actually spends the highest percentage of media time with radio. The percentage of "media time" spent with radio is relatively consistent across all generations. However, Generation Z spends the highest amount of their media time with radio.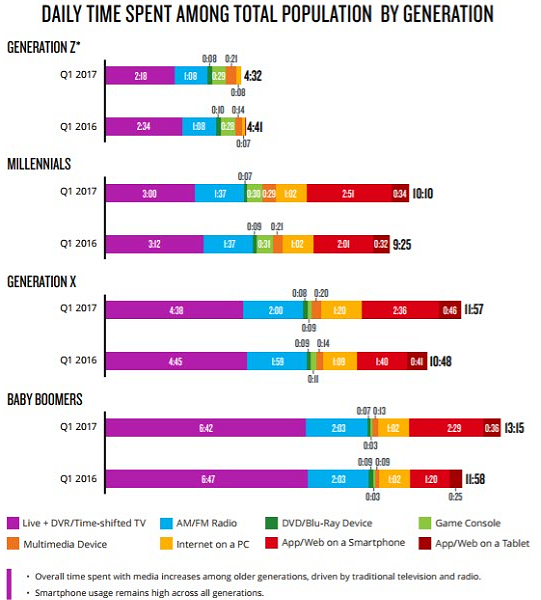 Source: Nielsen Total Audience Report Q1 2017. Read more
here
.
Menu
|
Contact Us
|
Subscribe
|
Advertise
|
Privacy Policy
|
About Us
---
Copyright © 1989-2017 RADIO ONLINE ®

The publisher makes no claims concerning the validity of the information posted on RADIO ONLINE and will not be held liable for its use. No part of this material may be reproduced in any form, incorporated in any information retrieval system or otherwise redistributed without the prior written permission of the publisher.
---