Advertisement


Westwood One Releases Fifth Annual Podcast Ad Study
Cumulus Media's Westwood One has released the results of its latest Advertiser Perceptions study in advance of next week's Interactive Advertising Bureau (IAB) Podcast Upfront. This year marks their fifth annual report studying brand and agency sentiment on podcast advertising. Since 2015, podcast advertising consideration among brands and agencies has grown 2.5X and spend intention has grown nearly 4X, according to Advertiser Perceptions.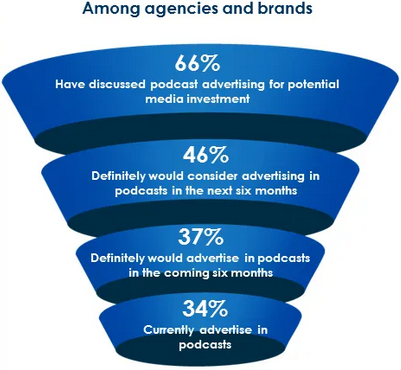 Two-thirds of buy-side decision makers are discussing podcast advertising and one-third are actively spending. In 2015, only 10% of brands and media agencies indicated they intended to advertise in podcasts in the next six months. Flash forward to 2020. Here is the current marketer/agency podcast advertising purchase funnel: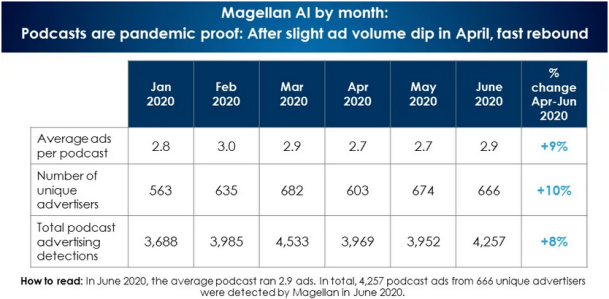 According to the study, podcast advertising seems pandemic proof. After a brief April dip, ad volumes and advertisers have surged back and now exceed pre-pandemic levels, according to Magellan AI. March 2020 was a strong month for podcast advertising with a record number of advertisers and ad detections. When the pandemic intensified in April, the number of unique advertisers dipped 12% from March while total ad occurrences also dropped 12%. In May, the number of unique advertisers in podcasting jumped back to March levels. In June, total podcast occurrences grew 8% versus April and the average number of ads per podcast (2.9) reverted to pre-pandemic volumes.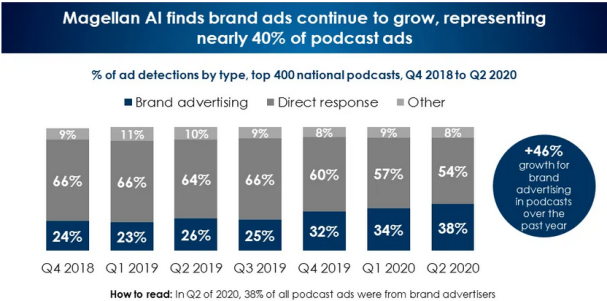 Brand advertising shows strong growth in podcasts. Magellan AI determined the campaign objective (direct response, brand awareness, or tune-in) at the brand or product level based on whether ads for that brand or product included a promotional code or unique vanity URL. The proportion of brand advertising in podcasting has been steadily rising over the past year. In Q2 2020, 38% of ad occurrences were from brands, up 46% from Q2 2019 (26%).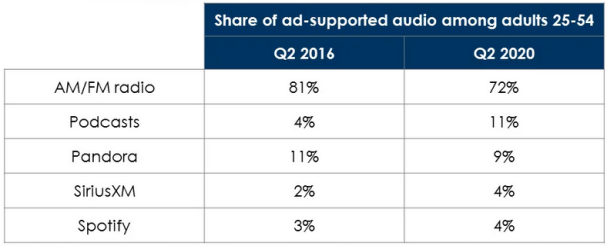 Podcasting's audience share of ad-supported audio has nearly tripled since 2016, according to Edison's "Share of Ear." Over the last four years, an examination of ad-supported audio audience shares among persons 25-54 reveals the combined shares of music streamers Spotify and Pandora slightly dropped from 14% in Q2 2016 to 13% in Q2 2020. Meanwhile, from Q2 2016 to Q2 2020, podcasts surpassed both streaming giants and nearly tripled in share (4% to 11%). AM/FM radio remains the dominant player.
Advertisement


Latest Radio Stories
Pollstar & VenuesNow Release State of Industry Survey
Pollstar has announced the results of The Pollstar and VenuesNow 2020 State of the Industry Survey. The largest live industry study of its kind, more than 1,350 live industry professionals, including venue management, promoters/talent buyers, More
MJ Returns to Tampa Bay as Host of Q105 Morning Show
Beasley Media Group returns MJ (Todd Schnitt) as host of the "New MJ Morning Show" on Classic Hits WRBQ-FM (Q105)/Tampa. In addition, current longtime morning personality Mason Dixon will take over afternoon drive and Geno Knight will shift to More
Rock 98.9/Fresno Welcomes ''Valentine In The Morning''
KSOF-FM (Soft Rock 98.9)/Fresno welcomes "Valentine In The Morning" to the iHeartMedia AC's morning lineup, effective immediately. The syndicated show featuring Valentine, along with his co-hosts Jillian Escoto, Kevin Mannowill make the move to the More
Advertisement


Christmas Cheer Comes to the Mahoning Valley Extra Early
Cumulus Media launches "Christmas 104" on WWIZ-FM/Youngstown. The Valley's Christmas Station debuted Friday at 12:25pm on WWIZ, previously programmed as "Z104, The Valley's Goodtime Oldies" station. "We Need a Little Christmas" by Percy Faith and More
KKFR (Power 98.3)/Phoenix's Crisco Kidd to Run for Mayor
KKFR-FM (Power 98.3)/Phoenix afternoon personality Joshua Carmona ("Crisco Kidd") resigns from the Riviera Broadcasting Rhythmic CHR outlet to make a run for mayor of Phoenix. Carmona, who hosts the "Crisco Kidd Block Party," also airs on SiriusXM's More