Advertisement


iHM Surges in New Media Monitors Podcast Listener Survey
In a normally tight race, iHeartMedia leaps ahead in a new Media Monitors Podcast Listener survey, fielded between June 14-30. Participants ages 18+ were screened on whether they had listened to a podcast in the last 7 days, then asked to list the podcast titles. They were also encouraged to consult their podcast app of choice during the survey. These unassisted responses were then individually matched back to unique RSS feeds which were polled to collect information about genre and publisher.
Top Publishers from Top 200 Podcasts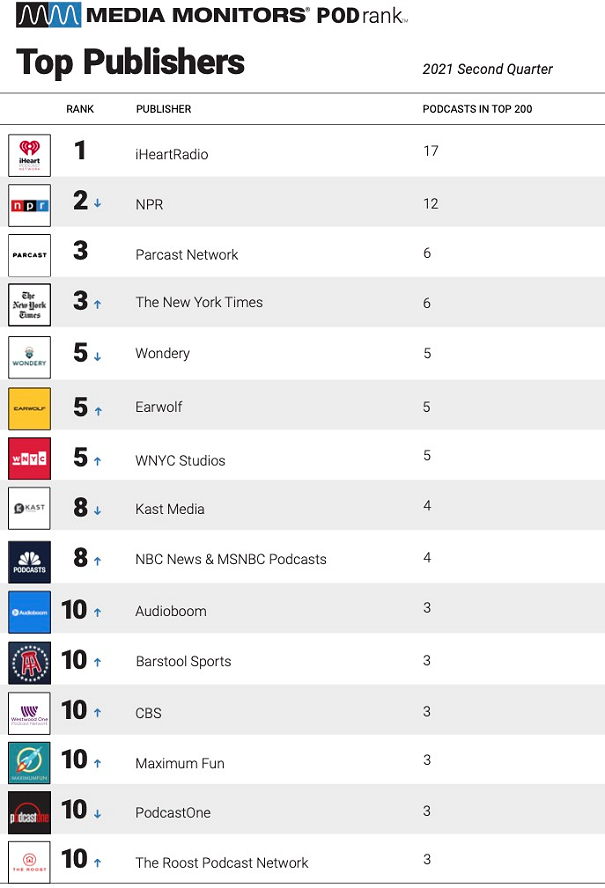 The iHeartPodcast Network had a strong Q2, surging to the highest total number of podcasts for a publisher since we began measurement in 2020. Likely due to their multi-pronged approach of releasing new podcasts like "Drama Queens" (#11) and "The Office Deep Dive with Brian Baumgartner" (#170), new seasons for old-staples like "The Ron Burgundy Podcast" (#46) and podcast versions of their radio programs including "The Bobby Bones Show" (#66) and "The Breakfast Club" (#32).
NPR remained consistent this quarter with 12 podcasts in the Top 200 including "Wait Wait... Don't Tell Me!" (#53) and "Throughline" (#81). Spotify owned Parcast Network also had a strong quarter primarily due to their slate of True Crime podcasts including: "Medical Murders" (#138), "Unsolved Murders: True Crime Stories" (#58) and "International Infamy with Ashley Flowers" (#194).
Advertisement


Latest Radio Stories
SBS Names Donny Hudson EVP/Local Media for Markets
Spanish Broadcasting System names native Miami executive Donny Hudson as Executive VP of Local media for Radio/TV and Digital for all SBS markets. He'll retain his role as General Manager, working out of the SBS offices in Miami. Hudson was recently More
Audacy/Chicago Ups Solk to VP/Programming & Operations
Audacy promotes Greg Solk to Vice President of Programming and Operations for its Chicago market, effective August 1. In this role, Solk will oversee programming and operations for WXRT-FM (93XRT), WBMX-FM (104.3 JAMS), WUSN-FM (US99), More
Advertisement


iHeartMedia and NBA Team Up for New Slate of Podcasts
iHeartMedia and the National Basketball Association (NBA), today announced a multi-year podcast partnership, which will feature the launch of more than 20 new iHeartRadio-NBA co-produced podcasts. The new slate of NBA podcasts will be distributed More
Mark Elliott Joins Local Radio Networks as Fill-in Host
Mark Elliott, who handles mornings for WLXT (Lite 96.3) in Petoskey-Traverse City, MI, joins Local Radio Networks as a fill-in host. Elliott will be working with various formats in the Local Radio Networks realm starting this weekend. "I've worked More