Advertisement


NAB Files Comments Urging FCC to Reexamine Fee Proposal
NAB filed comments with the FCC Tuesday regarding the Commission's proposed regulatory fees for Fiscal Year 2022. NAB previously expressed concern with the FCC's proposal to subject local radio broadcasters to regulatory fee rates for 2022 of $381.95 million, which includes a whopping 13% increase for radio stations over the last fiscal year. In its comments, NAB urged the Commission to:
Ensure its methodology to properly account for the benefits received by the payor by the Commission's activities
Refrain from holding broadcasters responsible for costs associated with the Commission's broadband work
Reallocate broadband-related costs among fee payors that benefit from the FCC's broadband activities
Consider increasing the de minimis fee amount
The Commission says these regulatory fees cover direct costs, such as salaries and expenses; indirect costs, such as overhead functions; statutorily required tasks that do not directly equate with oversight and regulation of a particular regulate but instead benefit the Commission and the industry as a whole; and support costs such as rent, utilities and equipment.
Here is the proposed fee schedule for the fiscal year 2022: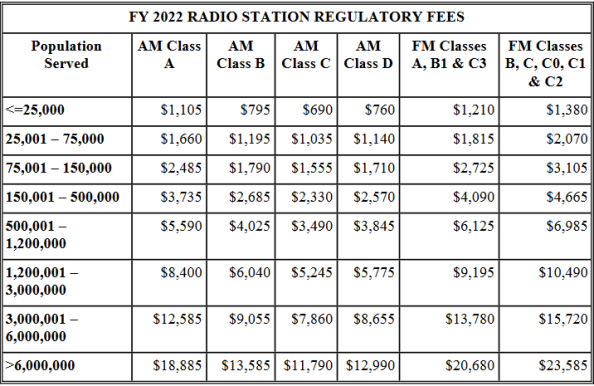 Advertisement

Latest Radio Stories
Mike Max Exits WCCO/Minneapolis in Downsizing Move
Veteran Minnesota sports journalist Mike Max is out at News/Talk WCCO/Minneapolis in a cost-cutting move by Audacy. Max, 57, who had been with the station since 1998, is expected to remain the Sports Director at WCCO-TV, which is owned by CBS. Max More
ESPN Wisconsin Shows Expand to 1430 ESPN Beaver Dam
Good Karma Brands and ESPN Wisconsin announce that "Wilde and Tausch" and "Scalzo and Brust," which currently air in both Madison and Milwaukee, will soon expand to WBEV-AM (1430 ESPN) in Beaver Dam, WI. Beginning Monday, August 22, listeners in the More
Z Radio Live Celebrates 15 Years On the Air
Internet music station, Z Radio Live at zradiolive.com is celebrating 15 years on the air. To commemorate the event, Z Radio Live partnered with Vintage Microphones, and owner Ron Hummel, to produce a one-of-a-kind microphone for the Z Radio Live More
Advertisement


Jacobs Media Released Air Talent Survey 2022 at MSBC 34
Jacobs Media released its Air Talent Survey 2022, entitled "Radio Talent in the Post-Pandemic Era," on Thursday at the 34th Annual Morning Show Boot Camp -- which also began Thursday at the Swissotel in Chicago. The survey, which included 750 total More
WSB/Atlanta Names Charles Dir./Branding and Programming
Veteran programmer Ken Charles joins Cox Media Group's News/Talk WSB-AM and WSBB (95.5 WSB)/Atlanta as Director of Branding and Programming, beginning September 12th. Most recently, he was Program Director of News KNX-AM & FM/Los Angeles and More
Triton Digital Releases July 2022 U.S. Podcast Report
Triton Digital has released its July, 2022 U.S. Podcast Report. Stitcher Media remained in the #1 spot on the Top Sales Networks Report for the month of July with 55 million Average Weekly Downloads and 13.9 million Average Weekly Users. NPR came in More