Advertisement


Borrell Report: Local Ad Buying Returning to Normal
Borrell Associates have released their latest report: "SMBs Adjusting, Recovering from COVID-19." According to the report, while ad buyers are still far from feeling great about the economy, they are emitting positive vibes. The full report is available to subscribers while an Executive Summary version is available for free HERE.
Local ad spending patterns are close to what they were a year ago. Sixteen percent actually report positive effects from COVID-19 while 20 percent are planning to spend more. On the down side, they now think full recovery will be much later than they initially thought.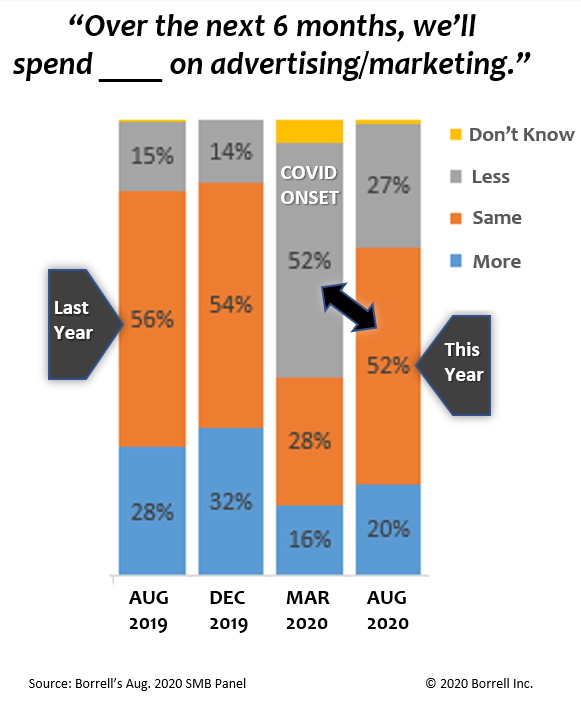 The full 12-page report includes more than 150 comments from ad buyers expressing their biggest concerns headed into the holidays.
Advertisement


Latest Radio Stories
Pollstar & VenuesNow Release State of Industry Survey
Pollstar has announced the results of The Pollstar and VenuesNow 2020 State of the Industry Survey. The largest live industry study of its kind, more than 1,350 live industry professionals, including venue management, promoters/talent buyers, More
MJ Returns to Tampa Bay as Host of Q105 Morning Show
Beasley Media Group returns MJ (Todd Schnitt) as host of the "New MJ Morning Show" on Classic Hits WRBQ-FM (Q105)/Tampa. In addition, current longtime morning personality Mason Dixon will take over afternoon drive and Geno Knight will shift to More
Rock 98.9/Fresno Welcomes ''Valentine In The Morning''
KSOF-FM (Soft Rock 98.9)/Fresno welcomes "Valentine In The Morning" to the iHeartMedia AC's morning lineup, effective immediately. The syndicated show featuring Valentine, along with his co-hosts Jillian Escoto, Kevin Mannowill make the move to the More
Advertisement


Christmas Cheer Comes to the Mahoning Valley Extra Early
Cumulus Media launches "Christmas 104" on WWIZ-FM/Youngstown. The Valley's Christmas Station debuted Friday at 12:25pm on WWIZ, previously programmed as "Z104, The Valley's Goodtime Oldies" station. "We Need a Little Christmas" by Percy Faith and More
KKFR (Power 98.3)/Phoenix's Crisco Kidd to Run for Mayor
KKFR-FM (Power 98.3)/Phoenix afternoon personality Joshua Carmona ("Crisco Kidd") resigns from the Riviera Broadcasting Rhythmic CHR outlet to make a run for mayor of Phoenix. Carmona, who hosts the "Crisco Kidd Block Party," also airs on SiriusXM's More