Report: Finding the Rise in Summer Radio Listening
| | |
| --- | --- |
| RADIO ONLINE | Monday, July 17, 2017 | 1:10am CT | |
Nielsen's June PPM insights show that Classic Rock has clearly emerged as the format of the summer. This conclusion is based an examination of major music formats across the first five months of the year (January through May) and comparing that average to the results of the June, July and August surveys. In May, Classic Rock listener share surged, and comparing the most recent June results to the rest of 2017, the format has a substantial early lead in terms of summertime increase.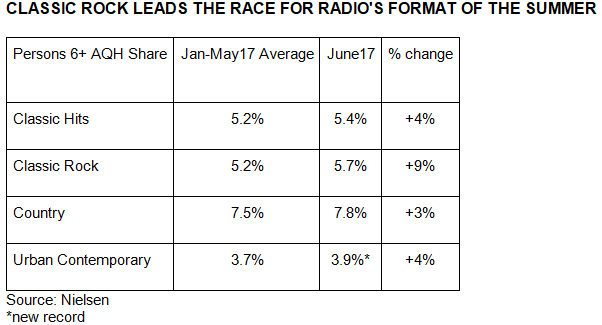 However, the summer is far from over, with two survey months to go. And as last year proved, a late closer can upset the race: Classic Rock closed the summer of 2016 strongly, outpacing Classic Hits which previously had been the format of the summer for two straight years. In June, Urban Contemporary (a format also referred to as Hip-Hop) set new records for share of audience across all three of the demographics we profile. And this builds on the format's overall performance this year, which is its best year ever in PPM measurement.
Despite this strong performance, Urban Contemporary isn't necessarily a lock to be "format of the summer," and it all comes down to the math. Summertime surge is analyzed based on how much a format jumps in the summer months, and Urban Contemporary has instead been rising steadily and consistently for some time now.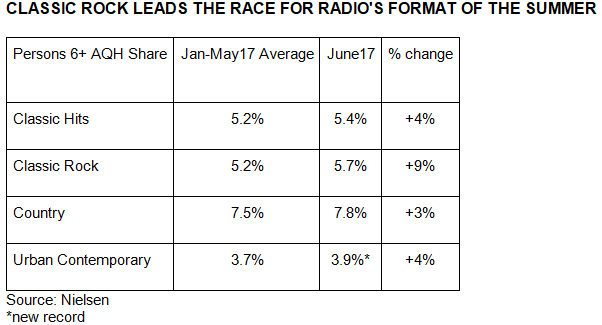 Millennials have played a key role in driving this sustained growth in Urban Contemporary listening. Among listeners aged 18-34, UC first cracked the 5% share threshold (hitting a 5.0% average quarter hour [AQH] audience share) in November, 2012. And if you look back to the summer of 2011, the format had a 4.7% share. This year, it is peaking at a 7.1% share and is now the third most-listened to radio format among Millennials behind CHR (11.7%) and Country (8.7%).
Data used in this article provided by Nielsen is inclusive of multicultural audiences. Hispanic consumer audiences are composed of both English and Spanish-speaking representative populations.
Menu
|
Contact Us
|
Subscribe
|
Advertise
|
Privacy Policy
|
About Us
---
Copyright © 1989-2018 RADIO ONLINE ®

The publisher makes no claims concerning the validity of the information posted on RADIO ONLINE and will not be held liable for its use. No part of this material may be reproduced in any form, incorporated in any information retrieval system or otherwise redistributed without the prior written permission of the publisher.
---