Bouvard Disputes Demise of Radio Among Teens
| | |
| --- | --- |
| RADIO ONLINE | Thursday, August 31, 2017 | 6:35pm CT | |
In a blog post Westood One and Cumulus Chief Insights Officer Pierre Bouvard opposed Larry Miller's "Paradigm Shift" report that asserts the demise of AM/FM radio among younger Americans. Bouvard turned to Nielsen's Portable People Meter listening data from May, 2011 to May, 2017 and found AM/FM's radio reach is steady among kids 6-11, teens, and 18-24s. During the period the number of listeners in the three demographics is virtually unchanged.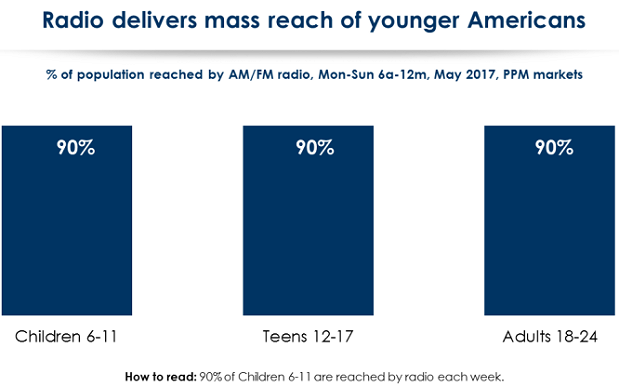 The older you are, the more you listen. As consumers age, they have more available time to spend with media. Time spent with AM/FM radio grows progressively from children 6-11, teens, 18-24 and 25-34. A similar pattern occurred in 2011. And as American workers enter the workforce, AM/FM radio time spent grows.
PPM data also shows that AM/FM radio reaches 90% of younger Americans each week and remains the number one source of music discovery. For advertisers targeting 18-34 Millennials, AM/FM radio is America's number one mass reach media. Nielsen recently issued a massive analysis of 500 ROI studies of ad campaigns. Campaign reach was the number one media factor that creates sales lift. According to Nielsen's Comparable Metrics Report, AM/FM radio is number one in 18-34 Millennial reach beating TV, social media, smartphone video and audio streaming.
Menu
|
Contact Us
|
Subscribe
|
Advertise
|
Privacy Policy
|
About Us
---
Copyright © 1989-2018 RADIO ONLINE ®

The publisher makes no claims concerning the validity of the information posted on RADIO ONLINE and will not be held liable for its use. No part of this material may be reproduced in any form, incorporated in any information retrieval system or otherwise redistributed without the prior written permission of the publisher.
---