Advertisement


Radio Drives Tune-In for TV, Delivers Younger Viewers
Westwood One is sharing the results from a major cable network's advertising campaign that used broadcast radio to help launch the returning season of a scripted drama series. The media plan also included paid TV and promos running on their network and co-owned networks. Westwood One retained Nielsen to study how the combination of AM/FM radio and TV helped drive tune-in for the premiere. This was one of the first TV tune-in ROI studies to examine both TV and AM/FM radio.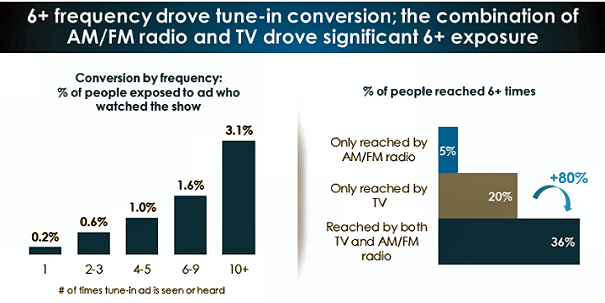 AM/FM radio accounted for a small percentage of the media budget but generated significant impressions and incremental reach. Although AM/FM radio only represented 5% of paid media, it delivered 20% of total campaign impressions. With amplified frequency, AM/FM radio drove tune-in conversion as the more frequently consumers were exposed to tune-in ads, the greater the conversion to viewing the premiere. Tune-in conversion is especially high among consumers who are exposed to ads six or more times.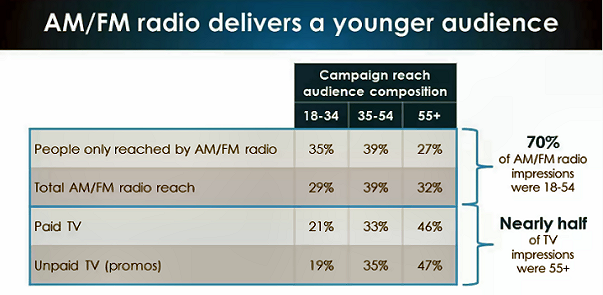 Compared to TV, AM/FM radio delivered a much younger audience: TV's audience skews older than AM/FM radio's audience. 70% of AM/FM radio impressions came from 18-54 year olds. Conversely, nearly half of all the TV impressions were from 55+. From a cost standpoint, AM/FM radio's reach and impressions were achieved much more efficiently. AM/FM radio is only 20% of TV'S CPM and cost per thousand net reach.
TV tune-in best practice was to utilize 125-150 GRPs of network radio to efficiently optimize a tune-in campaign with incremental reach and amplified frequency.
Advertisement