Advertisement


Study: Pandora, Spotify Audience a Fraction of AM/FM Radio
Edison Research just published its Q3 2018 Share of Ear report, an in-depth view into U.S. audio usage. The study found that advertisers and agencies incorrectly perceive the audience size of Pandora and Spotify. Advertisers Perceptions finds that advertisers and agencies believe Spotify has a 23% share of audio time spent while Pandora is slightly less at 21%. AM/FM radio is perceived at 36%. However, AM/FM radio has a 47% share while ad-supported Pandora is 4% and ad-supported Spotify is only 2% of audio time spent.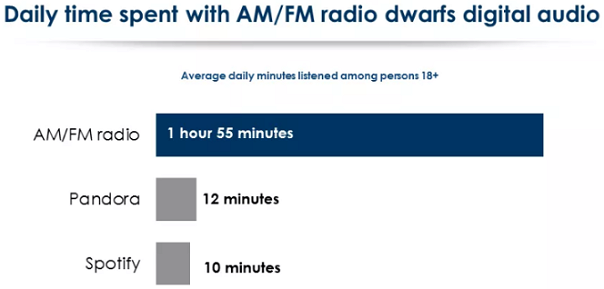 Americans spend substantially more time daily with AM/FM radio than Spotify and Pandora. The study found that AM/FM radio dominates daily time spent with nearly two hours daily among persons 18+ compared to Pandora's 12 minutes and Spotify's 10 minutes daily.
Additionally, AM/FM radio outreaches all other ad-supported platforms. The Q3 2018 Share of Ear study has AM/FM radio's daily reach at 72%, 7 times larger than Pandora and 18 times larger than Spotify and SiriusXM.
Spotify's ad-supported audience has not grown in over two years: all of Spotify's growth comes from their commercial-free subscription service as audience growth over the last three years has been completely driven by its ad-free subscription service, up +150% since Q2 2016.
The study also found that Smart speaker ownership soared to 24% of all Americans in October. Smart speaker ownership is still on the rise, tripling in just 2 years.
Advertisement