Advertisement

WTOP/Washington DC Remains Top Biller at $69M in 2018
Digital advertising platforms at local radio outlets led revenue growth across the industry again last year, according to the first quarter edition of BIA Advisory Services' 2019 Investing In Radio Market Report. While over-the-air advertising remained flat $13.3 billion (down 1.6% from $13.5 in 2017), digital income rose 8.1% to $923 million, continuing a trend that began six years ago. Combined 2018 revenues of $14.2 billion positioned radio as the fifth most significant local advertising platform, behind direct mail, mobile, online/digital and local television.
For the top 10 billing stations, a few adjustments in rankings occurred in 2018, while Washington, DC all News WTOP-FM maintained the top spot with $69 million in advertising revenue. Hot AC KBIG-FM Los Angeles moved up to third position with $46 million and AC WLTW-FM New York moved to fourth with $44 million.
"Although local radio stations are still important players in their markets and are managing to maintain their position in the top five advertising platforms, we do expect the OTA advertising revenue of U.S. radio stations to decrease this year by 1-2 percent and through the next few years," said BIA Advisory Services Senior VP and Chief Economist Mark Fratrik. He forecasts that combined radio revenues will remain relatively flat for at least the next five years, while digital platforms will hit $1 billion by 2020.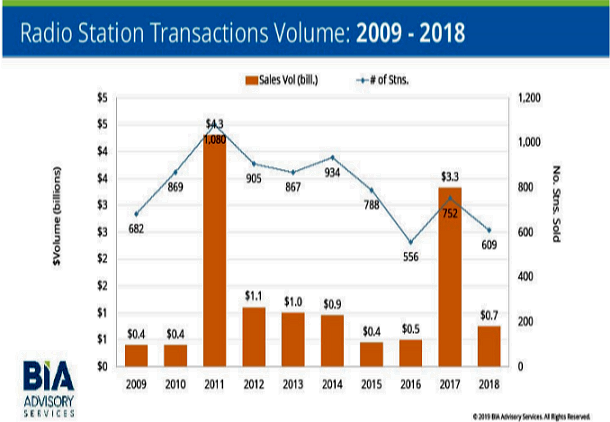 Following a strong year of transactions in 2017 (due to Entercom acquiring the CBS radio stations in 2017), the volume was down to a level similar to previous years, with 609 stations being sold at an estimated value of $745 million.
"If there is some regulatory relief at the FCC, we would expect the number and dollar volume of radio station sales to increase," added Fratrik.
Advertisement