Advertisement


Report: Gen Alpha are Voice Natives and Decision Makers
Gen Alpha, the generation of children born between 2010 and 2025, are touted as becoming the most educated and informed, and more culturally diverse generation. There might be worries about decreased attention span among Gen Alpha due to their habituation with screens, the one thing that holds their attention is Audio. According to Audacy, more than one-third (35%) rely on smart speakers daily for parenting, while one-third (34%) use their smart speaker together with their children. 
Being born in a digital world that's seeing more rapid advancements, Gen Alpha has been using 'devices' right from the time they were born. Every aspect of their lives - rest, education, play or entertainment involves tech. That's why Gen Alpha is one of the most comfortable around responsive technology. In fact, a step ahead. While the millennials adapted to touch-screens, Gen Alpha is born into voice-recognition.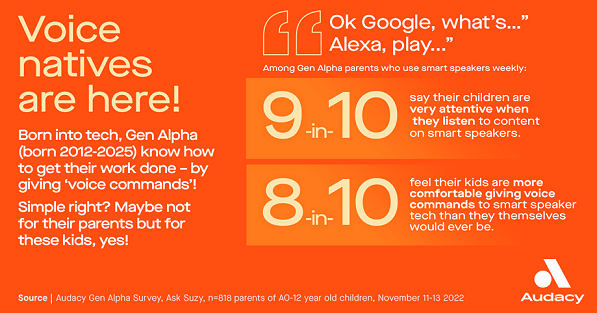 Nine in ten (90%) indicate that their children are very attentive when they listen to content on smart speakers.  In addition to being attentive, the kids are now voice commanders. Eight in 10 (79%) feel their kids are more comfortable giving voice commands to smart speaker technology than they themselves would ever be. 
With such an increased acceptance, smart speakers are the new parenting hack. More than one-third (35%) indicate they rely on smart speakers daily for parenting.  One-third (34%) indicate they use their smart speaker together with their children. 
And they are intent on going the extra mile. Gen Alpha, children of the Millennials, is considered as the most materially endowed generation, and that's because their parents are 19% more likely than any typical parent to 'think that it is good for parents to provide children with more things than they ever had.' 
This is where it gets most interesting for marketers. Technology and parents have made Gen Alpha the most empowered generation ever. They have both the influence and the purchasing power.
The key takeaway for brands and marketers is to know that Audio is an important pathway to parents and family time. Audio also enables authentic connections between brands and families with Gen Alpha kids, giving brands access to the moments when families are discovering new information, having joint experiences, and when kids are gently influencing (or outright begging) for products that influence their purchase decisions.
Advertisement


Latest Radio Stories
Journalism Competition and Preservation Act Introduced
U.S. Senators Amy Klobuchar (D-MN), Chairwoman of the Senate Judiciary Subcommittee on Competition Policy, Antitrust and Consumer Rights, and John Kennedy (R-LA) reintroduced the Journalism Competition and Preservation Act, their bipartisan More
WNNX (99X)/Atlanta Names Will Pendarvis APD/Afternoons
Atlanta Alternative Rock radio personality Will Pendarvis will return to the WNNX-FM (99X) as Assistant Program Director and afternoon talent, beginning Monday, April 17. Pendarvis is one of the original members of the 99X on-air team launching 99X More
WBAP/Dallas Morning Host Hal Jay Returns on April 3
WBAP (Newstalk 820)/Dallas morning host Hal Jay is returning to DFW airwaves on Monday, April 3 -- almost two months after receiving a heart transplant. Jay had been absent from the WBAP Morning News after the holidays, and at 6:18am on January 16, More
Advertisement


BetQL Network Adds Ed Egros as Co-Host of ''BetQL Daily''
Audacy adds Ed Egros as co-host of "BetQL Daily" on the company's BetQL Network. He'll join co-hosts Joe Ostrowski and Erin Hawksworth, weekdays from 9am-12pm ET beginning April 3. Most recently, Egros served as an analyst with the Next Gen Stats More
Jayn Returns to 94/7 Alternative Portland for Middays
Jayn is named midday host on KNRK (94/7 Alternative) in Portland, OR. She'll be heard weekdays from 12-2pm PT beginning April 3. Jayn currently serves as afternoon host and Music Supervisor for KLLC-FM (Alice @ 97.3) and Music Supervisor of KITS-FM More
KZIA (Z102.9) Introduces ''Those Girls In The Afternoon''
KZIA (Z102.9) Cedar Rapids, IA launches the "Those Girls in the Afternoon" show, pairing station veterans Destiny and Taylor. Taylor, an Anamosa native and a University of Iowa graduate who has been hosting afternoons on Z102.9 since 2021, is joined More