Advertisement


Nielsen Releases 2022 Podcast Industry Insights
According to Nielsen Scarborough's Podcast Buying Power solution, growth among light users has tapered off, but not for women. Starting in 2020, the number of light podcast users (defined as those listening 1-3 times a month) grew by leaps and bounds. This was, of course, influenced by the pandemic and carried on into 2021. Last year, 41% of the podcast audience was a light listener. Today, the number stands at 36%.

But there is a disparity between how men and women use podcasts. Light listeners shrank by 25% in the past year among men, but grew 3% among women. Over time we expect to see a shift towards medium and heavy listeners as the initial interest leads to more consistent use, which is what the male listener profile looks like below:

As the female podcast audience grows, we can expect to see increasing numbers of medium and heavy users who are more likely to hear and react favorably to podcast ads. Nielsen Podcast Ad Effectiveness shows that podcast ads drive higher brand awareness and affinity.
Not only do levels of engagement differ between men and women, but so does the list of podcast genres in terms of year-over-year change in audience size. Driven by those lighter listeners, female podcast consumers are moving the needle across a wide variety of genres: Comedy, Leisure, TV & Film, and Kids & Family, which all saw significant growth this year. While Comedy is the #1 genre among all listeners, Leisure and Kids & Family don't crack the top ten among all adults, and TV & Film is ranked seventh. That could change going forward, and if it does, it will likely happen due to an influx of new female listeners.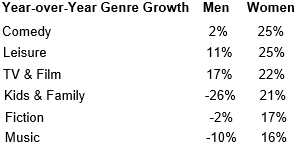 Advertisers who are looking to cash in on the growing female podcast audience need to carefully consider which genres to focus on. There are distinct areas where the overall audience may be declining but the female component is growing and those listeners are likely to transition to heavier users.
The teen podcast audience (aged 13-17) grew by a modest seven percent in the past year, but when it comes to listening to the same podcasts as the adults in their household, the co-listening happening with men grew substantially more than that happening with women. The number of teens listening to the same podcasts as an adult male in the house more than doubled in 2022, increasing by 102%. At the same time, the number of teens co-listening with an adult female increased by only 4 percent.
This finding is connected to the first takeaway about heavy listeners. The female podcast audience growth is fueled by lighter listeners who aren't as engaged overall compared to their male counterparts. Nearly half of all male podcast users are heavy listeners -- with high levels of engagement -- who are passing on that affinity to the teenagers in their house. Or at the very least, since they're simply listening more it means more opportunities for co-listening and, ultimately, advertising resonance.
Scarborough Consumer Point of View segments were introduced this year across more than a dozen key categories from restaurants to travel and automotive. And the affinity for podcasts within each segment varies widely. For example:
Travel & Tourism 'Globetrotters' are 40% more likely to be podcast consumers than the average American adult. This group seeks adventure in their travel and are always on the go, planning their own vacations and seeking the best travel deals.

Automotive 'Electric Activists' are 35% more likely to be podcast consumers. These eco-friendly car buyers are willing to pay more for an electric or hybrid vehicle and are less likely to negotiate on price as a result.

Insurance 'Distrustful & Confused' are 20% more likely to listen to podcasts. This under-insured group isn't sure how to get the best coverage or find the best rates, and worry about paying too much.
With all of the advances happening in consumer targeting across the media landscape, podcast advertising is becoming increasingly capable of zeroing in on the right segments to drive the highest return on ad spend. With the huge number of podcasts available to advertisers, a 'spray and pray' approach is not as effective as tailoring the message to the right audience based on granular qualitative data such as Consumer Point of View.
Advertisement


Latest Radio Stories
iHM/New York Region President Scott Hopeck to Exit
iHeartMedia/New York Region President Scott Hopeck will exit after nearly 20 years to pursue another opportunity. He's headed the New York region since 2015 and previously had oversight of the company's cluster of stations in Phoenix. Before that, More
BFoA Launches Social Media Campaign ''12 Days of Giving''
The Broadcasters Foundation of America is launching a social media campaign on Monday, December 11 with "12 Days of Giving." Each day will feature a different message, ranging from thank you notes from grant recipients to positive statements about More
Skyview Networks Extends Partnership with SnoCountry
SnoCountry, a source for snow conditions and ski resort information, and Skyview Networks ink a renewal of their partnership for network audio sales. By utilizing Skyview's sales platforms, advertisers can reach SnoCountry's winter enthusiasts with More
Advertisement


WGTS-FM/Washington DC Collects Toys for Tots
WGTS/Washington, DC is teaming with the United States Marine Corps and DC ABC affiliate 7 News to collect toys for kids. All three groups joined together at the Iwo Jima Memorial to host one of the largest toy drives in the region. For six hours, More