NPR Tops Podtrac's August Top 10 Publishers
| | |
| --- | --- |
| RADIO ONLINE | Wednesday, September 13, 2017 | 2:12pm CT | |
The full rankings of the Top 10 Podcast Publishers has been released at Podtrac.com. Highlights of the August Ranking found seven publishers showed gains in U.S. Unique Audience in August over July, with ESPN, PRX and New York Times showing double digit increases. Total Global Unique Streams and Downloads for the group of Top 10 publishers increased 12% for August over July. Plys, Total Global Downloads and Streams for the Top 10 Publishers for August increased by 83% year-over-year from August, 2016.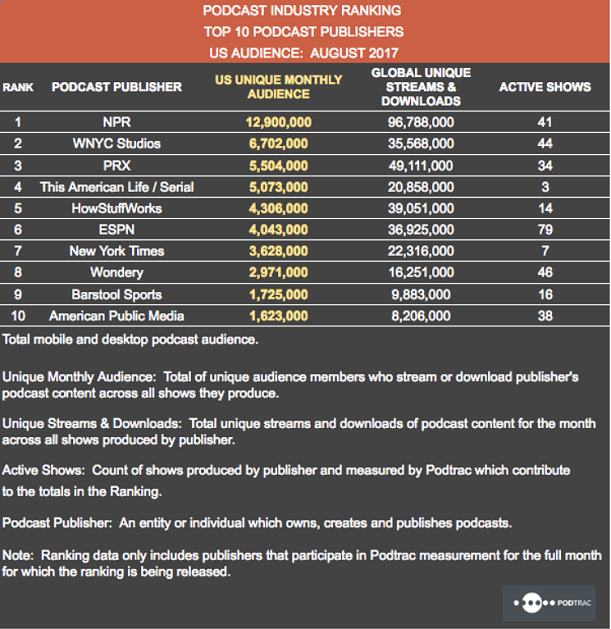 Menu
|
Contact Us
|
Subscribe
|
Advertise
|
Privacy Policy
|
About Us
---
Copyright © 1989-2018 RADIO ONLINE ®

The publisher makes no claims concerning the validity of the information posted on RADIO ONLINE and will not be held liable for its use. No part of this material may be reproduced in any form, incorporated in any information retrieval system or otherwise redistributed without the prior written permission of the publisher.
---