Advertisement

BIA Lowers U.S. Local Ad Revenue Forecast
Examining the continuing economic fallout from the coronavirus in recent months, BIA Advisory Services has adjusted its estimate for the total local advertising market for 2020 to $140.4 billion, down from $144.3 billion in April. BIA's updated forecast estimate represents a 6.1 percent decline from 2019, even with strong political advertising anticipated this year and a few business verticals showing advertising strength.
"To update our post-COVID forecast from April, we analyzed the continuing impact on local advertising by the weakened economy, continuing job loss reports, and the downturn in some key business verticals," said Mark Fratrik, SVP and Chief Economist, BIA Advisory Services. "Right now, we believe a realistic view of the economy overall and the advertising marketplace is that after a dramatic decrease in the second-quarter and a bumpy start to the third, the remainder of the year will turn positive but end up with an overall decline in local advertising for the year."
Fortunately, local political ad spend continues to be one positive area. As campaigns continue to migrate to online rallies and events, both presidential and down ballot candidates are spending significant dollars in local broadcast and digital advertising.
Since its April forecast, BIA increased the expected political ad spend from $7.1 billion to $7.3 billion. Of the $209 million increase, the distributed share to different media include $138 million to TV OTA, $40 million to Cable, $26 million to Online/Digital, and $5 million to Radio OTA.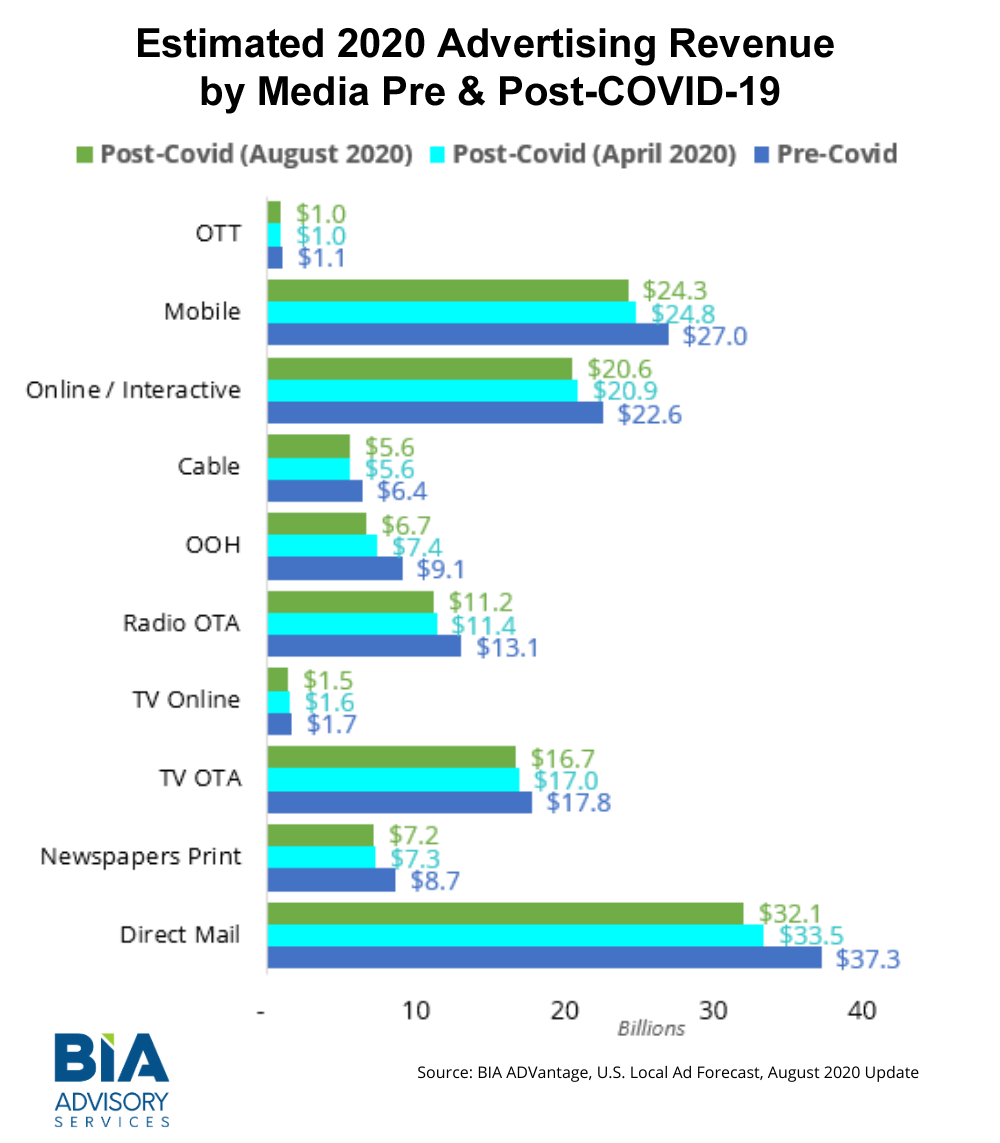 "The economic situation caused by the pandemic continues to create a difficult local advertising market," said Tom Buono, CEO and Founder BIA Advisory Services. "It's critical to examine where the advertising dollars are flowing and what your particular business can go after. As ad budgets shift, an understanding of what is happening in your local market represents a real opportunity to expand your share of wallet."
BIA will join SalesFuel to present local advertising data and analysis during the webinar, Accelerating 4th Quarter Revenue: Planning for 2021, on Tuesday, August 18 at 11 am eastern. The webinar will help executives organize their sales plans and prepare revenue assessments.
Advertisement


Latest Radio Stories
Pollstar & VenuesNow Release State of Industry Survey
Pollstar has announced the results of The Pollstar and VenuesNow 2020 State of the Industry Survey. The largest live industry study of its kind, more than 1,350 live industry professionals, including venue management, promoters/talent buyers, More
MJ Returns to Tampa Bay as Host of Q105 Morning Show
Beasley Media Group returns MJ (Todd Schnitt) as host of the "New MJ Morning Show" on Classic Hits WRBQ-FM (Q105)/Tampa. In addition, current longtime morning personality Mason Dixon will take over afternoon drive and Geno Knight will shift to More
Rock 98.9/Fresno Welcomes ''Valentine In The Morning''
KSOF-FM (Soft Rock 98.9)/Fresno welcomes "Valentine In The Morning" to the iHeartMedia AC's morning lineup, effective immediately. The syndicated show featuring Valentine, along with his co-hosts Jillian Escoto, Kevin Mannowill make the move to the More
Advertisement

Christmas Cheer Comes to the Mahoning Valley Extra Early
Cumulus Media launches "Christmas 104" on WWIZ-FM/Youngstown. The Valley's Christmas Station debuted Friday at 12:25pm on WWIZ, previously programmed as "Z104, The Valley's Goodtime Oldies" station. "We Need a Little Christmas" by Percy Faith and More
KKFR (Power 98.3)/Phoenix's Crisco Kidd to Run for Mayor
KKFR-FM (Power 98.3)/Phoenix afternoon personality Joshua Carmona ("Crisco Kidd") resigns from the Riviera Broadcasting Rhythmic CHR outlet to make a run for mayor of Phoenix. Carmona, who hosts the "Crisco Kidd Block Party," also airs on SiriusXM's More