AudioHQ, TuneIn Ink Multi-Year Audio Ad Sales Deal
| | |
| --- | --- |
| RADIO ONLINE | Friday, October 13, 2017 | 0:38am CT | |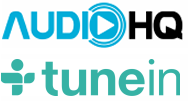 AudioHQ, an online audio sales rep firm, and TuneIn have announced a partnership allowing AudioHQ to become its re-seller in the U.S. of TuneIn's audio advertising inventory over a multi-year period. TuneIn currently serves more than 75 million monthly active users on hundreds of devices, including smartphones, desktop, connected devices, connected autos, game consoles and smart speakers. "Over the last several years, TuneIn has built an incredibly diverse and totally differentiated platform via partnerships with the best content brands in the audio word," said AudioHQ CEO Matt Cutair. "We have always been focused on partnering with publishers that offer truly unique and scaled advertising opportunities for our brand partners and this new partnership with TuneIn represents another substantial increase in our marketplace footprint." "TuneIn's audience is growing, and our inventory continues to scale. We've been hyper-focused on content, and creative solutions for our brand partners including live-streaming music festivals, custom podcast series and an emphasis on exclusive," added TuneIn VP/Head of Global Revenue and Partnerships Billy Hartman. "An exclusive partnership with Audio HQ opens up a world of opportunity with a trusted partner in the audio space. With our audio inventory growing, TuneIn benefits from inclusion in Audio HQ's world-class network and their audio expertise."
Menu
|
Contact Us
|
Subscribe
|
Advertise
|
Privacy Policy
|
About Us
---
Copyright © 1989-2017 RADIO ONLINE ®

The publisher makes no claims concerning the validity of the information posted on RADIO ONLINE and will not be held liable for its use. No part of this material may be reproduced in any form, incorporated in any information retrieval system or otherwise redistributed without the prior written permission of the publisher.
---