CMG/Orlando Names Dawn Campbell WCFB Dir./B&P
RADIO ONLINE | Thursday, August 25, 2016 | 1:59pm CT |
Share

Cox Media Group/Orlando names Dawn Campbell as its new Director of Branding and Programming for Urban AC WCFB-FM (Star 94.5), effective August 29. Campbell just celebrated her 5th anniversary with the local cluster there as Music Director for WCFB-FM & WPYO-FM and Promotions Manager for WCFB-FM. Prior to her time spent at CMG, she was with CBS/Orlando for 15 years, starting as a research/promotions assistant before becoming Assistant Promotions Director, then Music/Promotions Director for WJHM-FM. WCFB-FM, WCFB-HD2, WPYO-FM and WWKA-FM Operations Director Stevie DeMann said, "I've had a front row seat to see Dawn grow through her entire career. Her passion, dedication, and knowledge of the brands she's been able to touch is unmatched. I'm so excited for her personally and have all of the confidence in the world that she will be a great leader for the Star 94.5 brand and the staff." "I am excited to step up and lead the great team at Star 94.5," added Campbell. "Our goals haven't changed - we'll remain focused on being a leader in our community, engaging our listeners wherever they are, and playing the best music daily for the adult urban audience. The leadership at Cox Media Group has been wonderful to me, and I would like to thank Bill Hendrich, Susan Larkin, Stevie DeMann, Steve Smith, and Tony Kidd for the opportunity to lead this heritage brand."
---
Clip Interactive Partners with Entercom Stations
RADIO ONLINE | Thursday, August 25, 2016 | 1:48pm CT |
Share

Clip Interactive and Entercom ink a partnership to deploy Entercom's 129 radio stations on Clip's interactive radio platform. Under the deal, every Entercom station will deliver interactive broadcast and stream content feeds to listeners via Clip-built mobile apps and web players. Clip's platform will enable interactivity with all audio content delivered by Entercom stations via broadcast and stream. Entercom chose Clip as the platform for their mobile, web and broader digital strategy after operating their seven-station Portland cluster with Clip technology for more than a year. Entercom says the platform gives its listeners "a consistent user experience across all digital channels -- mobile, web and mobile web -- and allows stations to deliver interactive content for traditional audio as well as digital-only content. "Entercom has a very well-crafted and sophisticated digital strategy. We're honored to have earned their business and eager to match our innovative product team to their forward-thinking digital team," said Clip Interactive CEO Michael Lawless. Clip Exxecutive VP/Chief Revenue Officer Bill Freund added, "Our ability to deliver fully interactive audio content and ads for Entercom stations will greatly benefit their listeners and their advertisers. We're thrilled to add Entercom to our platform and to have achieved such broad support for our vision across the radio industry." "We're excited to be working with Clip across the entire company," said Entercom VP/Digital Tim Murphy. "Their ability to innovate and solve real problems for both broadcasters and listeners is unparalleled, and we expect to develop industry-changing solutions through our partnership."
---
WMFX/Columbia Inks Partnership w/Carolina Panthers
RADIO ONLINE | Thursday, August 25, 2016 | 2:05pm CT |
Share
Alpha Media/Columbia, SC, announced that WMFX-FM (Fox 102.3) is the new home for the Carolina Panthers radio broadcasts there. WMFX will air full coverage of all games, plus pre-game and post-game shows, Panther's Talk each Monday night at 7pm and daily Panther updates to keep fans and listeners connected with their favorite team. Alpha Media Senior VP/Market Manager Mike Hartel commented, "The Carolina Panthers are a perfect fit for our Brand with Fox 102.3. They are a first class organization that values the customer experience and they understand the importance of serving the community. My 'Dab' might need a little work, but we couldn't be happier to partner with them on Sundays and throughout the entire year." Fox 102.3 PD Hunter Meyer added, "One of the best parts about where we live is that this is Football Country. We are thrilled to be working with the Carolina Panthers."

---
KGMZ-FM New Home For Warriors Game Broadcasts
RADIO ONLINE | Thursday, August 25, 2016 | 2:14pm CT |
Share

The Golden State Warriors and KGMZ-FM (95.7 The Game)/San Francisco enter a multi-year agreement to make the Entercom Sports station the new radio flagship of the Bay Area's NBA team. The Game will also offer expanded Warriors programming, including an additional 60 minutes of coverage to each of the existing 30-minute pre and post-game programs, highlighted in-season daily Warriors coverage featuring both Warriors and NBA-themed shows, Warriors Wednesdays and off-season programming. 95.7 The Game will continue to employ a dedicated Warriors reporter who will cover both home and road games and practices throughout the season. Radio play-by-play announcer Tim Roye will return for his 22nd season calling Warriors basketball, and will also appear regularly on 95.7 The Game programs on Monday, Wednesday and Friday during the season and on selected off-season dates. "We're excited about our new partnership with 95.7 The Game and the opportunity to provide our fans with increased coverage of the Warriors in a centralized location," said Warriors President/COO Rick Welts. "Under the terms of this partnership, virtually every Warriors game -- including the playoffs -- will be broadcast on 95.7. Additionally, our fans will benefit from increased programming overall throughout the year, including extended pre and post-game shows, more in-season programming, a dedicated off-season presence and numerous call-in shows." "We are truly excited about this new relationship with the Golden State Warriors," said Entercom President/CEO David Field. "It is a privilege to partner with such an extraordinary organization. We look forward to bringing our listeners exclusive, unparalleled coverage of the team both on and off the court." "We know that our fans turn to us for the best-in-class sports content from the teams and leagues they care about the most," added 95.7 The Game VP/General Manager Steve DiNardo. "The Warriors are one of the most popular basketball teams in the world and we are proud to deliver play-by-play broadcasts and 24/7 team coverage to local fans in the Bay Area and to be the official home of Warriors basketball." Prior to partnering with 95.7 The Game, the Warriors flagship station for each of the last 32 seasons, and for 40 seasons overall since the team moved to the West Coast in 1962, had been KNBR-AM.
---
CBS Radio Las Vegas Launches ''98.5 Da Shaka''
RADIO ONLINE | Thursday, August 25, 2016 | 3:16pm CT |
Share

CBS Radio/Las Vegas launches "98.5 Da Shaka, Vegas' Island and Reggae Station" on KLUC-HD2. Las Vegas has long been considered the Ninth Island by the Hawaiian community and this station will cater directly to that audience. From current island music like Common Kings, Anuhea and J Boog to current reggae hits from Rebel Souljahs and Katchafire, and even traditional island songs from Keali'I Reichel and IZ. In addition, 98.5 Da Shaka will participate in concerts and cultural events integral associated with the Hawaiian and Island community. The station is programmed by CBS Radio/Las Vegas OM JB King and Yung Jon Que (Jon Quiamzon). Born and raised in Hawaii, Que is a veteran of multiple Hawaiian radio outlets, including Island "98.5 & 93.1 Da Pa'ina." Together, the duo will developed the overall sound and vibe of the station. "It is very exciting to offer an HD format and live stream for the Las Vegas Hawaiian and Island community, which has been steadily growing in Vegas for well over two decades," said King. "98.5 Da Shaka will feature a mix of traditional and contemporary Hawaiian music. We are very fortunate to have some passionate team members creating the sound on 98.5 Da Shaka." Senior VP/Market Manager Tony Perlongo added, "The station is unlike any other offering in the market. It brings the music of the islands to Las Vegas and will cater to those looking for a station that soothes and relaxes just like the islands."
---
Cumulus Media to Use Twitter's 'Moments' Feature
RADIO ONLINE | Thursday, August 25, 2016 | 1:10am CT |
Share

Cumulus Media will be among the first radio media companies to use Twitter's "Moments" and to curate stories from moments around its 452 radio stations and Westwood One's syndicated programs. "Moments" are collections of Tweets that share the stories happening on Twitter, curated by Twitter and select partners. Companies granted access to make "Moments" can use the format to tell stories using related, real-time content. Cumulus Executive VP/Corporate Marketing and Westwood One President Suzanne Grimes said, "We are beyond thrilled to be part of this innovative feature from Twitter. It's the perfect marketing tool for the network and our stations, who pour their hearts and souls into their shows and their events. It allows them to connect with and extend real-time relationships with our listeners, our communities, and our advertising partners." "Beyond the incredible storytelling that 'Moments' offers us -- it's also an important way to give our audience a voice during events," added Cumulus/Westwood One VP/Social Media Lori Lewis. "Cumulus, Westwood One, and our stations will do what we do best, which is to connect audiences to the moments that matter through their words, photos, videos, and gifs." Find Cumulus Media Twitter Moments at @CumulusMedia on Twitter.
---
Bones Show Raises $85K to Benefit LA Flood Relief
RADIO ONLINE | Wednesday, August 24, 2016 | 11:10pm CT |
Share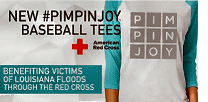 iHeartMedia's "The Bobby Bones Show" will donate $85,000 to the American Red Cross flood relief effort in Louisiana, thanks to the program's loyal audience. Last week, the syndicated Country morning show announced that all proceeds from #PimpinJoy merchandise on www.BobbyBones.com, including limited-edition baseball t-shirts, would be collected for the American Red Cross to help those affected by the devastating flood, which the organization has called the worst U.S. natural disaster since Superstorm Sandy in 2012. Listeners and fans raised $85,000 in just a few days. "I always think of our listeners as a tight knit group of friends," said Bones. "The immensity of their support this past week has only served to prove that point, as friends rally around friends in a time of need and that's what our listeners have done. I couldn't be more thankful and humbled by the amount raised." This is the latest effort by The Bobby Bones Show and its audience to raise funds for a worthy cause. Earlier this year, $35,000 was raised from the sale of #PimpinJoy apparel to benefit the Orlando shooting victims and their families. In addition, $20,000 was raised in July from the sale of "America Strong" t-shirts to purchase an all-terrain tracked wheel chair for former U.S. Marine Sgt. Kirstie Ennis.
---
Bouchard Joins WRFF/Philadelphia as APD/Afternoons
RADIO ONLINE | Wednesday, August 24, 2016 | 10:51pm CT |
Share

Alternative WRFF-FM (Radio 104.5)/Philadelphia appoints Amber (Miller) Bouchard as its new Assistant PD and air personality, effective September 12. In addition she will host middays, weekdays from 10am-3pm. Previously, Bouchard worked as the National Director of Promotion for Caroline. She's also served as the PD, Music Director and air talent for WEQX-FM/Albany, NY, with earlier career stops at WDVD-FM/Detroit, WDCG-FM/Raleigh and WQSM-FM/Fayetteville. "I've long admired and respected Radio 104.5 for their excellence on the air and online, not to mention their mammoth signature events and shows," said Bouchard. "I'm honored to join the team and I can't wait to get started! I want to thank John Allers and Brian Check for this incredible opportunity." "We were very fortunate to have some exceptional candidates raise their hand for this position," said Radio 104.5 PD John Allers. "Amber stood out as the perfect match for Radio 104.5's Assistant Program Director position with her broad background in radio and records combined with a strong understanding of our target audience and the music they love."

---
WIP-FM/Philadelphia Afternoon Host Josh Innes Out
RADIO ONLINE | Wednesday, August 24, 2016 | 2:02pm CT |
Share
Veteran Sports/Talk host Josh Innes is out of afternoons at WIP-FM (Sports Radio 94)/Philadelphia reports
Philly.com
. The move follows Innes' harsh criticism of crosstown competitor Mike Missanelli and WPEN-FM (97.5 The Fanatic) over a story involving a white producer creating a black character to call in to the show. In January, Innes was suspended for three days over his use of a racial epithet. "We can confirm that Josh Innes is no longer with WIP," a spokesperson said in a statement. "Various station personalities will fill in during the afternoon show until a new host is announced." Marc Farzetta and Hollis Thomas hosted Wednesday's show. Innes was fired just an hour before he was set to take the air. Innes was previously suspended by WIP back in January after using a racial epithet on air to describe Eagles center Jason Kelce. The remark was based on a Malcolm X quote. More recently, Innes was criticized by some listeners for sharing a photo of a performer in blackface in response to the controversy over a fake caller at WPEN.
---
Futuri's TopicPulse Announces New Features
RADIO ONLINE | Wednesday, August 24, 2016 | 3:09pm CT |
Share
TopicPulse, a social media story discovery tool that tracks real-time social media engagement for broadcasters, has announced new advancements and features for its broadcast partners. The new additions include alerts for breaking news and social bursts, a viral predictor, the ability to detect story opportunities, customized shortcuts and a new TopicPulse mobile app for iOS and Android. Futuri Media's Director of TopicPulse Partnership Development Jill Manuel said, "Futuri's team is committed to helping stations stand out in their markets on broadcast, digital, and mobile. TopicPulse enables our partners to leverage the power and speed of social media trends in their shows, newscasts, websites and social media posts. There's nothing else like it."
---
Beasley Media Group Adds FM Translator in Las Vegas
RADIO ONLINE | Wednesday, August 24, 2016 | 3:14pm CT |
Share
Beasley Media Group has agreed to purchase FM translator station K268CS in Las Vegas from Southern Nevada Educational Broadcasters, a Nevada Trust. The purchase price is $700,000. Bob Heymann of the Chicago office of Media Services Group served as thee broker representing the Beasley in the transaction. Robert Branch represented the seller.
---
Randy Lane Company Expands into Video Coaching
RADIO ONLINE | Wednesday, August 24, 2016 | 3:20pm CT |
Share

The Randy Lane Company is now offering video coaching for executives, entrepreneurs and media personalities. On-camera host and video specialist Laura Nickerson (pictured) is named to head the new RLC video coaching programs. Nickerson has worked as an on-camera host and radio personality for CTV, TV Guide, HBO, KCET, Broad Topics TV & Radio Podcasts and NBC/Universal. She has worked with the Randy Lane Company since 2014. "Online video is an essential element to build your brand," said President Randy Lane. "Being your authentic self on video enables you to connect one-on-one in a personal way with your audience, clients and customers." "Every client has the ability to shine on camera; my job is to make sure that they do. I help plan highly engaging videos that get viewed. On set, I use expert techniques that ensure our clients are relaxed, focused, and that their personality matches their multi-platform marketing," added Nickerson. Coaching services and workshops are being scheduled now to help in the creation of corporate videos, YouTube series, webinars, webisodes, vlogs and in-house training videos.

---
Influence FM Now Offering Connect CRM at No Cost
RADIO ONLINE | Wednesday, August 24, 2016 | 10:41pm CT |
Share
Envision Networks has announced that influence FM radio management software is now offering the Connect CRM system for free to all members of the radio industry. This cloud-based software suite is designed to streamline sales, traffic and production while giving users control over every step of the sales process including asset management, spot creation and commercial production. Users can contact Envision Networks to expand the influence FM product suite with Presentation Builder, SmartRate, Paperless Production, Task Manager and WikiCopy. These five additional products are integrated and customized for affiliate use with Connect CRM. Stations interested in utilizing Connect CRM can sign up online at http://bit.ly/ConnectCRM. Connect CRM users will also gain free access to the WikiCopy library.
---
Chris Stigall Inks Multi-Year Extension with WPHT
RADIO ONLINE | Thursday, August 25, 2016 | 1:23am CT |
Share

CBS Radio's WPHT-AM (Talk Radio 1210)/Philadelphia inks a multi-year agreement with morning personality Chris Stigall to renew and extend his relationship with the station, and continuing the "Chris Stigall Show." Under the deal, Stigall will continue in his current role, as well as being the face of Talk Radio 1210 WPHT with charitable endeavors, events and digital content creation. "We are thrilled to extend our partnership with Chris. He's intelligent, entertaining, genuine and his ability to connect with listeners across multiple platforms has been unrivaled," said Senior VP/Market Manager David Yadgaroff. "We're thrilled to keep Chris as the keystone of the WPHT lineup for many years to come." "In a blink, five and a half years have come and gone since we launched our show at WPHT. In an ever evolving industry, I can't express how grateful I am to CBS Radio Philadelphia's leadership for their unflinching support and unwavering commitment," added Stigall. "I am proud to partner with passionate, professional and dedicated team members including the executive team in New York and our management team in Philadelphia, led by David Yadgaroff and Jared Hart."
---
Alpha/Biloxi Collects Supplies for LA Flood Victims
RADIO ONLINE | Thursday, August 25, 2016 | 1:31am CT |
Share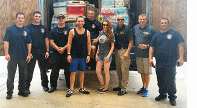 Alpha Media/Biloxi, MS, partnered with the City of Gulfport to collect supplies for the flood victims of Baton Rouge and surrounding Louisiana cities. Biloxi stations asked residents and local businesses to drop off relief supplies at the Gulfport City Hall or any City of Gulfport Fire Station from August 15-16. The goal of #OperationLouisianaRelief was to fill a semi-truck, but that goal was far exceeded when three 18-wheelers were loaded with necessities. The Biloxi team delivered the items to the Louisiana Flood victims on Wednesday, August 17. 107.1 The Monkey night host James Steele commented, "It was touching. It was beautiful. With all of the bad news and bad things going on in the world, this makes you realize that the world isn't all bad; the world is full of really great people." City of Gulfport Mayor, William "Billy" Hewes added, "The drive was off the charts successful; we need to do what we can to help our neighbors in need. We were proud to have Alpha Biloxi be part of it." "Through Alpha's outreach and radio networks, we were able to engage so many more people and had an abundance of volunteers and donations streaming in. Some of the most memorable moments were listeners showing up with their own stories and donations," remarked Chris Vignes, City of Gulfport Public Information Officer.
---
Beasley Declares Quarterly Cash Dividend
RADIO ONLINE | Thursday, August 25, 2016 | 1:14am CT |
Share
Beasley Broadcast Group has announced that its board of directors has declared a quarterly cash dividend of $0.045 per share of its class A and class B common stock. The dividend is payable on October 7, to shareholders of record on September 30. All subsequent dividends will be reviewed quarterly and declared by the board at its discretion.
---
Nielsen Finds Irregularities in Los Angeles PPM Homes
RADIO ONLINE | Wednesday, August 24, 2016 | 3:27am CT |
Share

Nielsen Audio has identified "irregular compliance patterns" as part of its ongoing quality assurance program in PPM homes in the Los Angeles metro. The firm said that "an extensive investigation" found that the ratings firm's quality standards were not followed. In a statement, Nielsen said, "Out of an abundance of caution, we removed 35 installed households, which collectively represented 55 average daily in-tab persons for the first two weeks of August." These households account for 2% of the average daily in-tab in the Los Angeles metro area. Combined, the affected meters contributed less than 1% of the quarter hours of listening for these weeks. The August 2016 Week 3, Week 4, and monthly data releases will exclude thee homes. The data will release as originally scheduled. "We are conducting an impact analysis of 2016 data in Los Angeles to determine what, if any, actions may be required for prior months. We will be in constant communication with our Los Angeles clients to ensure they are kept updated on the results of the impact analysis and plans moving forward. We are also investigating all other PPM markets and conducting an aggressive review of protocols and will be taking a number of steps to prevent recurrence," Nielsen added. When asked, Nielsen could not share any station-specific information on the irregularities. Nielsen is also conducting impact analysis for prior months in 2016 with results expected to be available early next week.
Menu
|
Contact Us
|
Subscribe
|
Advertise
|
Privacy Policy
|
About Us
---
Copyright © 1989-2016 RADIO ONLINE ®

The publisher makes no claims concerning the validity of the information posted on RADIO ONLINE and will not be held liable for its use. No part of this material may be reproduced in any form, incorporated in any information retrieval system or otherwise redistributed without the prior written permission of the publisher.
---
Sponsored Links

Radio Station Data For Less

Radio station data for all of the rated markets. Top 400 Metros-Over 12,000 AM/FM/HD $299 includes 1 year free updates.

Radio Station Data For Less

Radio station data for all of the rated markets. Top 400 Metros-Over 12,000 AM/FM/HD $299 includes 1 year free updates.