Griesheimer Exits Entercom/Denver After 10 Years
| | |
| --- | --- |
| RADIO ONLINE | Friday, October 20, 2017 |2:05pm CT | |
Amy Griesheimer exits Entercom/Denver as VP/General Manager for the company's five-station cluster there after ten years in the post. Regional VP Doug Abernathy will reportedly serve as acting General Manager. Prior to joining the local group in October, 2007, she served as Market Manager of the company's stations in Madison, WI. Before that, Griesheimer was GM of Entercom/Seattle and GM of KALC-FM and KEZW-FM in Denver.
---
Friday Deadline for Country Radio HoF Nominations
| | |
| --- | --- |
| RADIO ONLINE | Friday, October 20, 2017 |1:49pm CT | |

Next week marks the deadline for Country Radio Hall of Fame Class of 2018 nominations. Submissions are still being accepted and must be received by October 27. Interested parties can submit applications at countryradioseminar.com. The 2018 Hall of Fame inductees will be revealed at CRS 2018, which will take place February 5-7 at the Omni Hotel in downtown Nashville. Information regarding the date and location for the Country Radio Hall of Fame Dinner and Awards ceremony will be available in the coming months. The Country Radio Hall of Fame is dedicated to the recognition of individuals who have made significant contributions to the radio industry over a 20-year period, 15 of which must be in the Country format. It was founded in 1974 to recognize outstanding individuals working in the broadcasting industry who are promoting the Country radio format. The Hall of Fame has two categories: Radio and On-Air Personality. The CRB President's Award and the Artist Career Achievement Award are also recognized at the event.
---
Inaugural neXt2rock 2017 Garners 1,800 Submissions
| | |
| --- | --- |
| RADIO ONLINE | Friday, October 20, 2017 |12:29pm CT | |

Cumulus Media's neXt2rock 2017 competition -- a national and local grassroots search for the nation's newest rock star -- has begun with over 1,800 submissions, and thousands of fans weighing in on their favorites thus far. The winner of this four-month-long competition will receive a record deal with Big Machine/John Varvatos Records, as well as exposure, commensurate with a major label release, on Cumulus stations nationwide. Emerging artists will first be rated by Cumulus listeners -- currently underway now and continuing through October 25. Fans are invited to listen and rate artists' submitted music, and then socially share their favorite(s). All those participating in the rating process will be automatically entered into a sweepstakes to win a trip to the neXt2rock 2017 finale at the Viper Room in Los Angeles on December 12. Mentor Judges for the competition's finale include Big Machine Label Group President & CEO Scott Borchetta; Musician, Songwriter and Producer Desmond Child; Record Producer Bob Ezrin; Sex Pistols' guitarist and host of "Jonesy's Jukebox" Steve Jones; and Bush frontman Gavin Rossdale. Video messages from the mentor judges can be found at neXt2rock's Facebook page, and Rossdale just released a personal video this week extolling the virtues and importance of fans to the neXt2rock competition and to the artists they love and support. In November, mentor judges Rossdale and Borchetta will host weekly Twitter Q&As to advise contestants and further engage fans, and details and dates will be announced soon. "It's refreshing and exciting to see and hear the wide spectrum of entries we've received for our first neXt2rock competition," said Executive VP/Content & Programming Mike McVay. "It's especially encouraging to see how diverse the submissions are within the genre, which further proves that rock music is alive and well, and its future remains bright." Sixty-one Cumulus stations in 47 markets, including Los Angeles, Chicago, San Francisco, Atlanta, and Minneapolis, have conducted local grassroots searches, with additional national participation made possible by Cumulus' digital properties and syndicated rock shows.

---
CBS Launches Exchange Offer in Entercom Merger
| | |
| --- | --- |
| RADIO ONLINE | Thursday, October 19, 2017 |6:25pm CT | |
CBS has launched its exchange offer to their shareholders in connection with the merger of CBS Radio and Entercom. Under the terms of the offer, CBS shareholders can exchange shares of CBS Class B common stock for shares of CBS Radio common stock (which, upon completion of the merger, will convert into shares of Entercom Class A common stock). The exchange offer is scheduled to conclude on the evening of November 16, the day after the scheduled special meeting of Entercom shareholders to approve the merger. CBS Chairman/CEO Leslie Moonves stated that the exchange offer gives CBS shareholders "the opportunity to invest in what we believe will be a best-in-class radio company, with top assets and a terrific management team." In a memo to staff, Entercom President/CEO David Field agreed with Mooves, writing "We couldn't be more excited about the team we are building, the brands we will own, and the bold plans we have to enable the combined company to thrive in the future with big investments across many areas of our business to enhance our capabilities and firepower." "Our merger still requires regulatory consent from various government agencies. We are continuing our work with those agencies and remain optimistic that we will receive their approvals in a timely manner and close our merger in the fourth quarter, possibly as early as November 17, the day after the CBS exchange offer is scheduled to conclude," Field added.
---
Cumulus Raises $250K for North Bay Wildfire Victims
| | |
| --- | --- |
| RADIO ONLINE | Thursday, October 19, 2017 |11:54pm CT | |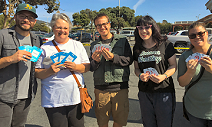 Cumulus Media San Francisco and its six-station cluster there has raised over $250,000 for the Bay Area Fire Relief Fund since Friday, October 13, bringing much-needed relief to victims of the massive Northern California wildfires. The wildfires destroyed homes displacing thousands of Northern Californians and scorched areas including Sonoma, Napa and Mendocino counties, with 42 people reported to have perished in the fires, and more than 58 people still missing. KFOG, KGO, KNBR, KSAN, KSFO and KTCT have partnered with local businesses to launch a major two-week relief drive, where businesses match up to $10,000 per day in cash donations raised by the stations' listeners, driving big momentum for the fundraising effort. 100% of funds raised by the drive will go to local North Bay fire relief. Cumulus San Francisco has already disbursed $150,000 between the Northern California Chapter of the Red Cross and to the United Way Bay Area. Cumulus has established a PayPal account exclusively for donations. Those wishing to donate to the Bay Area Fire Relief Fund with a credit card, debit card or PayPal account will text one of the following keywords to 77948 to make a secure donation: "KNBR," "KGO810," "KFOG," "BONE" or "KSFO." Relief agencies are requesting cash donations over hard goods at this time. Those preferring to donate via check, should make their checks payable to the Red Cross or United Way while indicating Bay Area Fire Relief Fund in the memo line. VP/Market Manager Justin Wittmayer said, "We are doing everything we can to raise awareness and donations for the North Bay fire victims. We activated a text-to-donate line last week that has driven over $250,000 in donations with a goal of raising $500,000. We'd like to thank our incredible employees for leading the charge, our advertising partners who've offered to match daily listener donations, and our truly generous and big-hearted listeners. This compounding effect has really engaged our audience to get involved and continues to build momentum for much-needed donations. We have a long road ahead of us and plan to stay involved to positively impact those affected as long as we are needed." Following the initial two-week relief drive, KGO 810 will host a benefit Holiday Comedy Show & Toy Drive in early December. The station will collect new and unwrapped toys for children who lost all of their toys in the North Bay Fires.
---
Brazelle Named PD at CD102.5/Columbus OH
| | |
| --- | --- |
| RADIO ONLINE | Thursday, October 19, 2017 |11:45pm CT | |
Alternative WWCD-FM (CD102.5)/Columbus, OH, elevates night talent Mason "Mase" Brazelle to Program Director. He replaces Lesley James, who relinquishes programming duties after eight years, but she'll remain in the CD102.5 afternoon slot. Mase previously spent 11 years at Alternative WKZQ-FM/Myrtle Beach, SC, where he was Assistant PD and Music Director. Before that, Mase worked at former crosstown iHeartMedia Alternative (now Sports) WXZX-FM (105.7 The X). "I'm very excited to be back on the radio side of the business," said Mase. "After being on the promotion side for almost three years, I promise to answer phone calls and e-mails as much as I possibly can. I've always said everyone should wait tables for at least a little bit just to get it. Now I think every programmer should have to do promo as well. I have some huge shoes to fill but I'm really looking forward to the challenge."
---
SiriusXM, Formula 1 Sign Multi-Year Broadcast Deal
| | |
| --- | --- |
| RADIO ONLINE | Thursday, October 19, 2017 |5:22pm CT | |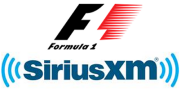 SiriusXM and Formula 1 ink a multi-year agreement that makes SiriusXM the North American radio broadcaster of all Formula 1 races, starting with this weekend's 2017 Formula 1 United States Grand Prix in Austin on Sirius channel 132, XM channel 203 and channel 963 on the SiriusXM app. The four remaining races will all air on SiriusXM, including the season-finale 2017 Formula 1 Etihad Abu Dhabi Grand Prix on November 26. "Formula 1 races are sensational, world-class events, which showcase the most advanced automotive technology in the hands of exceptional drivers competing on very challenging circuits," said SiriusXM President and Chief Content Officer Scott Greenstein. "We are very excited to deliver the excitement of these races to SiriusXM listeners across the country. As Formula 1 makes its way around the globe, we will bring its fans in North America to each international venue and enable them to follow the action live." "We are delighted to have Formula 1 back on SiriusXM," said Sean Bratches, Managing Director, Commercial Operations at Formula 1. "Their ability to offer live coverage of all races throughout the Championship to their numerous fans and listeners provides tremendous additional exposure for F1 in the North American market." The FIA Formula One World Championship is the highest end of open wheeled motor racing. The season runs from March through November and this year consists of 20 Grand Prix races run on road course tracks, as well as some closed city streets circuits. The results of each race are combined to determine two titles, one for drivers and one for constructors (teams).
---
iHeartMedia/Albany GA Names Travon Duhart as PD
| | |
| --- | --- |
| RADIO ONLINE | Thursday, October 19, 2017 |2:10pm CT | |
iHeartMedia/Albany, GA, names Travon Duhart (aka DJ Tray) as Program Director and afternoon host. He'll oversee the programming of Urban WJIZ-FM (96.3) and Urban AC WMRZ-FM (98.1 Kiss). Duhart's previous radio stints include Urban WGOV-FM/Valdosta GA, WASU-FM/Boone NC and Urban WJIZ-FM/Albany, GA. Senior VP/Programming Derrick Greene said, "Tray brings the kind of attitude and programming knowledge to the position to help us maintain our position as the market leader."

---
Chairman Ajit Pai Announces FCC General Counsel
| | |
| --- | --- |
| RADIO ONLINE | Thursday, October 19, 2017 |2:00pm CT | |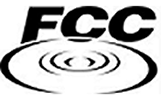 FCC Chairman Ajit Pai appoints Thomas M. Johnson Jr. as FCC General Counsel. Acting General Counsel Nick Degani will transition back to his role as senior counsel in the Office of Chairman Pai. Johnson joins the Commission from his position as deputy solicitor general for West Virginia Attorney General Patrick Morrisey. He's also worked at the law firm Gibson, Dunn & Crutcher LLP and as a law clerk for Judge Jerry E. Smith of the U.S. Court of Appeals for the Fifth Circuit. "Because we cannot stray beyond the authority granted to us by Congress, the General Counsel is one of the most important positions at the FCC," said Chairman Pai. "Having myself worked in the FCC's Office of General Counsel, I know the hard work that goes on there. I am grateful that someone with Tom's skill and experience is going to fill this vital role. Tom is an outstanding attorney and a strong leader." Pai also thanked Degani for his work, "Nick once again stepped up when needed and did an outstanding job filling a temporary but fundamental need for the Commission. I welcome him back to my office and thank him for his tireless work." The Office of General Counsel serves as the chief legal advisor to the Commission and its various bureaus and offices. The office also represents the Commission in litigation, recommends decisions in adjudicatory matters before the Commission, assists the Commission in its decision-making capacity, and performs a variety of legal functions regarding internal and other administrative matters.
---
Radio Leads Music Discovery, On-demand Closes Gap
| | |
| --- | --- |
| RADIO ONLINE | Wednesday, October 18, 2017 |11:05pm CT | |
Integr8 Research has published the third in a series exploring how changing technology impacts radio listening and new music consumption. The good news is that local FM radio stations remain the leading source for 15- to 39-year-old listeners to learn about new music. Unfortunately, radio no longer wins that by a landslide as other music listening options are catching up, President Matt Bailey wrote in a blog post.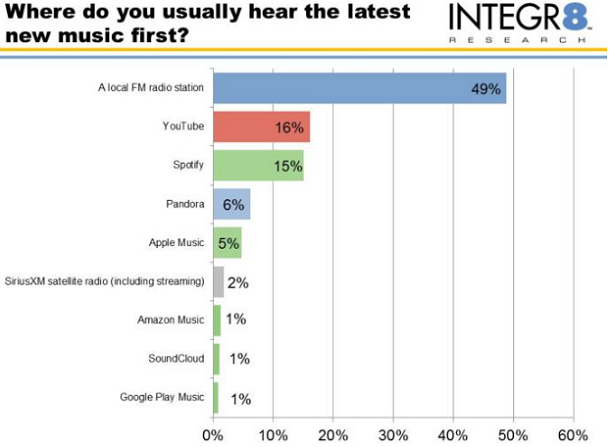 In part 2 of the series, Integr8 showed how people who own smart speakers, such as the Amazon Echo and Google Home, were indeed more likely to stream local FM stations, but are also more likely to use on-demand streaming services such as Spotify, Amazon Music, Google Play and Apple music. So, Bailey asks, "Do smart speaker owners now turn to Alexa to find out what's new instead of their local CHR personality?" The study found three factors that most threaten radio's role in new music discovery:
1. Being young
For listeners over 30, radio remains the dominant way the majority of listeners learn about new music. Among teens, however, only 34% typically hear the latest new music first from a local FM radio station, while almost as many hear new music first from an on-demand audio service or YouTube.
2. Subscribing to an on-demand service
When listeners regularly use Spotify or one of its clones, the on-demand service takes on a much bigger role in new music discovery. Only 41% of weekly on-demand audio users hear new music first on FM radio, while 34% hear new music first on an on-demand audio service.
3. Owning a connected car
When listeners acquire a car with Apple CarPlay or Android Auto, their music consumption behavior and FM radio's role in new music discovery both change dramatically. Like all listeners, connected car owners are most likely to spend time with a local FM station. However, they are also far more likely to be weekly users of a wide variety of alternatives. With connected car owners using so many alternatives to FM radio, only 43% of connected car owners say they hear the latest new music first on FM radio, while 33% hear new music first on an on-demand audio service, the Integr8 study found. That shift is bigger than for any other device examined. Today, only 8% of 15- to 39-year-olds own a car with Apple CarPlay and Android Auto, but automotive experts predict that by 2020, three-fourths of all cars sold worldwide will be connected cars.
---
Tom Joyner Inks 2-Year Extension with Reach Media
| | |
| --- | --- |
| RADIO ONLINE | Thursday, October 19, 2017 | 0:28am CT | |

Reach Media inks a two-year agreement that extends the "Tom Joyner Morning Show" in radio syndication through December 31, 2019. The renewed deal comes as he prepares to mark his 25th year in syndication. To commemorate the anniversary, Joyner plans to launch a two-year-long celebration campaign, sharing events and experiences with his listeners highlighting the past, present and future of the Tom Joyner brand. Joyner said, "We've touched a lot of lives and we love and appreciate the millions of people who are part of the TJMS family. So much has happened since we went on the air in 1994... good and bad... and we all went through it together. Well, the Party with a Purpose isn't over. The celebration will be epic as we remember the guests, the laughs, the tears, the bits, the unforgettable moments we've shared together... and, of course we'll be making new memories along the way. When we go off the air each morning, I never say goodbye... and I'm not saying it now! Here's to much more good radio!" Urban One CEO of Reach Media and Radio One Stations David Kantor added, "Tom has not only advanced radio and established new mediums to inspire people, but he's brought change to our communities on an individual level. When he says 'I've got an idea,' he pursues it with a passion and everyone is better for it. He is the best business partner and friend I could ever have."
---
CMG Launches Cox Media Group Cares Tampa Bay
| | |
| --- | --- |
| RADIO ONLINE | Wednesday, October 18, 2017 |6:14pm CT | |

Cox Media Group (CMG) will launch its philanthropic initiative, Cox Media Group Cares Tampa Bay -- while the area was spared a direct hit by Hurricane Irma, many local businesses were still greatly impacted by the storm. Some were left without power, lost inventory, or even had to close their doors for days. With the generous support of sponsors, The Miggs and Swigg Radio Show, DeBartolo Family Foundation, Pepin Distributing Company and Great Bay Distributors, Cox Cares will help small businesses recover after Irma through marketing and promotional outreach. Each Saturday between October 21 and Small Business Saturday, November 25, local companies will be featured on Cox Media Group radio stations. The businesses will receive free on-air, online and social media promotion throughout the week. The supporting station will also be on-site at each business location that Saturday. Cox Cares will provide assistance to more than 40 small businesses in the Tampa Bay area with approximately $250,000 in promotional support. "CMG understands local businesses are an important part of our communities," said CMG Tampa VP/General Manager Keith Lawless. "The disruption from Hurricane Irma has greatly impacted these businesses. We are proud to help support them at a time when they need it most. With the help of our local sponsors, we are promoting Tampa Bay area businesses across all six of our CMG radio stations." Interested business owners can apply for Cox Media Group Cares Tampa Bay online at cmgradiocares.com or through any of the Cox Media Group Tampa radio station website.

---
Jones Joins WPPZ/Philly to Host ''Your Voice''
| | |
| --- | --- |
| RADIO ONLINE | Wednesday, October 18, 2017 |6:05pm CT | |
Radio One Philadelphia names Solomon Jones as host of WPPZ-FM's new show, "Your Voice," airing from 10am-noon, Monday through Saturday. Jones, a graduate of Temple University, is an
Essence
bestselling author and journalist who has been featured nationally on NPR's "Morning Edition," CNN Headline News and
Essence
magazine. Solomon previously was the morning show host for News/Talk WURD-AM for three years and he writes a column for the
Philadelphia Daily News
. Radio One Philadelphia Operations Manager Karen Vaughn said, "We want to engage our listeners with not only the inspirational music they love, but the information they need to be socially aware, community engaged and WOKE overall. Solomon is a well-known local radio and media personality and is the perfect fit to provide this new music infused talk show format on Praise." Jones added, "I'm excited to join Radio One at this crucial time for our community. In the face of political upheaval, police brutality, underfunded education, violence and increasing racism, we desperately need a voice. I'll bring high-powered interviews, community interaction and lots of laughs to the mix. But more than anything, I'll listen, and together we'll put faith into action to bring about the change we need."
---
RTDNA Wants You to Know Your Reporting Rights
| | |
| --- | --- |
| RADIO ONLINE | Wednesday, October 18, 2017 |2:02pm CT | |
FCC Chairman Ajit Pai said Tuesday the agency does not have authority to revoke broadcast licenses over news story content, despite suggestions from President Donald Trump. He rejected Trump's tweet that the FCC could challenge the license of NBC after stories Trump declared were not true, reports
Reuters
. "Under the law, the FCC does not have the authority to revoke a license of a broadcast station based on the content," said Pai. "The FCC under my leadership will stand for the First Amendment." To address such concerns, RTDNA, the National Press Club Journalism Institute, the Association for Education in Journalism and Mass Communication, and Reel Media Group are co-sponsoring an event on Friday, October 20 from 1:30pm to 3pm ET, at which student and professional journalists will have the opportunity to learn from media law experts and experienced reporters who have encountered legal or physical threats while reporting. It's hosted at the National Press Club in Washington, DC, and streamed on Facebook Live at www.facebook.com/RTDNA.RTDNF. RTDNA's Voice of the First Amendment Task Force, launched this year, has been tracking increasing vitriol against reporters working in public, including verbal and physical harassment and even arrest. The panel will include:
Vikram Bhagat, in-house counsel at American Public Media Group and Minnesota Public Radio Ellen Crooke, VP of News for TEGNA and an RTDNA Director-at-Large Scott MacFarlane, Veteran investigative reporter for NBC Washington Paul Safirer of the prestigious Washington law firm Ballard Spahr
It will be moderated by Reel Media Group co-founders Stephanie Tsoflias Siegel and Bram Weinstein. "Journalists have a Constitutionally-guaranteed duty to seek and report the truth, and actions that prevent reporters from doing so are often unjustified," said RTDNA Executive Director Dan Shelley.
---
FOX Taps iHM for ''The Four: Battle For Stardom''
| | |
| --- | --- |
| RADIO ONLINE | Wednesday, October 18, 2017 |1:52pm CT | |

Fox Broadcasting Company (FOX) will team up with iHeartMedia on the new music competition series "The Four: Battle For Stardom." FOX will work with iHM to support auditions, assist in the search for talent and boost the careers of artists throughout the run of the competition. As part of the grand prize, the winner of "The Four: Battle For Stardom" will also be part of iHeartMedia's "On the Verge" artist development program, which will support the winning talent with airplay across iHeartMedia stations. The Four initiative follows the recent launch by Fox Networks Group and iHeartMedia of Smart A/V Audiences, the first suite of data-driven advertising products to integrate both audio and video creative units into one platform. "With our deep history of shaping pop music culture -- from 'Glee,' which defied the odds to make musical series cool; to the multi-hit-producing EMPIRE; to 'Grease: Live,' which reinvented the live musical for today's audiences; and 'American Idol,' the original star-maker-FOX is uniquely credentialed to bring viewers The Four: Battle For Stardom," said Fox Broadcasting Company President, Alternative Entertainment and Specials Rob Wade. "Teaming up with iHeartMedia supercharges our proven ability to launch musical artists into the mainstream, and we can't wait to get started." "At iHeartMedia we pride ourselves on discovering and breaking new talent," said iHM President of Entertainment Enterprises John Sykes. "Our 'On the Verge' initiative has helped launch the careers of artists like Sam Smith, Fifth Harmony, Nick Jonas and many others. We are excited to collaborate with FOX to find the next new artist who will receive this rare opportunity."
---
iHM Launches iHeartRadio ALTer EGO
| | |
| --- | --- |
| RADIO ONLINE | Tuesday, October 17, 2017 | 9:35am CT | |

iHeartMedia has announced the first-ever iHeartRadio ALTer EGO when the biggest names in Alternative Rock will come together at the historic, "Fabulous" Forum in Los Angeles on January 19, 2018 to celebrate everything Alternative Rock. The lineup includes Mumford & Sons, Cage The Elephant, Beck, Spoon, WALK THE MOON, The National and Dashboard Confessional, with more to be announced. "We're extremely excited to add iHeartRadio ALTer EGO to our amazing lineup of world-class iHeartRadio events," said Tom Poleman, Chief Programming Officer for iHeartMedia. "We've seen the incredible response from fans every time our alternative rock performers hit the stage at our legendary iHeartRadio Music Festival and know that listeners across the country have waited for an event like this for some time now. It's going to be an incredible night." "Alternative rock is experiencing an incredible renaissance," said John Sykes, President of Entertainment Enterprises for iHeartMedia. "Young bands in their 20's are making music with the same energy and power of the bands like U2, Depeche Mode and REM, that helped to create the format." Beginning December 26, iHeartRadio will launch a nationwide promotion to give Alt-Rock fans across the country the opportunity to win a trip to Los Angeles to attend iHeartRadio ALTer EGO. The promotion will run across more than 75 Alternative and Rock iHeartRadio stations. The event will broadcast live across over 60 Alternative and Rock iHeartRadio stations. Listeners will have access to a limited number of tickets to iHeartRadio ALTer EGO through a Alt 98-7's The LIST Pre-Sale beginning Wednesday, October 18 at 10 a.m. PT through October 20 at 10 a.m. PT or while supplies last. Tickets go on sale to the general public on Friday, October 20 at 1 p.m. PT via www.iHeartRadio.com/alterego.
---
Scripps Radio Tulsa Hires Dan Smith as GSM
| | |
| --- | --- |
| RADIO ONLINE | Tuesday, October 17, 2017 |6:18pm CT | |
Dan Smith joins Scripps Radio Tulsa as its new General Sales Manager. He'll oversee the sales team for KVOO, KHTT, KXBL, KBEZ and KFAQ. Smith is an Oklahoma radio veteran with over 23 years of sales leadership experience, including 11 years in Tulsa at Cox Media Group. Most recently, Smith was General Manager with Williams Broadcasting in Oklahoma. "Dan brings with him a tremendous track record of results and a deep understanding of the Tulsa market," said Scripp Radio Tulsa VP/GM David Abel. "Dan's a proven leader who has a long history of talent and business development, which make him a perfect fit to lead our veteran sales team."
Menu
|
Contact Us
|
Subscribe
|
Advertise
|
Privacy Policy
|
About Us
---
Copyright © 1989-2017 RADIO ONLINE ®

The publisher makes no claims concerning the validity of the information posted on RADIO ONLINE and will not be held liable for its use. No part of this material may be reproduced in any form, incorporated in any information retrieval system or otherwise redistributed without the prior written permission of the publisher.
---