SiriusXM to Launch Eight Holiday Music Channels
RADIO ONLINE | Thursday, October 27, 2016 | 2:20pm CT |
Share
SiriusXM has announced its holiday music lineup featuring eight commercial-free channels celebrating the festive season, one to broadcast starting Wednesday, November 2. SiriusXM's holiday music channels will offer listeners a variety of traditional holiday songs, classical Christmas carols, country Christmas classics, contemporary holiday tunes, soul music, Hanukkah music and Latin seasonal music. The holiday music channels will be available on multiple satellite radio channels, and via the SiriusXM App for smartphones and other connected devices and online at siriusxm.com. The holiday channel lineup features:
Holly (channel 17) Holiday Traditions (channel 18) Holiday Pops (channel 76) Country Christmas (channel 58) Navidad (channel 785) Holiday Soul (channel 49) Radio Hanukkah (channel 787) New Year's Nation (channel 18)
---
NAB Announces DCMA Agreements with Sony, Warner
RADIO ONLINE | Thursday, October 27, 2016 | 2:15pm CT |
Share
The NAB inks agreements with Sony and Warner Music Groups that would waive or relax some Digital Millennium Copyright Act restrictions for broadcasters who stream their on-air signals on the Internet, reports
Broadcastlaw Blog
. These agreements put fewer restrictions on how often an artist's music can play and also allows stations to announce upcoming artists, commonly know as billboarding, but only if they don't announce the specific times. The waivers cover Copyright Act requirements which broadcasters, especially those who stream, may have difficulty meeting. Such as relief from the requirements that copies of a song stored in a digital music systems could only be kept for only 6 months. After that, the station was required to delete any copy of a song and re-record for another six months of use. The agreements also waive the performance portion, which limited a station streaming its signal from playing more than 2 songs from the same CD or album in a row, or playing more than 3 songs in a row from the same artist, or from playing more than 4 songs from the same artist in a 3-hour period. The waivers allow stations to exceed the limits, but only if the music is played in a manner consistent with normal broadcast operations. Stations who stream must pay royalties to SoundExchange and meet all restrictions under the Copyright Act. An outlet with an audience of at least 80,000 ATH in any month must also, by August 1, 2017, have a "buy button" on their website or app that allows listeners to purchase the song that they are listening to.
---
ABC News Radio to Provide Election Night Coverage
RADIO ONLINE | Thursday, October 27, 2016 | 2:39pm CT |
Share
ABC News Radio will provide live anchored coverage on Election Night, Tuesday November 8, from 7pm ET through at least 1am ET. ABC News correspondents Aaron Katersky and Karen Travers will anchor coverage with "World News Tonight" Saturday anchor and Senior National Correspondent Cecilia Vega and correspondents Brad Mielke and Cheri Preston reporting from the Hillary Clinton campaign headquarters and "World News Tonight" Sunday anchor Tom Llamas and correspondents Alex Stone and Mark Remillard reporting from the Donald Trump campaign headquarters. Joining them will be correspondents Richard Davies from the ABC News Decision Desk, Stephanie Ramos from Washington, DC, Jim Ryan from Nevada and Ryan Burrow from Florida. Political Director Rick Klein, Deputy Political Director Shushannah Walshe and contributors Steve Roberts and Trey Hardin will provide political analysis.
---
Nielsen Takes a Look at Country Music Format
RADIO ONLINE | Thursday, October 27, 2016 | 3:03pm CT |
Share
Country music is one of the most popular radio formats in many parts of the U.S. Nielsen looked at Country music -- from the crossover appeal of its talent to the fans themselves -- and found some unique numbers. For example, the company found that 14.4% is the share the total radio listening, making Country the top format in the U.S. in 2015. Nielsen also found 2,874 total Country music stations serving country in 2008 as compared with 4,002 total Country stations in 2015. With the 50th Anniversary of The Country Music Awards next Wednesday, November 2, Nielsen took a look at Country Music overall-- from the radio format to the fans themselves -- and put together the following insights-based infographic: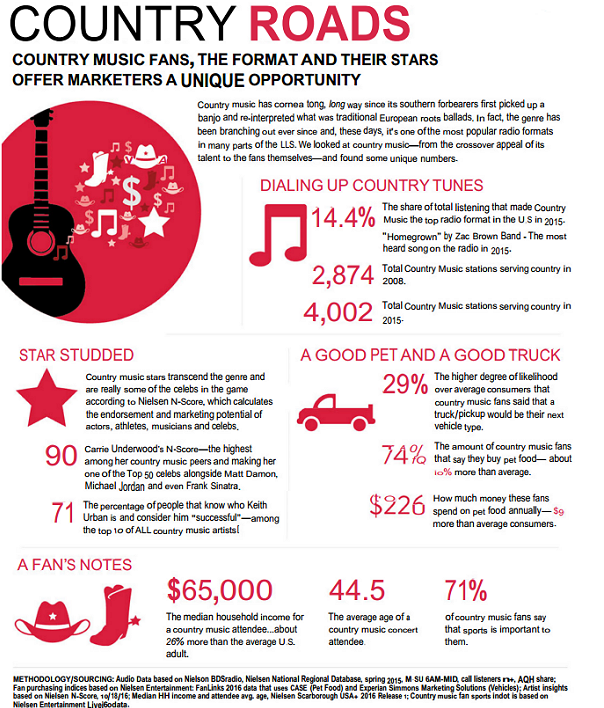 For more, please click
here
---
WO Serves Up Thanksgiving Special with LOCASH
RADIO ONLINE | Thursday, October 27, 2016 | 3:12pm CT |
Share
Country duo LOCASH will host an all-star Thanksgiving special on Westwood One. "A Thanksgiving Weekend Celebration with LOCASH" will feature cuts from their new album "The Fighters," music from their A-list friends and holiday memories. The four-hour special will serve up music from Luke Bryan, Jason Aldean, Kenny Chesney, Carrie Underwood, Florida Georgia Line, Kelsea Ballerini, Dierks Bentley and more. Plus, LOCASH's friends Keith Urban, Thomas Rhett, Zac Brown and Sam Hunt will share holiday memories and talk turkey about food and gratitude. Stations can air Westwood One's "A Thanksgiving Weekend Celebration with LOCASH" any time Thursday, November 24 through Sunday, November 27 between 6am and 12 midnight.
---
Vanilla Gorilla Services Now Available for Barter
RADIO ONLINE | Thursday, October 27, 2016 | 3:22pm CT |
Share
Vanilla Gorilla Productions, a provider of custom audio imaging, production and voiceover services for radio for almost 20 years, announces that it is now making its imaging, production and voice talent services available to stations for barter through Benztown, in addition to cash. Vanilla Gorilla serves stations of all formats and market sizes. Vanilla Gorilla General Manager Rich Witt said, "There's no monkey business. After many inquiries, we are very pleased for the opportunity to offer Vanilla Gorilla Productions on a barter basis. It's the signature Vanilla Gorilla sound at a price, and a new way of payment, that is sure to make GM's smile."
---
Beasley Names Justin Chase EVP/Programming
RADIO ONLINE | Wednesday, October 26, 2016 | 9:38am CT |
Share

Beasley Media Group has promoted Justin Chase to Executive Vice President of Programming. Chase served as Vice President of Programming since 2013, after four years of service as Operations Manager for BMG's Las Vegas cluster. "When I joined Beasley in 2009 as a Program Director in Las Vegas, I never imagined that I would have been given the opportunity to serve this great company at this level," said Chase. "Every day, I get to learn and work with some of the finest Program Directors in the industry and the amazing leadership team at the corporate office. I want to sincerely thank Caroline Beasley, Bruce Beasley, Brian Beasley and of course, our founder George Beasley for their confidence in me to lead the programming strategy of this growing company." "We are absolutely thrilled and honored to announce Justin's promotion," said Interim CEO Caroline Beasley. "He has a proven track record of strategically creating and evolving the direction of our products. We will continue to benefit from Justin's commitment to excellence in content, as Beasley expands our reach and influence." Chase also represents Beasley Media Group on several industry boards, including the Media Ratings Council (MRC), the Nielsen Advisory Council, and the Council for Research Excellence (CRE).
---
OnStar Joins with IBM's Watson for Mobility Platform
RADIO ONLINE | Wednesday, October 26, 2016 | 11:50am CT |
Share

General Motors and IBM have announced a partnership to bring the power of OnStar and IBM Watson together to create OnStar Go, the auto industry's first cognitive mobility platform. Starting in early 2017, OnStar will offer millions of GM drivers the ability to connect and interact with their favorite brands. iHeartRadio will use Watson Personality Insights from OnStar Go to curate personalized experiences that leverage air personalities and local content from radio stations across the U.S. The OnStar platform will also deliver personalized content through the dashboard and frivers will be invited to share information from their calendars, social graph, location, music preferences and more, to create locally relevant entertainment experiences only available through the power of radio. "On average, people in the U.S. spend more than 46 minutes per day in their car and are looking for ways to optimize their time," said GM Connected Products and Strategy Executive Director Phil Abram. "By leveraging OnStar's connectivity and combining it with the power of Watson, we're looking to provide safer, simpler and better solutions to make our customers' mobility experience more valuable and productive." iHeartRadio joins ExxonMobil, Glympse, Mastercard and Parkopedia as the first brands to join the platform.
---
Beasley Media Group Appoints Buzz Knight as VP/P
RADIO ONLINE | Wednesday, October 26, 2016 | 12:23pm CT |
Share

Beasley Media Group names Buzz Knight as VP/Programming, following the completion of, and contingent upon, Beasley's previously announced acquisition of all of the outstanding stock of Greater Media Inc. Knight has served as Senior VP/Program Development for Greater Media and replaces Justin Chase, who has been elevated to Executive VP/Programming for Beasley Media Group. He started his career with Greater Media in 2002. Knight currently serves on industry audience measurement advisory boards, including The Nielsen Audio Advisory Council, The National Association of Broadcasting Committee on Local Audience Radio Audience Measurement (COLRAM) and the Council for Research Excellence (CRE) where he serves as Chairman of the Audio Committee. "I've long admired the great leadership of Justin Chase in his role with Beasley and I look forward to being a part of the Beasley team," said Knight. "I am honored to follow Justin into this position and I'm incredibly excited to begin a new chapter with Beasley Broadcast Group as the company expands their portfolio of stations with the Greater Media acquisition." "Buzz has been in the leadership role at some of the Country's most successful and respected brands in radio and I'm delighted that Beasley will have the benefit of his experience and talent," added Executive VP/Programming Justin Chase. "I've had the pleasure of getting to know Buzz well over the last couple years, as we serve together on several industry related committees and initiatives, and I found him to be incredibly strategic and well suited for the Beasley company culture.
---
Nielsen 3rd Quarter Reveunes Grow 2.5%
RADIO ONLINE | Wednesday, October 26, 2016 | 9:46am CT |
Share

Nielsen Holdings has announced third quarter 2016 results. Revenues were $1,570 million for the third quarter of 2016, up 2.5%, or 3.6% on a constant currency basis, compared to the third quarter of 2015. "Our revenue grew in the third quarter, despite a more challenging environment, highlighting the strength of our balanced portfolio. In the Watch segment, market adoption of Total Audience continues to grow at a healthy clip. Digital Content Ratings are now fully syndicated and the industry is moving forward to a new ratings standard anchored by our Total Audience Measurement system, which is well-positioned to play an important role in the 2017 upfronts," said Mitch Barns, Chief Executive Officer of Nielsen. Barns continued, "In the Buy segment, while emerging markets continued to produce top-line growth, our results in the developed markets were disappointing, particularly in the U.S. Many of our clients are seeking efficiency and productivity in the face of a challenging growth environment. Given these evolving needs, we are realigning our portfolio by exiting non-core services, reallocating resources and accelerating our investments in our strategic initiatives to help our clients grow and to better position our business for the future. In short, our Buy business is working through a process of change that is similar to what we've been executing on successfully in our Watch business." Net income for the third quarter of 2016 decreased 7.0%, or 8.3% on a constant currency basis, to $132 million, compared to the third quarter of 2015, as solid operating earnings were offset primarily by higher restructuring charges. Net income for the third quarter of 2016 included restructuring charges of $29 million, primarily in our Buy segment. Net income per share on a diluted basis decreased to $0.36, compared to $0.38 for the third quarter of 2015. Adjusted Net Income for the third quarter of 2016 increased 3.9%, or 3.1% on a constant currency basis, to $266 million compared to the third quarter of 2015. Adjusted Net Income per share on a diluted basis grew 7.2% to $0.74, or 5.7% on a constant currency basis, for the third quarter of 2016 compared to $0.69 in the third quarter of 2015. Adjusted EBITDA for the third quarter of 2016 increased 4.0%, on a reported and constant currency basis, to $498 million, compared to the third quarter of 2015. Adjusted EBITDA margins grew 43 basis points, or 10 basis points on a constant currency basis, to 31.7%, due to the benefit of our ongoing productivity initiatives and the operating leverage of the business. Revenues within the Buy segment for the third quarter of 2016 decreased 0.9% to $809 million, but increased 0.9% on a constant currency basis. Buy revenues in developed markets decreased 3.7%, or 2.5% on a constant currency basis, due to softness in our discretionary services, especially in the U.S. market, as well as portfolio pruning initiatives which target slow growth and non-core services. Buy emerging markets revenues increased 5.5%, or 8.5% on a constant currency basis, as our global footprint, coverage expansion and broad product offerings continue to position us well with both local and multinational clients. Revenues within the Watch segment for the third quarter of 2016 increased 6.4%, or 6.7% on a constant currency basis, to $761 million. Audience Measurement of Video and Text revenues increased 8.3%, or 8.5% on a constant currency basis, primarily due to our ongoing investments and continued client adoption of our Total Audience Measurement framework. Audio revenues decreased 2.8% on a reported and constant currency basis due to timing of deliveries. Marketing Effectiveness had another strong quarter, growing revenues by 27.9%, or 31.8% on a constant currency basis, due to our continued investments in our product portfolio and clients' growing demand for our marketing ROI and precision targeting tools. Other Watch revenues decreased 14.6%, or 16.3% on a constant currency basis, due to the sale of the National Research Group, Inc., which was completed in the fourth quarter of 2015. Excluding Other Watch, our Watch segment grew 7.9%, or 8.4% on a constant currency basis, for the quarter.
---
The Financial Exchange Inks Deal with Binnie Media
RADIO ONLINE | Wednesday, October 26, 2016 | 12:00pm CT |
Share
Syndicated business radio show, "The Financial Exchange with Barry Armstrong and Chuck Zodda," currently heard on 12 radio outlets across New England, including WRKO-AM/Boston, will now air on two additional stations in New Hampshire. Effective October 31st, the show will begins on WNNH-FM (NH1 News Radio 99.1) in Concord, weekdays from 10am-noon and WEMJ-AM & FM/Laconia, weekdays from 10am-noon. "We're thrilled to able to add these two terrific radio stations to the network, complimenting the very strong portfolio of affiliates that we currently have in New Hampshire, and across New England. They'll provide significant coverage that will allow our audience to hear us from Nashua all the way to Lebanon, helping us create a larger distribution platform for the show." said "The Financial Exchange" Chief Media and Marketing Strategist Jason Wolfe. "We could not be happier about adding The Financial Exchange to NH1 News Radio in Concord and WEMJ up in The Lakes. Barry and Chuck deliver vital information and keen insights into the financial world, particularly how it is impacted by the day's events" said Binnie Media President Lee Kinberg.
---
Former Corus Colleagues Launch The Music Dept.
RADIO ONLINE | Wednesday, October 26, 2016 | 12:08pm CT |
Share
Former colleagues at Corus Entertainment/Cogeco Media (Q92FM & The Beat 92.5), Leo Da Estrela, Kara Yamich and Mark Dickie, have founded a company specializing in outsourcing music scheduling programming for stations. The Music Department, a Canadian-based company, is designed to work with broadcasters around the globe. The company offers services that assumes the responsibility for building and maintaining a station's format clocks, music categories & rotations, 24/7 scheduling, delivering compliance reports and more. "Our model offers radio stations in all sized markets access to major market music programming at an affordable price," said Kara Yamich, responsible for music strategy at The Music Department. "The number one reason listeners choose one station over another is the type of music-to be a top ranked station the music played needs to be the right music played right." "How the radio business operates has been evolving non-stop for several years now and its not over," added Leo Da Estrela. "An obvious next step is to outsource the backoffice: creative, imaging, traffic and music. We are not the first to provide some of these services, but we are one of the first companies in North America to specialize in music scheduling."

---
FERN to Acquire KYLI-FM (Pulse 96.7)/Las Vegas
RADIO ONLINE | Wednesday, October 26, 2016 | 12:16pm CT |
Share
Farmworker Educational Radio Network Inc. has agreed to acquire 93kW Dance KYLI-FM (Pulse 96.7)/Bunkerville, NV (serving Las Vegas) from LKCM Radio Group LP. Terms were not immediately disclosed. LKCM Radio is a Texas Limited Partnership, which also owns stations in Dallas and Wichita Falls, TX. Farmworker Educational Radio is a California corporation. Kalil & Co. brokered the transaction.
---
CRB/CRS Accepting Apps for Walker Scholarships
RADIO ONLINE | Wednesday, October 26, 2016 | 5:05pm CT |
Share

The Country Radio Broadcasters are now accepting applications for the Rusty Walker Scholarship program, which provides for an all-expense paid trip and attendance to CRS 2017, to be held February 22-24. Interested parties can apply now through November 7 at www.CountryRadioSeminar.com and click on the Rusty Walker Scholarship link. Each applicant must fill out an online application and submit a paragraph explaining why he/she should be considered as a Rusty Walker Scholar. Eligible applicants must be a full-time radio station employee and a first time CRS attendee. Three individual scholarships will be awarded this year. Each scholarship includes a full CRS 2017 registration, as well as airfare and hotel room expenses for three nights (Wednesday, February 22 to Friday, February 24). Scholars will be recognized at the CRS 2017 opening ceremonies and will have the opportunity to meet and engage with CRS board members during the three-day seminar. Staff from RWPC will also meet with the winning applicants. The Rusty Walker Scholarship program is named in honor of Country Radio Hall of Fame member Rusty Walker, who passed away in May 2012 at the age of 59.
---
BIA/Kelsey Forecasts Local Ad Revs to Reach $148.8B
RADIO ONLINE | Wednesday, October 26, 2016 | 2:10am CT |
Share
In its new U.S. Local Advertising Forecast 2017, BIA/Kelsey projects total local advertising revenues in the U.S. to reach $148.8 billion in 2017, up from $145.2 billion this year, representing a growth rate of 2.4 percent. BIA/Kelsey defines local advertising as all advertising platforms that provide access to local audiences for national, regional and local marketers.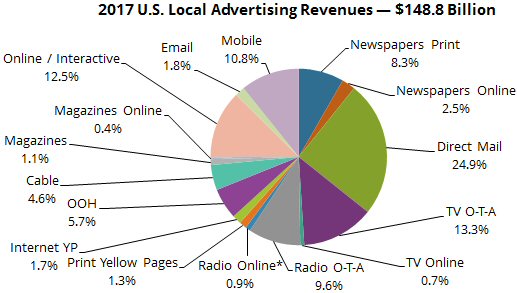 Faster growth in online/digital advertising revenues is a major component of the projected increases in the overall local advertising pie. BIA/Kelsey estimates online/digital will increase at 13.5 percent, from $44.2 billion in 2016 to $50.2 billion in 2017. That compares with a decline of 2.4 percent next year for traditional -- print and over-the-air -- advertising revenues, going from $101.1 billion in 2016 to $98.6 billion in 2017. "A range of factors will drive local ad revenues higher in 2017 and through the end of the next year," said BIA/Kelsey Senior VP/Chief Economist Mark Fratrik. "An improving U.S. economy, increased spending by national brands in local media channels, extraordinary growth in mobile and social advertising, and the continued expansion and selection of online/digital advertising platforms. In fact, we are predicting that online/digital local ad share will exceed the share of print media by 2018." Online/digital revenues are generated by online companies that sell locally targeted advertising that includes display, search and classified/vertical advertising. The advertisements are sold by local pure-play online companies, national online companies offering geo-targeted advertising, and local traditional media groups' online/digital efforts. The forecast examines the growth and opportunities in the different areas of online/digital: Local desktop display (inclusive of video and social) is expected to have a 10.3 percent compound annual growth rate (CAGR), as improved broadband access makes more high quality online streaming and sharing of content easier. Local search on desktop devices will grow at a 5.7 percent CAGR. As more search activity takes place on mobile devices, mobile is cannibalizing search dollars from desktop. However, ultimately the local search dollars still go to the same giant players (Google/Bing) that have footholds in both channels. Email is expected to grow at a 4.7 percent CAGR, driven by volume increases with consumers choosing to opt in to more lists of their favorite businesses. The mutually beneficial relationship allows consumers to stay informed of the latest offerings and promotions while generating repeat business for firms. Visit http://www.biakelsey.com for more information.
---
Artistic Media Partners Sells Four in Indiana for $2.3M
RADIO ONLINE | Tuesday, October 25, 2016 | 5:28pm CT |
Share
Lafayette TV LLC has agreed to acquire four radio outlets in Indiana from Artistic Media Partners for $2.3 million. Included in the deal are 3.1kW Country WYCM-FM (95.7)/Attica, 2.3kW Adult Hits WBPE-FM (95.3)/Brookston and 50kW CHR WAZY-FM (96.5) and 1kW Sports WSHY-AM/Lafayette. AMP is an Indiana-based company headed by Arthur Angotti II and also owns WDND-AM in South Bend, IN. Angotti said, "After 23 years of visiting and living in the Lafayette market, it's not easy letting our Lafayette stations go, but having met with the owners of Lafayette TV, LLC, I am confident that they will continue our commitment to broadcast excellence and the support of the staff, the community, and continue the partnership with Purdue University. I am very proud of the team of broadcast professionals and the 4 radio stations we have built in Lafayette." Lafayette TV LLC is an Indiana-based company headed by Bill Christian and Mike Reed. Lafayette TV's CEO Bill Christian said, "We are thrilled to be working with this great group of stations in a terrific, growing area. The Angotti family has spent two generations building this team and serving the market, and our goal is to continue their tradition of proud service." President Mike Reed noted, "Additionally, we are excited to announce that we are launching the market's first local Fox and NBC television stations. We look forward to becoming a meaningful part of the Lafayette community." Kalil & Co. Inc. was the broker for this transaction.
---
Triton Digital Releases the August Top 20 Ranker
RADIO ONLINE | Tuesday, October 25, 2016 | 2:20pm CT |
Share
Triton Digital has released its monthly Top 20 Ranker for August. The Ranker is a listing of the top-performing digital audio stations and networks measured by the Webcast Metrics audience measurement platform, accredited by the Media Rating Council. Total listening for clients measured in August showed 4.7 million Average Active Sessions weekdays from 6am-8pm, and 3.97 million AAS during Monday-Sunday 6am-midnight. Key findings from the Ranker include:
Overall streaming has seen steady growth when compared to August, 2015. Both Pureplays and AM/FM Broadcasters showed positive growth during the Monday-Friday 6:00AM-8:00PM daypart and the Monday-Sunday 6:00AM-Midnight daypart. When compared to August 2016, the Sports format showed the largest listening gain with a 12.9 percent increase in AAS, followed by Adult Contemporary (12.7 percent), Country (10.5 percent), Classic Rock (9.9 percent) and Top 40 (CHR) (7.6 percent). In terms of top devices, 40 percent of listening took place on an iOS device, followed by Android at 31 percent, Google Chrome at 8 percent and Flash Player at 8 percent.
Here are the Top 20 for August, 2016:
Pandora Spotify iHeartRadio Cumulus Streaming Network NPR Member Stations CBS Radio Entercom Univision ESPN Radio EMF Corporate AccuRadio Townsquare Media Greater Media Salem Communications Hubbard Broadcasting Radio One Emmis Broadcasting New York Public Radio Bonneville Beasley Broadcast
Menu
|
Contact Us
|
Subscribe
|
Advertise
|
Privacy Policy
|
About Us
---
Copyright © 1989-2016 RADIO ONLINE ®

The publisher makes no claims concerning the validity of the information posted on RADIO ONLINE and will not be held liable for its use. No part of this material may be reproduced in any form, incorporated in any information retrieval system or otherwise redistributed without the prior written permission of the publisher.
---
Sponsored Links

Radio Station Data For Less

Radio station data for all of the rated markets. Top 400 Metros-Over 12,000 AM/FM/HD $299 includes 1 year free updates.

Radio Station Data For Less

Radio station data for all of the rated markets. Top 400 Metros-Over 12,000 AM/FM/HD $299 includes 1 year free updates.