Greater Media Discontinues Sports Format on WMGC
RADIO ONLINE | Wednesday, June 29, 2016 | 6:19pm CT |
Share
Greater Media announces that the company has discontinued the Detroit Sports/Talk format on WMGC-FM (105.1) in the Motor City. The change officially took place at 6pm on Wednesday, June 29. The station, which officially launched in August of 2013, has served as a Sports/Talk alternative in the market. WMGC-FM will simulcast sister WCSX-HD2's Detroit Oldies format during the interim. "The change comes after much careful consideration of the direction of the station's format and overall ratings over the past three years," said VP/Market Manager Steve Chessare. "We would like to thank our dedicated listeners and the entire Detroit Sports 105.1 staff for their many contributions to the station in the Motor City. They are true professionals and we are very grateful to them."
---
CMG/Ohio's Julia Wallace Named Frank Russell Chair
RADIO ONLINE | Wednesday, June 29, 2016 | 2:25pm CT |
Share
Cox Media Group/Ohio's Market VP Julia Wallace joins Arizona State University's Walter Cronkite School of Journalism and Mass Communication as the Frank Russell Chair for the Business of Journalism. Wallace, who currently leads CMG/Ohio's converged radio, TV, newspaper and digital group, announced earlier this month that she will retire at the end of the year. She will begin teaching classes on the future of news, new business models and journalism at the Cronkite School in January. Previously, Wallace led the
Atlanta Journal-Constitution
from 2002-2010, where she became the first female editor-in-chief in the newspaper's history. During her tenure, the paper won two Pulitzer Prizes, and she was named Editor of the Year by Editor & Publisher magazine in 2004. Before joining Atlanta, she was managing editor of The Arizona Republic from 1998-2000. "I'm so delighted to be joining the Cronkite School," said Wallace. "The media business is changing fast, and the school is at the forefront of that change. I can't think of a better place to work with this generation of students. They will be critical to determining the future of journalism."
---
iHM Names Banks Dir./Talent Development Central
RADIO ONLINE | Wednesday, June 29, 2016 | 2:14pm CT |
Share

iHeartMedia names Tony Banks as Director of Talent Development for the Central Division, effective immediately. iHM's Central Division encompasses more than 300 station brands spanning 52 markets rom Houston to Dallas to Minneapolis. Banks will be responsible for discovering and recruiting new air talent as well as coaching, training and mentoring existing talent within the Central Division. "The role we created for Tony Banks reflects iHeartMedia's continued commitment to investing in and growing our on air talent," said Executive VP/Programming for the Central Division Tony Coles. "Banks' experience as both a major market talent and a programmer makes him a natural choice. He is a gifted and passionate talent coach, and Dennis Clark and I look forward to working closely with Tony to maximize the potential of our talent." "Working with talent has always been my favorite part of the job and I am beyond excited to join Dennis Clark and Tony Coles to focus exclusively on talent development," added Banks. "For on-air personalities there is no bigger stage than iHeartMedia's radio stations, and I look forward to working with these great shows." "Tony Banks has been instrumental to the growth of individual personalities and morning show teams in all formats in several markets for many years," said VP/Talent Development Dennis Clark. "Tony's commitment to coaching talent on a daily basis will grow more shows and benefit stations immediately."

---
iHM/San Antonio, Houston Extend Pagliarulo Deal
RADIO ONLINE | Wednesday, June 29, 2016 | 3:53pm CT |
Share
iHeartMedia/San Antonio and iHeartMedia/Houston ink an extension with Joe "Pags" Pagliarulo. Pags currently hosts the "Joe Pags Show," which airs weekdays from 5-8pm CT. Under the new deal, Pags will continue to host the "Joe Pags Show," which provides political, entertainment, business, pop culture and family topics for San Antonio and Houston listeners. Pags will continue to serve as a lead air personality for WOAI-AM/San Antonio and KPRC-AM/Houston. "I am thrilled to continue with iHeartMedia," said Pagliarulo. "I am proud to have called iHeartMedia home for more than a dozen years, and knowing this fantastic relationship will continue for many more years to come is simply amazing." "Pags' ability to connect with listeners across San Antonio and beyond is unparalleled," said iHeartMedia Central Division President Matt Martin. "He's able to bring the community together with his unique take on the latest news, and we're excited to extend our partnership with him." "We are so fortunate to have Pags in our iHeartMedia family," added Central Region President Breeanna Malik. "He is a true radio celebrity and we know his listeners and sponsors are ecstatic that he will be here for many more years to come."
---
TYT Partners w/TuneIn to Host Young Turks Podcast
RADIO ONLINE | Wednesday, June 29, 2016 | 6:42pm CT |
Share

TYT Network announces the debut of the audio podcast version of its flagship show, "The Young Turks," on TuneIn. The daily, two-hour show will stream on TuneIn's website and mobile apps 24/7. Each day's show will appear on TuneIn beginning at 9am ET the following day for 24 hours. "The Young Turks" joins NPR, The Economist Radio, CNN, CNBC, MSNBC and other major news channels who stream on TuneIn. "The Young Turks" is an online news and politics show in the world. Hosted by Cenk Uygur and Ana Kasparian, the show airs daily from 6-8pm ET on YouTube and on TYTNetwork.com. The show features Uygur and Kasparian's unfiltered and unscripted analysis and opinions on the biggest news in the world of politics and beyond. "We started on radio in 2002 before expanding to video in 2005. As on-demand audio increases in popularity, we saw the opportunity to work with the leader in live radio and podcast streaming," said TYT Network Chief Business Officer Steve Oh. "We look forward to growing the audio and podcast version of The Young Turks through our partnership with TuneIn." "We're excited to add The Young Turks to our growing talk premium content platform," said TuneIn Chief Content Officer Kevin Straley. "TYT has a history of bringing their unique and independent take on politics to emerging audiences and we are fortunate to have them join TuneIn during this critical 2016 election season."
---
iHeartMedia May End Debt Talks with Lender Group
RADIO ONLINE | Wednesday, June 29, 2016 | 10:57pm CT |
Share
iHeartMedia said it may break off negotiations on restructuring some of its $21 billion of debt. The news comes as the company failed to reach an agreement with some of its creditors following a Texas court ruling rescinding Notices of Default after creditors attemptd to declare $6 billion in senior notes in default. In an 8K filing, iHeart said, "Given the significant gap between the proposals, the company is assessing whether it will continue discussions." Franklin Resources Inc.'s Franklin Advisers Inc. is the biggest holder of iHM's $6.3 billion of term loans and has reportedly lead the discussions. iHM says that various proposals to amend the terms of the company's credit agreement and, through a series of exchange offers, the priority guarantee note indentures, were exchanged. So far no agreement has been reached. On December 3, 2015, an 8K filing said that the company contributed 100 million shares of Class B common stock of Clear Channel Outdoor Holdings from Clear Channel Holdings to Broader Media LLC (both wholly-owned subsidiaries) that is an "unrestricted subsidiary" under the Indentures. iHM said then the contribution was made in full compliance with all of the provisions.
---
Salem to Launch ''860 The Answer'' in San Francisco
RADIO ONLINE | Tuesday, June 28, 2016 | 2:12pm CT |
Share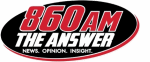 Salem Media Group is launching a News/Talk station in San Francisco over the July 4th weekend. 50kW KTRB-AM covers the entire San Francisco metro, including the embedded metros of San Jose, Sacramento and Modesto. The station will become "860 AM The Answer," the 26th "Answer" branded Talk outlet in the Salem family. SMG will operate the station through an LMA entered into with Susan L. Uecker, in her sole capacity as Receiver of the estate of Pappas Radio of California. "We are thrilled and excited to enter market #4 with a station that reaches the entire metro population," said Salem Media Group President Dave Santrella. "Just in time for the run up to the biggest Presidential election of our lifetime, we're adding the entire lineup of Salem's outstanding network talk talent." The lineup will include live shows from the Salem Radio Network: Hugh Hewitt (3-6am), Mike Gallagher (6-9am), Dennis Prager (9am-noon), Michael Medved (noon-3pm), Larry Elder (3-6pm) and Steve Deace (9pm-midnight). SRN will offer wall-to-wall coverage of the GOP Convention in Cleveland from 6am to midnight, including live anchored coverage of the evening activities. The new station in San Francisco will be able to carry it all.
---
Elvis Duran Named to Hollywood Walk of Fame 2016
RADIO ONLINE | Wednesday, June 29, 2016 | 0:20am CT |
Share

Premiere syndicated personality Elvis Duran has been selected to receive star on the Hollywood Walk of Fame (in the category of Radio), it was announced Tuesday by the Walk of Fame Selection Committee of the Hollywood Chamber of Commerce. Television Producer and Walk of Famer Vin Di Bona, Chair of the Walk of Fame Selection Committee for 2016-2017, revealed the new honorees alongside Leron Gubler, President/CEO of the Hollywood Chamber of Commerce. "The Walk of Fame Selection Committee is thrilled to announce our newest honorees to the Hollywood Walk of Fame. The Committee looked carefully at each nominee and we feel that we have selected a great group of talent that will appeal to the tastes of many fans around the world," stated Di Bona. "As a Walk of Famer myself, I know these honorees will look back at the day of their ceremony and remember it with fond memories shared with family and friends, and of course, the fans. We look forward to their big day as the Walk of Fame Class of 2017 become part of Hollywood history on this famous Walk."
---
jacapps Launches App Everywhere for Radio
RADIO ONLINE | Wednesday, June 29, 2016 | 0:29am CT |
Share
In a webinar broadcast Tuesday, mobile developer jacapps announced a App Everywhere for radio outlets, podcasters and Internet radio stations giving them the ability to appear in even more automobile audio entertainment systems via Android Auto, Apple CarPlay and the SmartDeviceLink system for Ford and Toyota vehicles. App Everywhere allows mobile apps for stations to be coded for appearance in automobiles that have Android Auto, SmartDeviceLink, and pending approval from Apple, their CarPlay system. jacapps President Paul Jacobs noted, "For us, it's always been about how radio could have presence on the beachfront property known as smartphones. Today, that valuable real estate includes the car dashboard." "Over the past six years, we have focused on the changing in-car entertainment environment, and its impact on the radio industry," remarked Jacobs Media President Fred Jacobs. "Today's entertainment systems provide drivers with myriad options, many of which are accessed from their smartphone. And now, we can get radio broadcasters on the valuable screens of these vehicles to ensure that millions of consumers can enjoy hearing their favorite stations while driving." "It's exciting to be first. Our mobile app team has been dedicated to developing solutions that will ensure that broadcasters have presence in these entertainment systems," commented jacapps COO Bob Kernen. "It's a major priority for us. Jacobs Media has invested a lot of time in this space, including the DASH Conference. This is an incredibly important opportunity for broadcasters and we're extremely pleased that we were able to crack the code." jacapps is in the process of releasing a beta app for Apple CarPlay for Greater Media WMMR-FM in Philadelphia. The app is awaiting final approval and will be released in the iTunes app store soon as an update to their existing app.
---
JVC Media to Launch Country/Rock WXUS/Gainesville
RADIO ONLINE | Tuesday, June 28, 2016 | 3:32pm CT |
Share

JVC Media of Florida flips Country WTRS-FM (My Country 102.3) in Gainesville-Ocala, FL, to a custom music mix of Country and Southern Rock as "US 102-3" with the slogan "The Crossroads of Country and Rock." The new station will sign on Wednesday June 29 at 10am as WXUS-FM with Bubba the Love Sponge in mornings. Listen online at US1023.com. "US 102-3 has been researched and designed exclusively for North Central Florida," said WXUS Program Director Bo Hamilton. "We spent weeks talking to our listeners, partners, and community leaders and found there is no need for another 'cookie-cutter' top 40 Country station. This area has a rich Country and Southern Rock heritage that is unserved and US 102-3 fills that void." JVC Gainesville-Ocala Operations Manager Ben Burris added, "Country music is hotter than ever. The listeners in Ocala, Gainesville, Crystal River, and all points in between say they want MORE variety and a different sounding station." Burris continued, "We will tap into the deep musical heritage here by highlighting today's biggest Country stars like Luke Bryan and Jason Aldean alongside legendary influencing acts, including those with ties to North Florida including Lynyrd Skynyrd and Tom Petty, plus we'll throw in icons like .38 Special and Eagles." JVC Gainesville-Ocala GM Sam Gerace commented, "JVC Media is and always will be dedicated to giving all of our clients, both advertisers and listeners, the best product possible. The new US 102-3 will be a radio station specifically for THIS part of Florida. With local businessman and legendary talk host Bubba the Love Sponge in mornings and The Crossroads of Country and Rock, we expect US 102-3 to take North Central Florida by storm."
---
Alpha Media/Portland Inks Hamilton to Extension
RADIO ONLINE | Tuesday, June 28, 2016 | 2:24pm CT |
Share

Alpha Media/Portland inks Sheila Hamilton to an extension on a multi-year deal. Hamilton, winner of KGW's Best Radio Personality title for 2013, is currently the News Director and morning co-host on AAA KINK-FM/Portland, OR. She's also a five-time Emmy-winner, who recently published her book, "All the Things We Never Knew," in November, 2015. Hamilton began her career in documentary film before producing and reporting two-decades of television investigative news for such outlets as KATU/Portland and KTVX/Salt Lake City. Alpha Media Executive VP of Programming, Scott Mahalick commented on the announcement, "There is nothing more Uniquely Portland than Sheila Hamilton on our team and her long-term renewal is a proud moment for us all." Alpha Media Senior VP/Market Manager Milt McConnell added, "Sheila exemplifies what our Northwest lifestyle is all about. She is a passionate communicator who understands the thoughts and feelings of our fans and brings that driving force every morning to the Kink community." "Many people dream of a day when they can make a big difference in the lives of others. I'm partnering with a company that truly believes live, local, and passionate people can and will change the world," said Hamilton.
---
WO Offers Stations Near Real-Time Publishing
RADIO ONLINE | Wednesday, June 29, 2016 | 0:37am CT |
Share

Westwood One introduces a new service for local radio outlets to optimize ROI, increase market share, increase revenue and improve accountability. Veritone, powered by Westwood One (in a partnership between Westwood One and Veritone Media), is a cloud-based cognitive audio platform that automates the capture and tagging of content and live read endorsements, making them accessible to advertisers in near real-time. Veritone also provides digital amplification across search and social media and extends the reach of podcasts, on-demand audio, streaming and website content. Veritone, powered by Westwood One, is a user-friendly platform providing a dashboard to access all of a station's programming -- captured to the cloud -- that is transcribed to text, searchable, and sharable with a one-click audio link and audience metrics. "Veritone is one of the most innovative companies in the radio industry," said Westwood One COO Charles Steinhauer. "This partnership will allow our affiliates the ability to make voiced reads for advertisers, in-program interviews, commercial audio, and native brand mentions searchable. This is huge." Veritone Media President Ryan Steelberg said, "Veritone's Cognitive Media Platform (CMP) provides a unified cloud-based solution available for broadcasters and media firms to Capture, Index, Search & Discover, as well as Share & Extend broadcast and digital content. The platform was specifically architected to fully empower the entire organization with near Real-Time intelligence, from sales and programming to administration."

---
FCC Review Seeks to Update Media Ownership Rules
RADIO ONLINE | Tuesday, June 28, 2016 | 1:34am CT |
Share

FCC Chairman Wheeler is circulating the 2010/2014 Quadrennial ownership review and rules that, if adopted, will take into account what it calls the "evolving media marketplace" and the Commission's obligation to "conduct timely review of the rules." As required by the Telecommunications Act of 1996, the Commission considers is mandated to whether or not the current rules continue to serve its goals of promoting competition, localism and diversity -- in particular, diversity of viewpoints in local markets, enriching local communities. In 2014, the Commission adopted a further notice of proposed rulemaking to establish what it called "a clear and transparent set of guidelines for media ownership," incorporating the record from the 2010 proceeding and initiating the 2014 review. The further notice also sought updated information on the state of the media ownership marketplace. The substantial record concluded both the existence of a dynamic media marketplace and the continuing importance of traditional media outlets to their local communities. So, while advances have changed the ways in which many consumers access entertainment, news, and informational programming, the FCC found that traditional media outlets remain of vital importance to their local communities. Its analysis indicates that the ownership restrictions remain necessary in the public interest, though the realities of the media marketplace require some targeted modifications of a number of the rules. The rules now circulated for vote by the full Commission:
Preserve the existing ownership restrictions, with targeted modifications. Preserve the existing ownership restrictions, with targeted Carryout the Third Circuit's remand of diversity issues,re-adopt the small business revenue-based eligible entity standard,address proposals submitted by MMTC, and decline to adopt race-or gender-based measures. Preserve the existing ownership restrictions, with targeted Readopt the TV JSA attribution rule consistent with the court's guidance in Prometheus III and Congress's guidanceon grandfathering. Preserve the existing ownership restrictions, with targeted Adopt a definition of shared services agreements; require that these agreements be filed with the Commission and made publicly available; and do not attribute any such agreements, other than JSAs, at this time.
The FCC states that existing media ownership rules, with slight modification, remain in the public interest. The order, if adopted, finds that the current media ownership rules remain necessary in the public interest but require minor updates to reflect current industry trends and marketplace realities. The Commission's future quadrennial ownership review will be able to assess the impact of marketplace changes resulting from the auction. The proposed order: Local Television Ownership Rule: (1) Retains the existing rule, with a minor technical modification to address the transition to digital broadcasting; (2) Extends the current ban on co-ownership of two top-four television stations in a market to network affiliation swaps, to prevent broadcasters from evading application of the rule; and (3) Declines to limit dual network affiliations via multicast at this time. Local Radio Ownership Rule: Retains the existing rule with minor clarifications to assist the Media Bureau in processing license assignment/transfer applications. (For example, the item adopts a new Puerto Rico market definition based on Commission precedent, and also clarifies the grandfathering rules applicable to community of license changes.) Radio/Television Cross-Ownership Rule: Retains the existing rule with a modification to address the transition to digital television broadcasting. Newspaper/Broadcast Cross-Ownership Rule: Retains the existing ban on cross ownership, but relaxes the rule by providing an exception for failed or failing entities and states that the Commission will consider waivers. The trigger for the rule is also modified to consider the relevant Nielsen television or radio market (if any) and to replace the prior analog television contour with a digital contour to reflect the transition to digital television broadcasting. Dual Network Rule: Retains the existing rule, which prohibits mergers among any of the top four national television broadcast networks (ABC, CBS, NBC, and FOX). We will continue to seek rules to promote a vibrant and diverse media marketplace.
---
RTDNA Research Radio Newsroom Salaries Up 3.1%
RADIO ONLINE | Tuesday, June 28, 2016 | 2:02am CT |
Share
Research by the Radio Television Digital News Association (RTDNA) shows newsroom salaries have risen, posting their biggest gains in years, with radio salaries up 3.1 percent, and TV salaries up 4.8 percent. Among the positions making gains are digital content managers, as more stations hire specialists to handle web and mobile content. In radio, after several years of slow or no growth, salaries are starting to go up for news directors, reporters and producers. In radio, non-commercial stations are running 25 percent higher than at commercial stations, with the exception of sports anchors and reporters. Starling salaries are also rising in radio and television, for new employees with no full-time experience. Average starting pay went up $1100 in television and $700 in radio over the previous year. To see the numbers and learn more, see RTDNA's latest report on its annual newsroom survey at rtdna.org.
---
BIA/Kelsey State of Industry Report Details Ad Revs
RADIO ONLINE | Monday, June 27, 2016 | 6:42pm CT |
Share

Although local radio stations have faced an onslaught of new competitors for years, they remain an important part of the local media marketplace. Local radio stations still reach a vast majority of their audiences during the week, but those listeners have many more options available to them. Additionally, advertisers have multiple platforms (audio and other formats) from which to choose to relay their messages. As a result, local radio stations in recent years have seen meager increases in total industry revenues and even some slight decreases in over-the-air advertising revenues. According to BIA/Kelsey's "State of the Industry" Radio 2016 report, radio still reaches a considerable amount of the population and its ability to deliver local audiences to national and local advertisers allows it to maintain a position in the local ad marketplace. On the other hand, the increase in competition for listeners from other sources of audio entertainment and information and the rise in competition from other local media to sell advertising have put constraints on the revenues generated by local radio stations. In recent years, BIA/Kelsey says total radio industry revenues have remained relatively constant, with over-the-air ad revenues either holding steady or decreasing by a few percentages points. Online/digital revenues generated by local radio stations have shown much stronger growth, mitigating some of that decrease. In 2015, on-air advertising revenues declined by 1.6% while online revenues grew by 11.6%. The firm believes local radio stations will be able to turn around this negative on-air revenue growth slightly. As long as the economy maintains moderate growth in the next few years, BIA/Kelsey expects total radio advertising to grow in the 1% to 1.25% CAGR range. BIA/Kelsey's report said that one of the reasons investors are generally more confident in public radio companies is simply that these groups are diversified, owning a number of stations in different markets across the country. After many years of acquiring stations and merging larger radio companies, the radio industry is characterized by a greater degree of national consolidation. The following is a listing of the top 10 radio groups, in terms of 2015 gross advertising revenues, along with the overall share of total industry revenues.
| | | | | |
| --- | --- | --- | --- | --- |
| Rank | Owner | Stations | 2015 Revs | Revenue Share |
| 1 | iHeartMedia | 862 | $2,594,090 | 18.5% |
| 2 | CBS Radio | 117 | $1,246,950 | 8.9% |
| 3 | Cumulus Media | 449 | $748,570 | 5.3% |
| 4 | Entercom | 125 | $505,635 | 3.6% |
| 5 | Univision | 67 | $330,750 | 2.4% |
| 6 | Cox Media | 56 | $286,855 | 2.0% |
| 7 | Townsquare | 309 | $267,610 | 1.9% |
| 8 | Alpha Media | 245 | $248,385 | 1.8% |
| 9 | Radio One | 54 | $232,125 | 1.7% |
| 10 | Hubbard Radio | 46 | $223,925 | 1.6% |
While these ten radio groups account for nearly 19.0 percent of the total number of U.S. commercial radio stations, they garner nearly half (47.4 percent) of all radio ad revenues. A key reason is simply that they own a vast majority of stations in the largest markets and, as shown earlier, these markets generate a significant proportion of the entire industry revenues. Additionally, these groups manage some of the most popular stations in these markets.
---
ABC Radio, SLS, Skyview Ink Radio Sales Deal
RADIO ONLINE | Tuesday, June 28, 2016 | 2:34am CT |
Share

ABC Radio, SLS Las Vegas and Skyview Networks have formed a strategic sales and radio programming relationship to create new opportunities for radio outlets and advertisers to reach Millennials. The first collaboration from this new relationship is "Go with the Flo -- Fourth of July Vegas Style," recorded at SLS/Las Vegas featuring Atlantic Records recording artist Flo Rida. The three-hour radio special, performed before a live audience, features nearly a dozen of Flo Rida's world-wide dance hits along with exclusive party mixes by Foxtail Nightclub crowd favorite, DJ Ikon. "Go with the Flo -- Fourth of July Vegas Style" is hosted by radio personality Vic Latino. The Flo Rida special will be followed July 16th by POP EDM, a new, weekly four-hour Saturday night party featuring exclusive mixes of electronic dance music (EDM). "This exciting new relationship with SLS Las Vegas provides ABC Radio access to one of America's strongest, and most creative entertainment markets," said ABC Radio VP/GM Steve Jones. "POP EDM and the July 4th special featuring Flo Rida uniquely capture the soundtrack of Millennial culture creating opportunities for appointment listening."
---
AdLarge, Torretta Announce 2016 NCAA Schedule
RADIO ONLINE | Tuesday, June 28, 2016 | 1:57am CT |
Share
AdLarge Media and Touchdown Radio have announced the 2016 schedule of NCAA college football games on the sports radio network. AdLarge Media is the ad sales partner for Touchdown Radio, founded and led by Gino Torretta, one of the most celebrated football players in the hostory of the University of Miami. Torretta, who is CEO and color analyst for Touchdown Radio, won two national championships for Miami and has been recognized with Heisman Trophy, the Johnny Unitas Golden Arm Award and the Davey O'Brien National Quarterback Award. He also earned First Team All-American honors from The Associated Press, Kodak, and The Football News. 2016 Touchdown Radio NCAA Schedule (all games on Saturdays, ET):
September 3: Clemson vs Auburn, 9pm September 10: Penn State at Pittsburgh 12pm and Tennessee vs Virginia Tech, 8pm September 17: Colorado at Michigan September 24: LSU at Auburn October 1: Kentucky at Alabama October 8: FSU at Miami October 15: Ole Miss at Arkansas October 22: Oklahoma at Texas Tech October 29:Baylor at Texas November 5: Nebraska at Ohio State, 8pm November 12: Mississippi St at Alabama November 19: Oklahoma St at TCU November 26: South Carolina at Clemson December 3: Kansas State at TCU
"We are proud to deliver this top-notch schedule of exciting battles and heritage schools to our advertisers," said AdLarge Media Co-Founder/Co-CEO Gary Schonfeld. "Gino is a highly respected and decorated college sports hero who brings an insider's insights to his commentary that engages passionate college football fans." "We've had tremendous success from our partnership with AdLarge," stated Torretta. "The team at AdLarge understands how to maximize the engagement from our play-by-play and commentary and is always looking for ways to bring that to the brands they work with."
Menu
|
Contact Us
|
Subscribe
|
Advertise
|
Privacy Policy
|
About Us
---
Copyright © 1989-2016 RADIO ONLINE ®

The publisher makes no claims concerning the validity of the information posted on RADIO ONLINE and will not be held liable for its use. No part of this material may be reproduced in any form, incorporated in any information retrieval system or otherwise redistributed without the prior written permission of the publisher.
---
Sponsored Links

Radio Station Data For Less

Radio station data for all of the rated markets. Top 400 Metros-Over 12,000 AM/FM/HD $299 includes 1 year free updates.