Advertisement


Study: Radio Listening Among Top Use for Smart Speakers
Among the 30 percent of Public Radio listeners who own devices like Amazon Alexa or Google Home, about four in ten say they "frequently" use Alexa or Google Assistant to listen to radio station streams, a three-point increase over last year (38% in 2020). It's now the number one use case for smart speaker owners according to Jacobs Media's Public Radio Techsurvey 2021 (PRTS).
The firm will present the PRTS results in a free webinar on Thursday, September 30 at 2pm ET, 11am PT. This year's annual study, "Public Radio in the COVID Era," is comprised of nearly 23,000 core Public Radio listeners from 56 participating stations and charts the continued impact of COVID-19 and its disruptive effect on radio listening and other media consumption.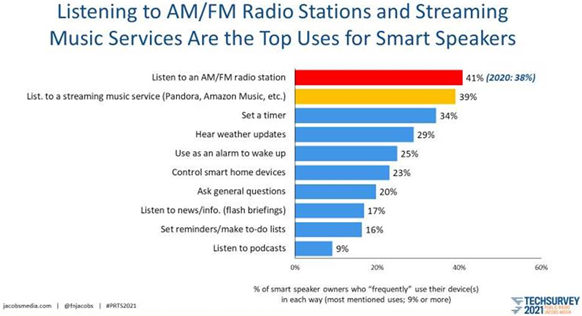 Clearly smart speakers have become an increasingly important way for Public Radio listeners to listen to their favorite stations and programs. This is in direct contrast to the finding that those with access to a traditional radio in the home stands at its lowest level since this survey was launched 13 years ago.
Jacobs Media President Fred Jacobs commented, "It's becoming obvious the onus on Public Radio is to meet the audience where they are. This year's PRTS study helps provide a game plan for stations to map out the necessary content and distribution strategy to meet the disruptions wrought by COVID. We hope you can join our free webinar Thursday, September 30 as we reveal these important insights and more."
In order to join the webinar, click here to register.
Advertisement


Latest Radio Stories
Scott Porretti Named President of Katz Digital Audio
Katz Media Group has elevated Scott Porretti to the position of President of Katz Digital Audio, a division of Katz Media Group. He will continue to report to Mark Gray, CEO of Katz Media Group. A longtime veteran of Katz, Porretti will continue to More
Dan Bongino Calls Out Cumulus Media Over Vaccine Mandate
Conservative radio host Dan Bongino called out Cumulus Media and Westwood One on Monday, daring them to cancel his show in response its vaccine mandate. Calling it "unethical" and "immoral," Bongino, who recently completed treatment for Hodgkin More
Hall/Burlington-Plattsburgh Ups Mark Knight to Ops Manager
Hall Communications promotes WKOL Program Director Mark Knight to Operations Manager for WKOL, WOKO, WBTZ, WIZN and WJOY in Burlington-Plattsburgh, VT-NY. He fills the void left after Matt Grasso departed in August for a position outside of radio. More
Advertisement


CRB/CRS Now Accepting Apps for Rusty Walker Scholarships
Country Radio Broadcasters (CRB) is now accepting applications for the Rusty Walker Scholarship program. Each year, through the scholarship program, Country Radio Seminar gives complimentary registration to three driven radio employees who have More
Conservative Host Dennis Prager Purposely Gets COVID-19
SRN conservative radio host Dennis Prager said Monday that he's come down with COVID-19 and that he purposely tried to get the virus. Prager told his audience that he wanted to get sick so he could get "natural immunity" against the disease instead More
Jason Bailey Exits Mornings at WNNX (Rock 100.5) Atlanta
Jason Bailey exits WNNX (Rock 100.5)/Atlanta after seven years hosting the "Bailey & Southside" morning show. He joined the Rock outlet in December, 2014 after previously holding down the morning slot at Sports WZGC (92.9 The Game)/Atlanta. More