Advertisement

Nielsen Releases New June 2022 Audio Today Report
Nielsen has released the newest issue of the Audio Today report, profiling how Americans use Broadcast Radio, Podcasts and Streaming and Satellite Radio. With consumption at all-time highs, the audio landscape has never had more potential for advertisers as the country emerges from two years of pandemic-altered routines. Audio users are more willing to shop in stores, attend events, work in offices, travel and take on major purchases in the next year.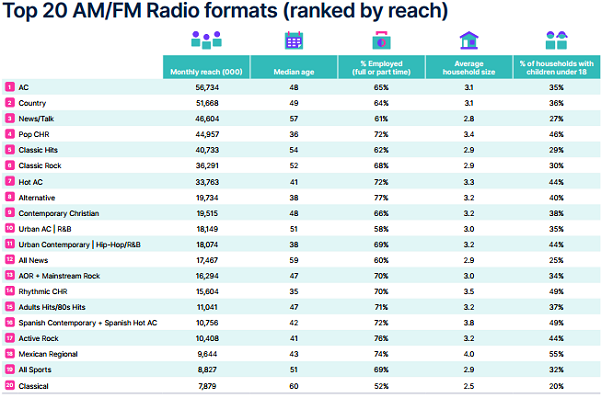 Source: Nielsen Audio Today Report, June 2022
The report walks through key insights from the Audio Universe:
Radio - the original ad-supported audio platform - generates 55% more incremental reach than streaming music, podcasting and satellite radio. It needs to be a centerpiece of any audio marketing campaign looking to build a brand and reach consumers at scale.
A growing percentage of radio's audience is listening via encoded streams, with 12% of all the total radio audience among Adults 25-54 currently coming from streaming outlets.
99% of the population can be reached by Audio each month (broadcast radio, podcasts, streaming and satellite radio) while broadcast radio alone reaches 93% of adults each month. It continues to reach more Americans every month than any other platform, linear or digital.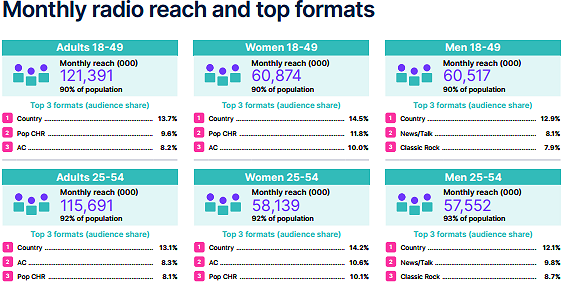 Source: Nielsen Audio Today Report, June 2022
Radio use spans the bulk of the day, reaching consumers on the path to purchase while they're away from home and in the car. 70% of all radio use happens out of home, and most of that takes place in the car.
At the same time, podcast audiences continue to grow, with half of today's daily users having taken up the habit in the past two years. All genres have seen significant growth over that time, with Music, Leisure and True Crime growing the most. Comedy and News continue to be the most popular genres overall.
Advertisement


Latest Radio Stories
Mike Max Exits WCCO/Minneapolis in Downsizing Move
Veteran Minnesota sports journalist Mike Max is out at News/Talk WCCO/Minneapolis in a cost-cutting move by Audacy. Max, 57, who had been with the station since 1998, is expected to remain the Sports Director at WCCO-TV, which is owned by CBS. Max More
ESPN Wisconsin Shows Expand to 1430 ESPN Beaver Dam
Good Karma Brands and ESPN Wisconsin announce that "Wilde and Tausch" and "Scalzo and Brust," which currently air in both Madison and Milwaukee, will soon expand to WBEV-AM (1430 ESPN) in Beaver Dam, WI. Beginning Monday, August 22, listeners in the More
Z Radio Live Celebrates 15 Years On the Air
Internet music station, Z Radio Live at zradiolive.com is celebrating 15 years on the air. To commemorate the event, Z Radio Live partnered with Vintage Microphones, and owner Ron Hummel, to produce a one-of-a-kind microphone for the Z Radio Live More
Advertisement

Jacobs Media Released Air Talent Survey 2022 at MSBC 34
Jacobs Media released its Air Talent Survey 2022, entitled "Radio Talent in the Post-Pandemic Era," on Thursday at the 34th Annual Morning Show Boot Camp -- which also began Thursday at the Swissotel in Chicago. The survey, which included 750 total More
WSB/Atlanta Names Charles Dir./Branding and Programming
Veteran programmer Ken Charles joins Cox Media Group's News/Talk WSB-AM and WSBB (95.5 WSB)/Atlanta as Director of Branding and Programming, beginning September 12th. Most recently, he was Program Director of News KNX-AM & FM/Los Angeles and More
Triton Digital Releases July 2022 U.S. Podcast Report
Triton Digital has released its July, 2022 U.S. Podcast Report. Stitcher Media remained in the #1 spot on the Top Sales Networks Report for the month of July with 55 million Average Weekly Downloads and 13.9 million Average Weekly Users. NPR came in More