Advertisement


Edison Issues Top 50 Podcasts in the U.S. for Q3 2023
Edison Research has released the Top 50 Podcasts in the U.S. based on reach for Q3 2023 among weekly podcast listeners age 13+. The top four shows in Q3 remain unchanged in rank from Q2: "The Joe Rogan Experience," "Crime Junkie," "The Daily" and "This American Life." The list ranks podcast networks based on total audience reach from Edison Podcast Metrics.
The Q3 2023 ranker was conducted from July 10 through September 29, and is based on surveys of 5,409 weekly podcast listeners age 13+.
The Top 50 Podcasts in the U.S. for Q3 2023: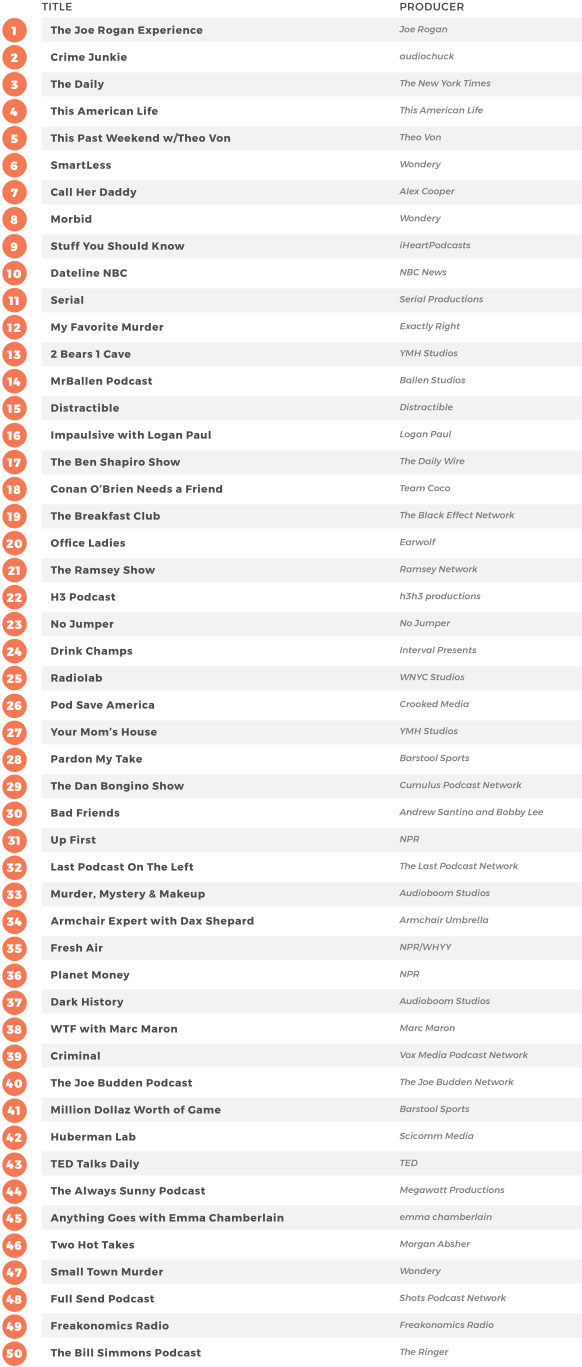 "This Past Weekend with Theo Von" makes its Top 10 debut at #5. Von has been visible in the press lately regarding payment disputes against a former distributor and has courted controversy due to an episode featuring Roseanne Barr being removed from YouTube.
After signing an exclusive partnership with Spotify to produce video episodes, "Distractable," with Mark Fischbach, Wade Barnes and Bob Muyskens, breaks into the Top 20 at #15.
"No Jumper," receiving media attention for its controversial host and content, and "The Always Sunny Podcast," buoyed by tours and live tapings and a public pause during the writers and actors strikes, both break into the Top 50.
Two podcasts from the Q2 Top 10 list dropped out of the Top 10 in Q3: #8 "The Ben Shapiro Show" dropped to #17 and #9 "Office Ladies" dropped to #20. This ranker measures reach as a percentage of the weekly podcast listening audience.
Edison Podcast Metrics is the only podcast measurement service that measures the relative audience size and demographics of all podcast networks in the U.S. The podcast show ranker is derived from data collected continuously during the third quarter of 2023, interviewing 5,409 weekly podcast consumers ages 13 and older in the U.S.
Advertisement


Latest Radio Stories
Cumulus Media Promotes Beth Coughlin to Regional VP
Cumulus Media elevates Beth Coughlin to Regional VP for its clusters in Buffalo, Erie PA and Syracuse. Coughlin currently serves as VP/Market Manager of its local group in Syracuse and adds responsibilities for the company's five stations in More
Roberts Metro Broadcasting Debuts Foxy 106.9 in St. Louis
Roberts Metro Broadcasting launches "Foxy 106.9 FM" on K295CQ in St. Louis as the "Best Mix of R&B and Throwback Jams." Officially hitting the airwaves on Friday at 6am, Foxy 106.9's "The Real Breakfast Crew" debuts in weekday mornings featuring More
Podtrac Issues List of the Top New Podcasts of 2023
Podtrac has published its year-end ranking of the Top 25 New Podcasts for 2023. The ranking is based on average downloads per episode. The 2023 list is headed up by Scamanda from Lionsgate Sound, followed by The Retrievals (Serial Productions), The More
Advertisement


iHeartRadio Releases the Top Artists & Songs of 2023
As we near the end of 2023, iHeartRewind has released the most listened to music and artists of the year. iHeartRewind is compiled by tallying the the total audience spins (TAS) and streams across iHeartRadio stations nationwide and on the More
Skyview Inks Multi-Year Renewal with CBS Audio Network
Skyview Networks and Paramount's CBS Audio Network ink a multi-year renewal of their distribution and network audio sales partnership. Since initially partnering in 2018 and following the renewal in 2020, the network and the audio solutions company More