Radio Continues as Top Weekly U.S. Reach Medium
According to Nielsen's April 2018 Audio Today Report, audio plays a central role in the daily lives of hundreds of millions of consumers. This iteration of the report focuses on how Americans listen to audio, with radio at the centerpiece. Despite the countless number of options available today, AM/FM radio continues to be the top weekly U.S. reach medium with a 93% reach. In fact, 270 million consumers aged six and older listen to radio each week reports Nielsen.
The report touches on several other components of the audio landscape, including network radio, podcasting, national formats and top advertisers on music and spoken-word radio. Highlights from the 2018 Audio Today report include:
More Americans use AM/FM radio each week (93%) than any other platform, including TV, smartphones, and tablets
Each week 270 million listeners aged 6 and older are using radio.
The top formats in America last year were Country (registering a 13.2% share of the national audience) followed by News/Talk - both commercial and non-commercial stations - (12.3%) and Adult Contemporary (8.1%).
Podcasts continue to expand the audio landscape, with more and more variety available every month, says the report. Over 30 million watch, listen to or download a podcast each month, and smartphones are driving the surge in podcast popularity, becoming the favored device for usage.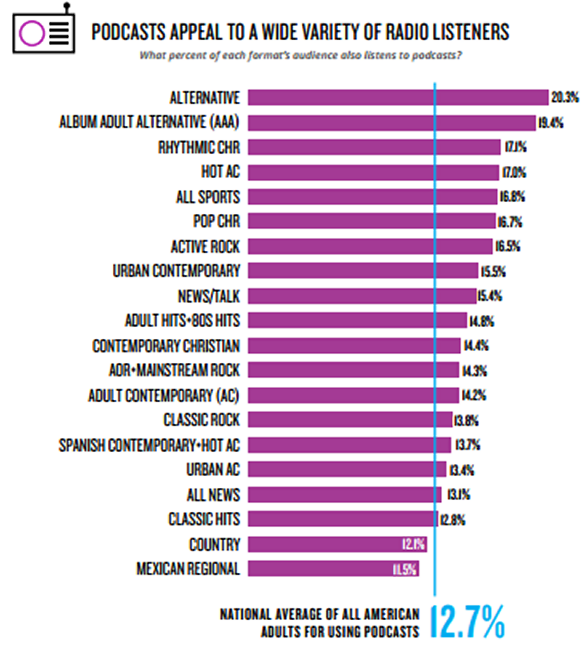 Podcasts appeal to a wide variety of radio listeners. 20.3% of Alternative format listeners also use podcasts each month, along 19.4% of AAA listeners, 17.1 Rhythmic CHR, 17% of Hot AC and 16.8% of Sports listeners consume podcasts each month.