Stations Are Wise to Enter Smart Speaker Eco-System
| | |
| --- | --- |
| RADIO ONLINE | Wednesday, October 11, 2017 |6:25pm CT | |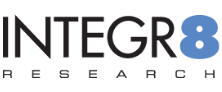 Integr8 Research has published the second in a series exploring how changing technology impacts radio listening. While only 14% of the 15- to 39-year-old radio listeners interviewed own a smart speaker today, adoption of voice-powered devices seems to be growing rapidly. Smart speaker owners are more likely to listen to local FM stations' streaming, but Integr8 found they also listen to a lot of on-demand audio, as they are heavy music consumers in general. Among the radio listeners surveyed, smart speaker owners are also heavy radio listeners on traditional radios. 85% of smart speaker owners listen weekly to music on a traditional AM/FM radio, three percentage points higher than listeners in general. These owners are also more likely to listen to a local FM station's streaming audio. Among all 15- to 39-year-olds, 22% listen to a local FM station's streaming audio, but 34% of smart speaker owners do. They're also more likely to use Pandora and online-only stations.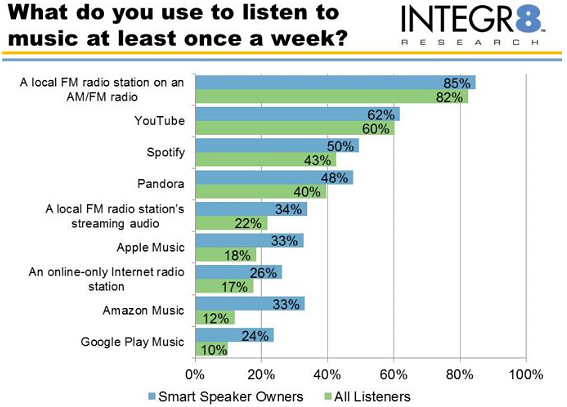 These findings suggest that smart speakers are indeed well suited to the "set it and forget it" convenience of traditional radio programming, as well as the ease of verbally requesting a familiar local FM radio brand. "The bottom line: Local FM radio stations are wise to secure their place in the smart speaker ecosystem, but they face stiff competition for listeners' ears on the platform," wrote Integr8 Research President Matt Bailey in the blog post detailing the results.
Menu
|
Contact Us
|
Subscribe
|
Advertise
|
Privacy Policy
|
About Us
---
Copyright © 1989-2017 RADIO ONLINE ®

The publisher makes no claims concerning the validity of the information posted on RADIO ONLINE and will not be held liable for its use. No part of this material may be reproduced in any form, incorporated in any information retrieval system or otherwise redistributed without the prior written permission of the publisher.
---