Futuri Media Debuts Alexa Skills for Radio Stations
| | |
| --- | --- |
| RADIO ONLINE | Monday, March 20, 2017 | 2:21pm CT | |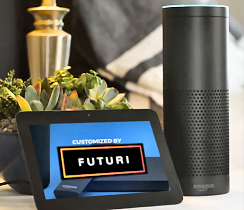 Futuri Media has announced that their clients will have access to customized Alexa Skills for their radio stations. With Alexa Skills, stations can deliver their streaming and on-demand content to devices like the Amazon Echo, Tap and Dot. For example, streaming a station can be as simple as asking "Alexa, start playing Star 95." Alexa can play your station's custom forecast (with a sponsor) by asking, "Alexa, ask Star 95 for the weather" or your latest local news. "Amazon Alexa-enabled devices have exploded in popularity this year. Seeing the potential audience and revenue lift associated with this rapidly-expanding audio distribution channel, we've made development in the 'smart speaker' space a priority," said Futuri Media CEO Daniel Anstandig. "It's a tremendous opportunity for broadcast brands to stay on the cutting edge." Parties interested in learning how Futuri Media can work with their stations to develop custom Alexa Skills can reach out to Futuri Media at futurimedia.com/alexa.
Menu
|
Contact Us
|
Subscribe
|
Advertise
|
Privacy Policy
|
About Us
---
Copyright © 1989-2017 RADIO ONLINE ®

The publisher makes no claims concerning the validity of the information posted on RADIO ONLINE and will not be held liable for its use. No part of this material may be reproduced in any form, incorporated in any information retrieval system or otherwise redistributed without the prior written permission of the publisher.
---