Advertisement


NuVoodoo Takes on COVID-19 in Ongoing Nationwide Study
NuVoodoo Media Services has announced that in the face of the COVID-19 Coronavirus, it is conducting an ongoing nationwide study to track concern about the spread of the virus and media usage surrounding the concern. With the potential exponential increases in cases in the coming days, NuVoodoo will release updated findings later this week, and share a deeper dive into what it means for radio on its upcoming webinar on Monday, March 16. Interested attendees can register at www.nuvoodoo.com/webinars.
In data captured on March 9 and 10, with nearly 3,000 interviews collected, about half of the nationwide 16-54 year-olds in NuVoodoo's sample are taking at least a few precautions in light of the virus.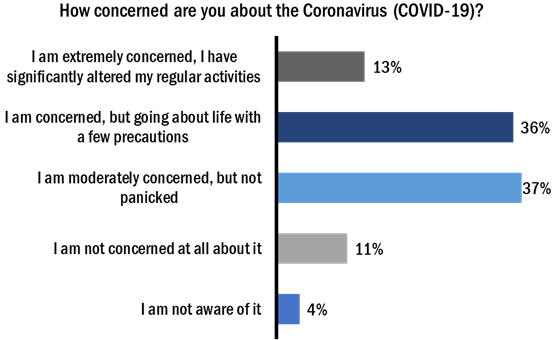 Self-reported usage is up across all the media types NuVoodoo explored, including 20% of respondents saying they are listening more to the radio than before the outbreak.
NuVoodoo Media Services Executive Vice President/Research Insights Leigh Jacobs said, "While the online space stands to be the big winner as people search for local information about the spread of Coronavirus, Radio stands to benefit as well - as long as you have a plan and have information to share."
NuVoodoo Media Services President/CEO Carolyn Gilbert noted, "Coronavirus is on virtually everyone's minds right now. Our ongoing nationwide research focused on consumer perceptions and behaviors related to COVID-19, including media behaviors, will help Radio keep its finger on the pulse of our listeners and communities."
Gilbert added: "NuVoodoo's Leigh Jacobs and PJ Kling will update the findings of this ongoing study beginning next Monday, March 16th, during the second installment of NuVoodoo's Spring Webinar Series, 2020: New Technology & A New Way to Play the Ratings Game. We invite all radio professionals to join us for this free 30-minute webinar and get ahead of the game in their markets by registering for any of the three sessions at: www.nuvodoo.com/webinars."
NuVoodoo Ratings Prospects Study XV incorporated the opinions of nearly 4,000 14 to 64 year-olds, including a proportional group of over 700 Baby Boomers (ages 55-64), across all PPM markets. The NuVoodoo Ratings Prospects Study is conducted twice a year to learn more about those who are most likely to say "yes" to the opportunity to wear a meter or fill out a diary.
NuVoodoo will give radio professionals a closer look into the findings of the latest NuVoodoo Ratings Prospects Study in the second installment of its spring webinar series, 2020: New Technology & A New Way to Play the Ratings Game, which launches on Monday, March 16. The free webinar is open to all radio professionals who register for any of three sessions at www.nuvoodoo.com/webinars. Each webinar session will last less than 30 minutes and will include Q&A at the conclusion.
Advertisement


Latest Radio Stories
NPR Names Kelly McBride as Public Editor
NPR President and CEO John Lansing announced today that the Poynter Institute's Kelly McBride will serve as the organization's next public editor, responsible for bringing transparency to matters of journalism and journalism ethics. Through the More
Advertisement


Podtrac's Top Podcast Publishers for March 2020
Podtrac has released their top podcast publishers ranking for March 2020. This month they expand the ranking to the Top 20 publishers and welcome first time participants: WarnerMedia(#10), Fox News Radio (#18), and Slate (#20) along with More
"The Jesse Kelly Show" Debuts in National Syndication
Key Networks announces that its new three-hour morning talk radio program, The Jesse Kelly Show, debuts today in national syndication, and is available to stations Monday through Friday from 9am-Noon EST, with delayed broadcasts available via XDS. More
KOGO/San Diego Launches "Right Now"
News Radio 600 KOGO/San Diego has launched a special program, "RIGHT NOW," a one-hour business, health and lifestyle program hosted live, weekdays from 8 to 9 p.m., focusing on five topics that matter most "Right Now" during the Coronavirus More