Advertisement


FCC Ups Radio Regulatory Fees for Fiscal Year 2020
In a Report & Order, the FCC has set new regulatory fees for Fiscal Year 2020, ignoring radio industry filings requesting that fees should be frozen at their FY 2019 level due to the COVID-19 pandemic, which has caused a severe reduction in advertising revenue. The Commission ruled that the radio broadcasters' arguments reflect "an incomplete understanding of the methodology that the Commission has used for years."
Specifically, the agency said, two factors affecting calculation of radio broadcasters' fees changed significantly between FY 2019 and FY 2020, and resulted in the increase in regulatory fees for radio broadcasters. First, the Media Bureau's allocation percentage increased from 35.9% in FY 2019 to 37.3% in FY 2020. Second, the total number of radio broadcasters (projected fee-paying units) unexpectedly dropped by 180 from FY 2019 to FY 2020. The FCC said net effect of these two changes resulted in increased regulatory fees for individual radio broadcaster fee paying units for FY 2020.
"We disagree with the radio broadcasters that we should ignore our long-standing methodology in order to freeze regulatory fees for (and thus benefit) radio broadcasters at the expense of other regulatees (such as television broadcasters)," the order said. "We accordingly decline to freeze the radio broadcaster regulatory fees at their FY 2019 levels."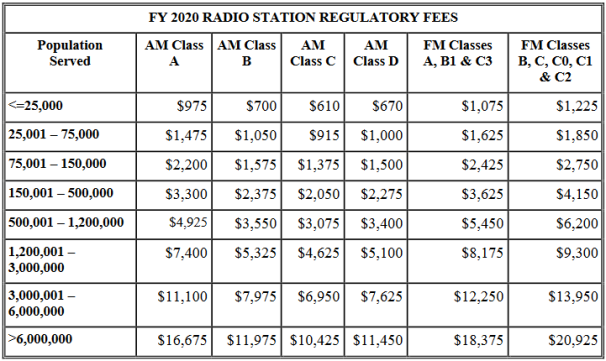 NAB Senior Vice President of Communications Ann Marie Cumming said in a statement, "NAB believes strongly that the Commission's methodology for calculating regulatory fees is deeply flawed and would not survive judicial review. However, we very much appreciate Chairman Pai and his staff correcting certain errors in the proposal's original calculations to result in reduced fees for many radio broadcasters. NAB urges the Commission to convene stakeholders to take a closer look at its approach to regulatory fees to ensure they are fairly and equitably applied for all entities that utilize Commission resources."
In an effort to help broadcasters with paying the annual fee during the pandemic, the FCC is offering stations the option of paying the annual fee in installments rather than in one payment. It also plans to reduce the interest rate it charges on those installment payments to an unspecified "nominal rate."
Advertisement


Latest Radio Stories
Q99.7/Atlanta Debuts New Midday and Afternoon Shows
Atlanta's WWWQ Q99.7 will debut two new live and local shows on Tuesday, January 19. Charged Up, features popular Atlanta club and event DJ and on-air personality Yvonne Monet and will air Monday through Friday from 11:00am-3:00pm. Monet will be More
KFMX 94.5/Lubbock Celebrates 40th Birthday
KFMX, 94.5 FM, Lubbock, Texas hits a significant milestone and turns 40 years old Monday, January 18. "94.5 FMX is Lubbock. It's in the fabric of the community every day," Townsquare Lubbock Director of Content Lance Balance. "I couldn't be prouder More
Red Apple Media Names Emily Pankow General Counsel
Red Apple Media and 77 WABC Radio, has announced that Emily Pankow, Esq. has been appointed Red Apple Media's General Counsel. Pankow began at the new position on January 4. Pankow is a respected attorney who began her legal career at Red Apple More
Advertisement


DOJ Won't Take Action on Music Licensing Consent Decrees
Speaking at the Vanderbilt University Law School on Friday, U.S. Assistant Attorney General Makan Delrahim said the Department of Justice's Antitrust Division will not take action on the Consent Decrees the U.S. government entered into with ASCAP More
2020 CRHoF Honorees to be Inducted During CRS 2021
The Country Radio Hall of Fame Class of 2020 will be honored during CRS 2021: The Virtual Experience. Due to COVID restrictions, the annual Country Radio Hall Of Fame induction ceremony and dinner could not be held as a live event. Country Radio More
ABC News Radio Announces Special Coverage of Inauguration
ABC News Radio will offer live anchored coverage of the inauguration events, starting with the COVID-19 memorial ceremony on Tuesday, January 19. On Wednesday, January 20 ABC News Radio will offer a primetime special report that includes coverage of More