Advertisement


BIA: Mobile Advertising Expected to Surpass Direct Mail
BIA Advisory Services forecasts that for the first-time mobile advertising spending will surpass direct mail as the top media advertising platform in 2022. As revealed in BIA's U.S. Local Advertising Forecast 2022, the overall local U.S. advertising market is expected to reach $161.5 billion -- a 10.1 percent YoY growth. The forecast says that traditional media revenue will account for $84.6 billion and digital media will be close behind at $76.8 million. Radio is forecast at $12.6 billion and political at $7.5 billion.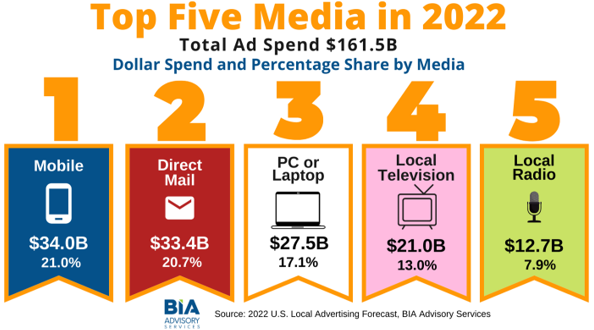 BIA Senior VP and Chief Economist Mark Fratrik says that the firm's U.S. Local Advertising forecast also sees a rise in local radio advertising revenue in 2022 and is expected to generate $12.7 billion split between over-the-air ($11 billion) and digital ($1.7 billion). By 2026 radio digital revenues are expected to reach $2.4 billion, while OTA goes up and down with the even political years and ends at $11.7 in 2026.
"Radio isn't faring as well as local broadcast TV, and it doesn't get the same bump as TV in political years," said Fratrik. "But it is getting close to its pre-pandemic levels as people continue to return to work commutes and traveling by car."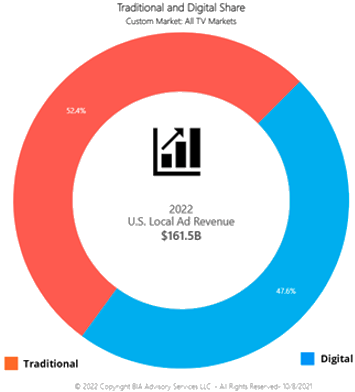 BIA puts mobile spending at 21 percent of the 2022 forecast and direct mail at 20.7 percent, but the gap between the two will continue to widen. Overall, digital ad spending will reach $76.8 billion, with Google and Facebook controlling over half of the spending. Google takes the lion's share at $26.8 billion, compared with Facebook's $14.3 billion.
As reported in late September, BIA forecasts local television in 2022 will rise to $19.3 billion in OTA advertising, and $1.7 billion in digital; a sign of a strong $21 billion industry that delivers its audience for political campaigners.
Advertisement


Latest Radio Stories
Scott Porretti Named President of Katz Digital Audio
Katz Media Group has elevated Scott Porretti to the position of President of Katz Digital Audio, a division of Katz Media Group. He will continue to report to Mark Gray, CEO of Katz Media Group. A longtime veteran of Katz, Porretti will continue to More
Dan Bongino Calls Out Cumulus Media Over Vaccine Mandate
Conservative radio host Dan Bongino called out Cumulus Media and Westwood One on Monday, daring them to cancel his show in response its vaccine mandate. Calling it "unethical" and "immoral," Bongino, who recently completed treatment for Hodgkin More
Hall/Burlington-Plattsburgh Ups Mark Knight to Ops Manager
Hall Communications promotes WKOL Program Director Mark Knight to Operations Manager for WKOL, WOKO, WBTZ, WIZN and WJOY in Burlington-Plattsburgh, VT-NY. He fills the void left after Matt Grasso departed in August for a position outside of radio. More
Advertisement


CRB/CRS Now Accepting Apps for Rusty Walker Scholarships
Country Radio Broadcasters (CRB) is now accepting applications for the Rusty Walker Scholarship program. Each year, through the scholarship program, Country Radio Seminar gives complimentary registration to three driven radio employees who have More
Conservative Host Dennis Prager Purposely Gets COVID-19
SRN conservative radio host Dennis Prager said Monday that he's come down with COVID-19 and that he purposely tried to get the virus. Prager told his audience that he wanted to get sick so he could get "natural immunity" against the disease instead More
Jason Bailey Exits Mornings at WNNX (Rock 100.5) Atlanta
Jason Bailey exits WNNX (Rock 100.5)/Atlanta after seven years hosting the "Bailey & Southside" morning show. He joined the Rock outlet in December, 2014 after previously holding down the morning slot at Sports WZGC (92.9 The Game)/Atlanta. More