Advertisement


Q99.7/Atlanta Debuts New Midday and Afternoon Shows
Atlanta's WWWQ Q99.7 will debut two new live and local shows on Tuesday, January 19. Charged Up, features popular Atlanta club and event DJ and on-air personality Yvonne Monet and will air Monday through Friday from 11:00am-3:00pm. Monet will be followed by a Atlanta's Vibe, featuring station favorites Jade and Moe, airing weekdays from 3:00pm-7:00pm EST.
Monet joins Q99.7 following a successful 20-year career as one of the Atlanta area's most well-known club and event DJ's. Jade moves from Nights on Q99.7 to team with Moe from The Bert Show in afternoons for Atlanta's Vibe. In addition to his new Afternoon Drive program, Moe will continue to entertain Q99.7 listeners on The Bert Show weekday mornings from 5:30am-11:00am.
"Atlanta's sophisticated audience has always demanded and embraced programming innovation," said Brian Philips, EVP Content & Audience, Cumulus Media said: All at Cumulus are proud of, and confident in, these fun, adventuresome changes at Q997."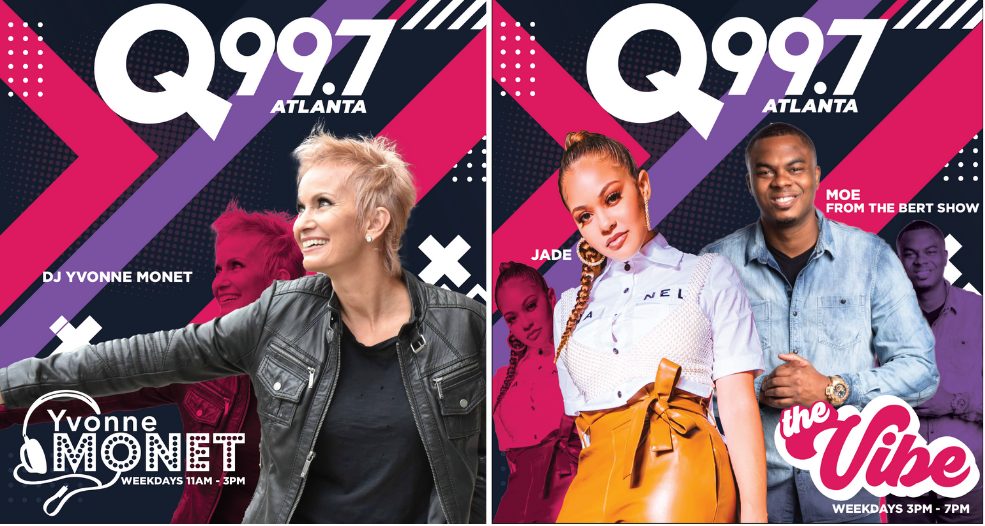 Advertisement


Latest Radio Stories
30% of All U.S. Audio Listening Now Done on Mobile Device
According to the latest Share of Ear report from Edison Research, listening on a mobile device now accounts for 30% of all time spent listening to audio by those age 13+ in the U.S., an increase of 67% since 2014. The gap between listening on a More
KLOS/Los Angeles Launches FM Talk Radio ''KLOS 2''
Rock KLOS-FM/Los Angeles, in connection with Toad Hop Entertainment and the Toad Hop Network, announced the launch of its HD2 channel called "KLOS 2." Helmed by morning host Frank Kramer, the all-talk HD channel has also revealed a new logo. Kramer More
Advertisement


WWO Sues LRN for Voicetracking System Patent Infringement
Westwood One has filed suit against Local Radio Networks for patent infringement over LRN's voicetracking system. Filed Tuesday in U.S. District Court in Fort Wayne, IN, the suit alleges that LRN violated WWO's patents for its voicetracking system More
IBA Presents RDR President Mark Levy for Webinar
The Independent Broadcasters Association (IBA) has announced that Revenue Development Resources President Mark Levy, will be its next featured speaker. As part of the IBA member only webinar series, Levy will present "Management vs. Leadership: The More
iHM to Host ''Russ Martin Show Listeners Foundation Day''
iHeartMedia's KEGL-FM (97.1 The Eagle)/Dallas will host "Russ Martin Show Listeners Foundation Day" on March 5 from 6am-7pm in memory of the late longtime air personality Russ Martin. Funds will support the families of Dallas-Fort Worth police More