Advertisement


Broadcasters Foundation Launches Year-End Giving Campaign
The Broadcasters Foundation of America has launched its annual year-end giving campaign, appealing to those in the broadcast industry for tax-deductible personal donations to the Guardian Fund and corporate contributions to the Angel Initiative. The Broadcasters Foundation is a 501(c)3 charity and the only organization dedicated exclusively to providing aid to broadcasters and their families whose lives have been upended by tragic illness, accident, or catastrophe. Donations can be made HERE.
The annual Giving Campaign comes as more broadcasters than ever before are reaching out for monthly or emergency relief. This year, the Broadcasters Foundation will award more than $1.7 million in monthly and one-time emergency grants. Monthly grants have increased over 79% since 2016, and more than 500 emergency grants have been awarded since 2017. Over the past 20 years, the Broadcasters Foundation has distributed over $13 million to broadcasters in need.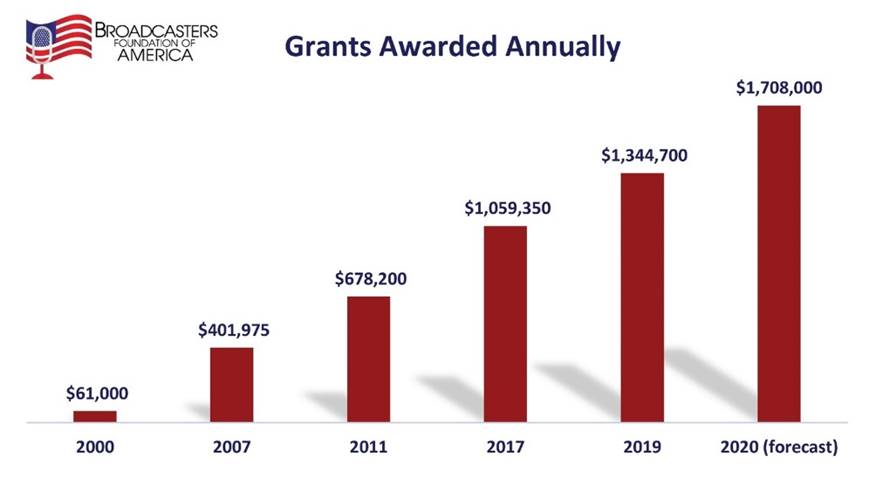 "Our only goal at the Broadcasters Foundation is to provide aid to those in our industry who need it most," stated Scott Herman, Chairman of the Broadcasters Foundation of America. "Our grant recipients are hard-working broadcasters from across the country who have been hit by challenging, often life-altering circumstances. Together, we can help them get through the toughest times."
"We have seen requests for assistance escalate at a significant rate over the past several years," said Jim Thompson, President of the Broadcasters Foundation. "I ask every broadcaster to consider a tax-deductible contribution to help us continue our mission of providing aid to colleagues who are desperate and dire need."
Since its inception, the Broadcasters Foundation has distributed millions of dollars to thousands of needy broadcasters and their families. Individual donations can be made to the Guardian Fund, corporate contributions are accepted through the Angel Initiative, and bequests can be arranged through the Legacy Society.
Advertisement

Latest Radio Stories
11th Annual Benztown 50 Announces Call for Applications
Benztown will release the seventh annual Benztown 50 List of Radio's Biggest Imaging Voices, a listing of the top 50 voiceover artists in the U.S. and Canada. The Benztown 50 list will be based on several criteria, including number of radio station More
NBC Sports, SiriusXM to Launch New 24/7 Channel
NBC Sports and SiriusXM have announced the launch of a new 24/7 audio channel featuring some of the biggest names in sports talk -- NBC Sports Audio on SiriusXM -- which debuts Thursday, December 3. The new channel will feature live daily weekday More
Mediabase Announces the Retirement of Jeff Gelb
Mediabase has announced the retirement of Director, Label Sales & Marketing Jeff Gelb, a 50-year music industry vet. Gelb started his professional Radio career in 1971 at WNCR and WMMS in Cleveland. He then moved to San Diego and worked on-air More
Advertisement


Casey Daniels Joins Morning Show at WFGR/Grand Rapids
Townsquare Media/Grand Rapids welcomes new morning show co-host Casey Daniels to Classic Hits 98.7 WFGR. She debuted Tuesday, December 1. Daniels joins the station's successful current morning host JoJo Girard, to form the Casey & JoJo Show. More
Eagle Communications Closes on Legacy Nebraska Duo
Eagle Communications has closed on its previously announced acquisition of 100kW Country KZTL-FM (93.5)/Paxton and 100kW Rock KRNP-FM (100.7)/Sutherland, both in Nebraska, from Legacy Communications. Eagle Communications is Kansas-based, More
Cumulus/Nashville Builds Toy Field for Forgotten Angels
The Salvation Army's Forgotten Angels Program will benefit from the toys collected at the 13th Annual Toy Field presented by Cumulus Nashville and T-Mobile on Tuesday, December 8 at Nissan Stadium. Middle Tennesseans are invited to come out from More