Senate Confirms Brendan Carr, Jessica Rosenworcel
| | |
| --- | --- |
| RADIO ONLINE | Thursday, August 3, 2017 |6:11pm CT | |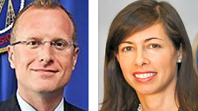 The U.S. Senate has confirmed Brendan Carr and Jessica Rosenworcel as FCC Commissioners. Carr, a former aide to Chairman Ajit Pai, fills an open Republican slot, while former commissioner Rosenworcel, who left the FCC at the end of last year after her tenure expired, takes the open Democratic slot. Now that the Senate has confirmed both, the five-member commission is now complete along with Chairman Pai and Commissioners Mignon Clyburn and Michael O'Reily. Before becoming general counsel in January, Carr was Pai's legal advisor for wireless, public safety and international issues. Prior to joining the FCC, Carr worked as a telecommunications attorney at the Wiley Rein law firm, where his clients included AT&T, Verizon Communications and USTelecom. Rosenworcel was previously re-nominated in December, 2015, and the Senate Commerce, Science and Transportation Committee unanimously voted to reappoint her to another term. However, the U.S. Senate adjourned last year and failed to hold a vote to confirm. For her first term, Rosenworcel was confirmed unanimously by the U.S. Senate in May, 2012, and formally sworn into office on May 11, 2012. Pai released the following statement, "I congratulate Brendan and Jessica on their confirmations. As I know from working with each of them for years, they have distinguished records of public service and will be valuable assets to the FCC in the years to come. Their experience at the FCC makes them particularly well-suited to hit the ground running. I'm pleased that the FCC will once again be at full strength and look forward to collaborating to close the digital divide, promote innovation, protect consumers, and improve the agency's operations." NAB Executive VP/Communications Dennis Wharton said, "NAB congratulates Jessica Rosenworcel and Brendan Carr on their confirmation to the FCC. They are both well-versed in telecommunications issues and bring a wealth of experience to the Commission. We look forward to working with them on the important regulatory issues facing local radio and TV broadcasters across the country."
Menu
|
Contact Us
|
Subscribe
|
Advertise
|
Privacy Policy
|
About Us
---
Copyright © 1989-2017 RADIO ONLINE ®

The publisher makes no claims concerning the validity of the information posted on RADIO ONLINE and will not be held liable for its use. No part of this material may be reproduced in any form, incorporated in any information retrieval system or otherwise redistributed without the prior written permission of the publisher.
---