Advertisement

Auto, Insurance Advertisers Rise in First Part of 2019
There's definitely a car theme running through the latest advertiser rankings in radio, TV and cable. Just past the halfway mark of 2019, the top advertising categories are all related to driving: automotive dealers, insurance providers and fast casual-quick service restaurants. Home Depot, GEICO, Liberty Mutual and McDonald's aired the most spots thus far.
Local auto dealers revved up the number of radio spots they aired in the first several months of the year, finishing far ahead of any other category during the same period, according to Media Monitors' latest rankings of the top advertisers of 2019. The analysis covers the period from January 1, 2019, through July 31.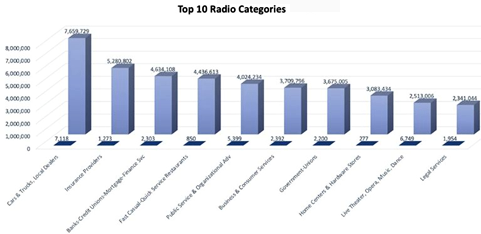 June's overall retail sales rise of 0.4% was driven by a 0.7% increase in auto sales, according to the Commerce Department. Car sales had a similar gain in May. To get their brand in front of interested consumers, insurance providers are right behind auto dealers in the number of spots they've aired this year. Local car and truck dealers led the way in the number of instances, focusing their advertising on both radio, where they broadcast the highest number of spots (7,659,729), and on TV, where they ranked 10th for instances (2,537,737).
At the same time, the insurance provider category ranked in the top three for each medium. Collectively, the advertisers aired most of their spots on cable (8,369,687), where the category ranked second. As a whole, they were number two in radio (5,280,802) and number three in TV (4,428,241).
The fast casual-quick service restaurant category ranked first among cable advertisers. The total number of spots for the segment was nearly 10 million. That achievement was accomplished by 156 advertisers. By comparison, the number two category was insurance, which aired 8,369,687 spots from nearly twice as many advertisers - 299.
Advertisement


Latest Radio Stories
IBA to Officially Form Organization Within Next Two Weeks
The Independent Broadcasters Association (IBA) is officially forming the organization within the next two weeks. Ron Stone said, "We have 496 owners and operators representing just under 3,000 stations that have signed up supporting the idea of the More
WWCD (CD102.5)/Columbus OH Names Laura Lee Interim PD
Laura Lee joins Alternative WWCD-FM (CD102.5) Columbus, OH as Interim Program Director and midday host, effective Monday, July 13. She replaces APD Rachael Gordon in middays, who resigned after 15 years with the station. Lee previously served as PD More
Mark Hamlin Exits Midwest Communications Kalamazoo as OM
Midwest Communications/Kalamazoo, MI Operations Manager Mark Hamlin exits the five-station cluster after five years over the COVID-19 pandemic. Prior to joining the Michigan Group, Hamlin was PD/afternoon host at Country WFMS-FM/Indianapolis. More
Advertisement

Report: Former Blaze Radio Host Jay Severin Dead at 69
Sad to report that longtime conservative radio personality Jay Severin has died after a battle with cancer, reports TheBlaze. He was 69. Severin was a veteran and former host on TheBlaze Radio Network's national platform in afternoons. The More
RAB Campaign Promotes Trust & Truth with New Audio Assets
Given the recent Facebook boycott and continuous concerns regarding brand safety, transparency and trusted environments for advertising, the Radio Advertising Bureau (RAB) is providing the tools that reinforce to the advertising community and More