Advertisement


Study: Smart Speakers in the Majority of U.S. Households
NuVoodoo Media Services' "Ratings Prospects Study 14" revealed the continued growth of Smart Speaker penetration in homes across the U.S. 51% of NuVoodoo's sample of over 3,000 persons 14-54 across all PPM markets report at least one Smart Speaker in their lives. That reflects an 8% increase in Smart Speaker penetration since January, based on NuVoodoo's January, 2019 survey. In addition, Smart Speaker penetration is now two in three among respondents who profile as susceptible to accepting a meter or diary from Nielsen.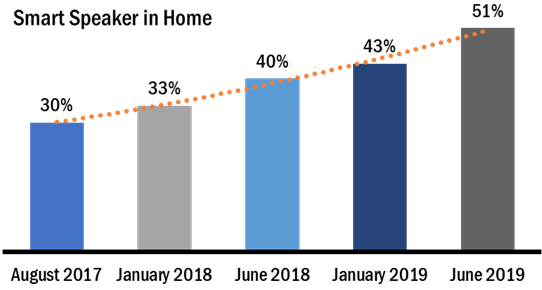 NuVoodoo Media Services Executive VP/Research Insights Leigh Jacobs said, "While there are lots of things you can use Smart Speakers to do, they're called "Smart Speakers" - so lots of people use them to listen to things. Percentages are up for every category of things we've asked respondents about listening to via Smart Speakers. And now Smart Speaker technology is coming to the car."
President/CEO Carolyn Gilbert added, "With Alexa in the car, the barrier to selecting FM/AM vs. Spotify vs. podcasts and/or audiobooks is gone. If you think of it, it's usually an easy matter to get Alexa to play what you want. That dynamic presents Radio with a real challenge or an incredible opportunity, depending upon what stations choose to do about it."
VP/Product & Business Development PJ Kling commented, "Echo Auto is not perfect, but after playing with it for a couple of weeks, it's scarier for Radio than I thought it would be... because it's easier than I thought it would be."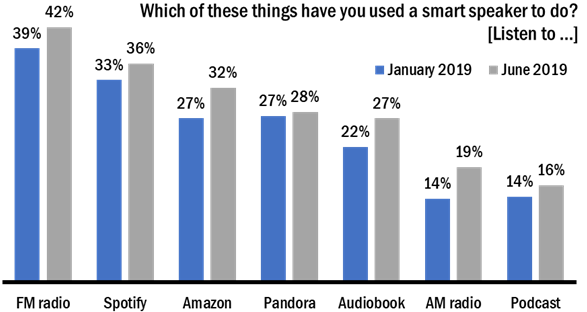 NuVoodoo will present the second installment of the NuVoodoo Fall webinar series, "The NuVoodoo Fall 2019 Contesting and Marketing Guide," based on the Ratings Prospects Study 14 next week in the final two sessions on Tuesday, September 17 at 1pm ET and on Wednesday, September 18 at 11am ET. Interested radio professionals can reserve their spot for one of the two remaining sessions at: www.nuvoodoo.com/webinars. The new study was fielded in June and represents the opinions of over 3,000 respondents ages 14-54 from across all PPM markets.
The 30-minute NuVoodoo Fall 2019 Contesting and Marketing Guide webinar will be led by Leigh Jacobs and PJ Kling, who will show all the responses from Ratings Prospects Study 14 and take questions from attendees. Areas covered in the webinar include:
A review of contesting best practices from the NuVoodoo playbook.
What the key advantages of FM are among different format constituencies.
If Smart Speakers are really THAT important (including our initial experiences with Echo Auto).
The Social Media platforms that your station needs for organic reach and paid reach.
Who skips pre-roll video ads and who doesn't.
What the best contest packaging opportunities are.
The NuVoodoo Ratings Prospects Study is conducted twice a year to learn more about those who are most likely to say "yes" to the opportunity to wear a meter or fill out a diary in order to provide NuVoodoo clients with competitive insights and advantages that they can exploit to capture higher ratings. This is the 14th Ratings Prospects Study that NuVoodoo has completed since 2011.
Advertisement


Latest Radio Stories
Tony Bannon Joins DMR/Interactive as VP/Marketing Strategy
DMR/Interactive appoints Tony Bannon as VP/Marketing Strategy. He joins the firm after having worked in sales for Cumulus Media/Cincinnati. Bannon also spent over a decade as a Program Director and air talent for stations in Illinois and Indiana now More
Broomhead to Host Mornings on Bonneville's KTAR/Phoenix
Bonneville/Phoenix taps Mike Broomhead to host "The Mike Broomhead Show" weekday mornings from 8am to noon on KTAR-FM (News 92.3). He replaces "The Bruce St. James and Pamela Hughes Show," which aired for the past five years. Broomhead, formerly a More
Christian Ministries of the Valley Buys Three in Texas
Christian Ministries of the Valley Inc. has agreed to acquire 51kW Regional Mexican KICA-FM (98.3)/Farwell, TX (serving Clovis, NM) along with 1kW Spanish Hits KZIP-AM (1310) and FM translator 250w K224EF (92.7)/Amarillo, TX, from High Plains Radio More
Advertisement


NRG's KQKQ (Sweet 98.5)/Omaha Hires Chi for Afternoons
Thirteen-year Nebraskan veteran air personality Chi takes afternoons on KQKQ-FM (Sweet 98.5)/Omaha. She'll host the PM drive show on the NRG Media Hot AC outlet from 3-7pm, starting Monday, February 17. In addition, Chi will also serve as the Music More
Sun Broadcast Group Unveils All Female Marketing Team
Following the acquisition of Envision Radio Networks earlier this month, Sun Broadcast Group (SBG) is proud to announce it has put the finishing touches on a new direction for its marketing department. Filled with ALL girl power, the new team More