Advertisement


Digital Devices Account for 8% of AM/FM Radio Listening
Edison Research has released its estimate of what portion of all listening to AM/FM content happens on a traditional radio receiver and how much is done on a digital device. As of the most recent update, the portion of AM/FM listening represented by the streams is 8%. "Traditional" radio listening through a receiver -- such as a car radio or clock radio -- is 92% of all listening.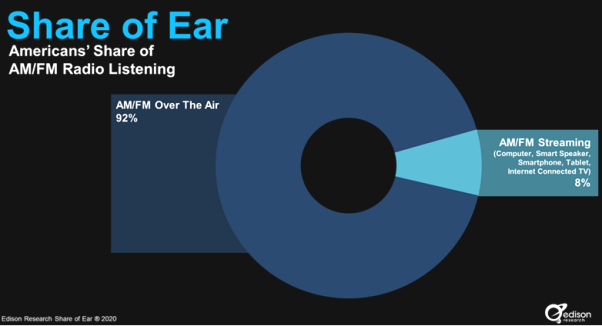 "We've been tracking the changes in radio listening since the beginning of Share of Ear in 2014. The portion of listening that is digital goes up a tiny bit with each update, but the total amount remains small," said Edison Research President Larry Rosin. "Streaming is a bigger factor for spoken-word stations such as public radio news, sports and news talk."
"Determining shares like these can't be done in a simple manner," continued Rosin, "you have to put in the work. You need a methodology that takes time spent listening into account, and you need to fully represent the American population, including not only those online but also those who are either not online or lightly online."
"President Obama's then chief of staff Rahm Emanuel is credited with coining the aphorism: 'Never let a serious crisis go to waste.' If the radio industry is ever going to really 'turn the corner' on digital listening, this may need to be the crisis that makes it happen. Radio needs to do all it can to remind listeners that they still can listen, on smart speakers, through phone apps, and their computers," added Rosin.
Advertisement


Latest Radio Stories
Entravision Appoints Chris Munoz to EVP/National Sales
Entravision has appointed Chris Munoz to the executive leadership team as the Executive Vice President of National Sales. Munoz will oversee the company's national spot television, national spot radio, network radio and national digital audio More
WZZR and WRLX/West Palm Beach Swap Signals
iHeartMedia West Palm Beach announced today that Real Radio WZZR and Mia WRLX are interchanging signals. Beginning today, Real Radio will now broadcast on 92.1 and Mia will broadcast on 94.3. Real Radio 92.1 will continue to be the Palm Beach Hot More
How Are You Responding?
When I created the Dealing with Tragedy seminar on demand, I didn't expect emergencies on top of emergencies. But here we are. Most of my clients have asked what they should do following last week's George Floyd murder and the ensuing protests More
Advertisement


Report: No Audience Impact From COVID-19 in Markets 50-100
According to just-released Nielsen data from an April 2020 listening analysis of 44 diary markets, and cited by Westwood One's Insights team on its blog, there was no audience impact from COVID-19 in markets ranked 50-100. AM/FM radio retained 97% More
Philadelphia Pastor to Launch "Philly's Favor 100.7"
"Philly's Favor 100.7," a new Gospel & Inspirational outlet, will launch on W264BH and WJBR-FM-HD3/Philadelphia on June 8. It will also be available to stream online and on the app. The brain child of JAMJACKJR Enterprises President/CEO Jonathan More