Advertisement


Infinite Dial Australia 2020 Finds Strong Radio Listening
The audio landscape in Australia saw growth in Internet-only audio listening and podcast listening, while traditional radio listening remains strong, according to The Infinite Dial Australia 2020 -- a study of digital media behavior in Australia by Edison Research, fielded before the COVID-19 disruptions and commissioned by Commercial Radio Australia (CRA), Southern Cross Austereo (SCA) via their PodcastOne subsidiary, and Triton Digital.
This marks the fourth annual release of the study in Australia and shows AM/FM/DAB+ radio content, including live content and catch-up podcasts, continues to reach large numbers of those in Australia age 12+. 85% of those in Australia ages 12+ have listened to at least 15 minutes of AM/FM/DAB+ live content or catch-up podcasts in the last month, down minimally from the 87% recorded last year. Over-the-air remains the preferred delivery mechanism of such content: 80% of those in Australia age 12+ have listened to AM/FM/DAB+ content over-the-air in the last week. 12% of those in Australia age 12+ have listened to AM/FM/DAB+ content online in the last week.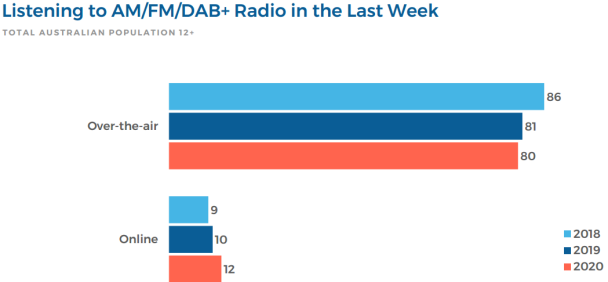 "For radio, the findings underscore the importance of being easily accessible on multiple platforms and devices as consumer behavior evolves, but ultimately it's the content and unique service radio offers that drives listener loyalty," said Commercial Radio Australia CEO Joan Warner.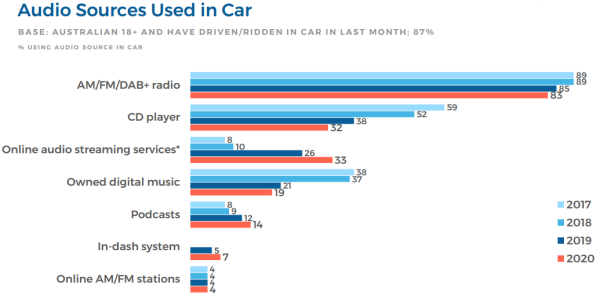 Reported time spent listening to online audio, which includes online AM/FM/DAB+ radio or Internet-only audio services, has increased for the fourth year in a row. Weekly online audio listeners in Australia ages 12+ spend an average of 12 hours and 37 minutes listening to online audio per week, up from just over 11 hours last year. The smartphone is the device the vast majority of online listeners use to listen, with 83% of those in Australia age 12+ saying they use a smartphone to listen to online audio. Fourteen percent of those in Australia age 12+ say they use a smart speaker to listen to online audio, up from 8% last year.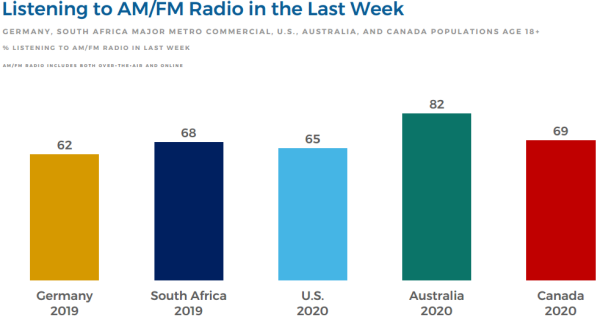 One-quarter of those in Australia ages 12+ have listened to a podcast in the last month, up from 22% in 2019, yet still behind 37% of those ages 12+ who are monthly podcast listeners in the U.S. Awareness of podcasting in Australia surpasses what is seen in the United States, as 87% of Australians are familiar with podcasting compared to 75% of Americans.
"Australia continues to be one of the most exciting markets in the world for online audio and podcasting," said Triton Digital President of Market Development John Rosso. "We are pleased to partner once again with Edison Research, CRA and SCA to unveil another year of insights and trends."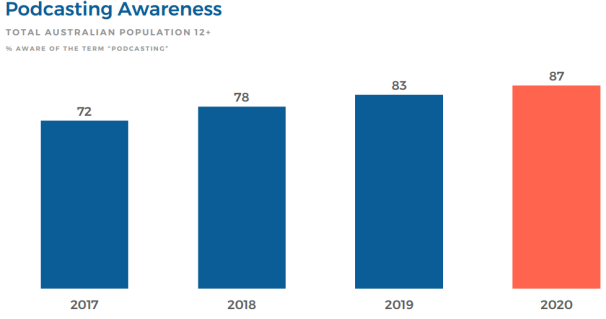 Smart speaker awareness continues to grow, with 85% of those in Australia ages 12+ being aware of smart speakers, and this year's report shows 17% of those ages 12+ own one of the devices (up from 14% last year). The number of smart speaker owners who own two of the devices has almost doubled since last year's survey: 32% of smart speaker owners two devices compared to 16% in 2019.
"Each year we have performed The Infinite Dial Australia we have seen how audio is changing and adapting to new technologies," says Edison Research President Larry Rosin. "While podcasting and smart speakers, along with other new developments, continue to see growth, Australia also has an extremely resilient broadcast radio industry that outperforms as compared to what we see from other countries around the world. We are proud that all players in the audio space can use this information to help guide their understanding of this dynamic sector."
According to SCA Head of Research and Insights John Musgrove, "In its four years the Australian Infinite Dial report has become as much a currency for the industry as the oft-quoted U.S. version. Comparing the two countries indicates how healthy the Australian audio industry is and how strong and consistent its growth continues to be regardless of other challenges. Audio goes with us all day, every day, and this report confirms how broadly Audio accompanies and impacts Australian lifestyles."
Other key Infinite Dial Australia findings include:
At-home is the location where most Australians have consumed a podcast. Eighty-one percent of podcast listeners in Australia age 12+ have listened to a podcast at home and 45% have listened in a car/truck.
85% of podcast listeners in Australia age 12+ most often listen to podcasts on their smartphone/tablet or portable device, 11% listen to podcasts most often on their computer, and 3% listen most often on an in-car entertainment system.
Of the total 12+ population in Australia, 14% own a Google Home smart speaker, with no other smart speaker brands have more than 1% ownership.
33% of those in Australia age 12+ who have driven or ridden in a car in the last month have used an online audio streaming service in the car, up from 26% last year and just 8% two years ago.
AM/FM/DAB+ is the audio source used most often in car: 66% of those in Australia age 12+ use AM/FM/DAB+ most often. Eleven percent listen to owned music most often and 19% listen to internet-only audio most often.
Advertisement

Latest Radio Stories
iHM/Greensboro Names Zac Davis VP of Programming
iHeartMedia names Zac Davis as Vice President of Programming for its five-station cluster in Greensboro, effective immediately. He joins iHM from Entercom in Richmond, VA, where he most recently served as the Senior Vice President of Programming. More
Media Monitors Podcast Listener Survey Results Revealed
The Media Monitors Podcast Listener survey, fielded between June 15-26, has been released. Participants ages 18+ were screened on whether they had listened to a podcast in the last seven days, then asked to list the podcast titles. Participants were More
Entercom Inks Broadcast Extension with Cleveland Browns
Entercom and the Cleveland Browns ink a multi-year broadcast partnership extension. As part of the deal, WKRK-FM (92.3 The Fan) and sister WNCX-FM will continue serving as flagship radio stations of the team, airing all Browns games plus pre- and More
Advertisement


RAB Presents ''Election 2020 is Open for Business''
As part of RAB's Business Unusual campaign, RAB is announcing the next presentation in its live-video series titled "Election 2020 is Open for Business-What's Happening, What's to Come, What to Do." This live-video presentation features a panel More