Advertisement


NuVoodoo Offers New Data From Ongoing COVID-19 Study
NuVoodoo Media Services is offering a free webinar on demand this week, sharing the latest findings of its ongoing nationwide study to track concern about COVID-19 and its implications for radio station programming and operations. Since March 9, NuVoodoo has fielded daily nationwide samples of at least 2,000 respondents among persons 16-54.
The webinar, "Covering and Recovering from COVID-19: Practical Steps to Help Your Listeners & Your Station Through the Pandemic & Beyond," will share data captured as recently as May 17 and is a follow-up to NuVoodoo's April webinar. The new webinar is available on demand now at: www.NuVoodoo.com/webinars.
NuVoodoo Media Services EVP/Research Analysis Leigh Jacobs and EVP Marketing Mike O'Connor break down the new data by region and share other results that can guide radio programming and content choices when covering and recovering from COVID-19.
Overall, according to data collected this past week, Americans remain extremely cautious about returning to normal, with 45% in NuVoodoo's sample still extremely concerned about COVID-19 despite government attempts to "reopen."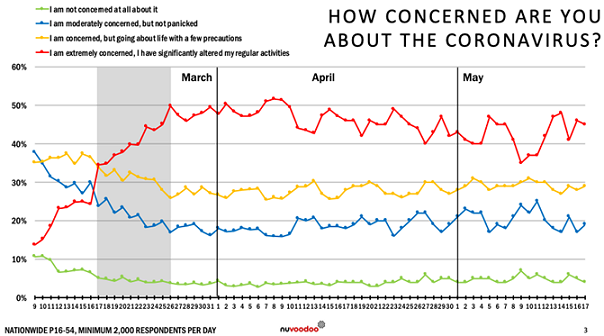 Not coincidentally, a majority of radio listeners want stations to cover COVID-19 in their local communities, with at-least hourly updates in demand even on music stations.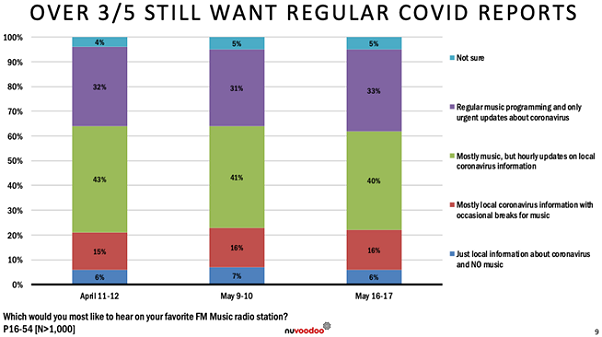 O'Connor noted: "In addition to serving our programming clients with fresh listener data, we wanted to make the content of this new webinar valuable to the folks with perhaps the toughest job in our industry right now - radio account executives. So, we broke down the types of radio ads likely to deliver a positive client brand image and encourage consumers to spend with them. We also uncovered slogans to avoid that have become overused and cliche."
Advertisement


Latest Radio Stories
Salem Journalist Amy Jacobson Sues Illinois Governor
Salem Media Group, Inc. and veteran Chicago journalist Amy Jacobson have filed a federal lawsuit against Illinois Gov. J.B. Pritzker after he announced Jacobson is no longer allowed at his media briefings. The lawsuit, Salem Media of Illinois, LLC More
Radio One Launches "We Are One: Feeding the Community"
Radio One has announced the launch of its "We Are One: Feeding the Community Campaign." It is partnering with the music community to feed hundreds of families as many are feeling the significant financial strain as a result of these tough economic More
Advertisement


WTOP Debuts New Sonic Identity
WTOP News/Washington DC has officially rolled out a new sonic identity. Beginning today, June 1, 2020, listeners will notice a bold new imaging package integrated with WTOP's news reports, traffic, weather and more. Anchored by a vibrant and More
iHeartMedia Celebrates Black Music Month
iHeartMedia plans to celebrate Black Music Month with exclusive audio vignettes from some of today's top Urban artists. The celebration will honor the incredible achievements of Black musicians and their influential contribution to the world of More