Advertisement


TSL to Audio at Home Up 44% During COVID-19 Disruption
Edison Research has released the latest update of its Share of Ear report to clients, based on interviews conducted during May. The company is releasing several interesting data points for the audio industry to consider providing insight into U.S. listener behavior during COVID-19 restrictions as listening moved to the home and share increased by 44% in the U.S. for ages 13 plus.
Findings show that while total time spent listening was only slightly lower during the COVID-19 disruptions in the U.S., there was a considerable shift in where that audio consumption happened. While 48.5% of all listening occurred at home before COVID-19 (and this finding has been very consistent since Share of Ear began in 2014), 70% of all listening was at-home in May. All three other locations - car, work and "other' -- dropped.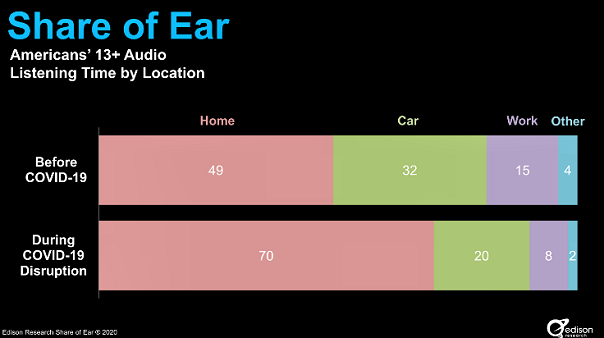 "It's important to recognize that our survey asks where the respondent is when they are listening to audio - not what they are doing," said Edison Research director Laura Ivey. "The shift to 'work-from-home' for so many, especially office workers who tend to spend a lot of time with audio, is clearly reflected."
The enormous changes in daily life for so many Americans led to changes in what people are listening to and what device they are using to access their audio. Podcasting's Share of Ear jumped significantly -- up 26% from the Q1 2020 report to this new update. During COVID-19 restrictions, 5.4% of all time spent with audio was with podcasts, up from 4.3% in Q1. While podcasting share increases with every update, this represents an all-time high for podcast listening share of all audio.
Smart Speakers also hit a new high, with its share leaping by more than 40% (albeit from a relatively low base). During COVID-19 restrictions, 5.3% of all time spent with audio was through a smart speaker, up from 3.7% in Q1.
"The movement of so much listening to the home changed the shares of many platforms and devices," said Ivey. "It will be fascinating to see how these numbers continue to develop as American life evolves during and, eventually, after this pandemic period ends."
Advertisement


Latest Radio Stories
SBS Q1 Net Revenues Down 3%, Radio Falls 5% to $32.5M
Spanish Broadcasting System (SBS) reported first quarter consolidated net revenue fell 3% to $36.3 million as compared to $37.4 million in 2019. Net revenue for its radio segment decreased 5% to $32.5 million from $34 million due to decreases in More
Dave Hill Named Program Director 101 The Fox/Kansas City
CUMULUS MEDIA has appointed Dave Hill as Program Director for Kansas City's Classic Rock radio station 101 The Fox/KCFX-FM. Hill brings 20 years of radio programming experience to Cumulus Kansas City, and joins the company from iHeartMedia, where More
iHeartMedia/Charleston Names AJ Punjabi Market President
iHeartMedia has named AJ Punjabi as Market President for Charleston, effective immediately. He will report to Ron Hill, Area President of iHeartMedia Carolinas. "We're excited to have AJ join iHeartMedia as our Market President in Charleston," said More
Advertisement


Stephens Media Group/Spokane Names Kent Jones as OM
Kent Jones joins Stephens Media Group's seven-station cluster in Spokane, WA as as Operations Manager. He'll also host mornings on Classic Hits KEYF-FM (Key 101) and will serve as Program Director for KEYF and Variety Hits KBBD-FM (Bob FM). Jones, a More
Townsquare Names Schwartz DOS New Jersey 101.5 & WPST
Townsquare Media Inc. announced that Jessica Schwartz has been named Director of Sales for Townsquare Media's New Jersey 101.5 and Top 40 WPST in Princeton effective August 10. She will report to Market President & Chief Revenue Officer Brian More
Podtrac's Top Podcast Publishers June 2020
Podtrac has released their Top 20 Podcast Publishers rankings for June 2020. Fifteen of the Top 20 publishers saw an increase in US monthly Audience in June over May. All but three Top 20 publishers saw positive growth in their Global Download More