Advertisement


Jacobs Media Releases ''Radio's 2020 Holiday Road Map''
While broadcast radio stations and their advertising clients face tough economic headwinds as we approach the 2020 holiday shopping season, a new study released by Jacobs Media finds opportunities for the medium to be a resource for local businesses. "Radio's 2020 Holiday Road Map" surveyed over 27,000 core radio listeners from 355 commercial radio stations across the U.S. and Canada from September 29-October 1. The study reveals this holiday season will be like no other. It was conducted in partnership with the Radio Advertising Bureau.
"The holiday season usually has a typical rhythm that families, businesses, and radio stations plan around," observed Jacobs Media's President Fred Jacobs. "But it's clear that in order to be successful, radio stations and their national and local clients will need to explore new approaches in 2020. Consumer patterns and perceptions about shopping have changed. The good news is radio remains a powerful partner to local business."
This new study reveals that unlike past years, this holiday season is not likely to feature a huge retail spike on Black Friday. In fact, early holiday shopping has already begun, creating the necessity for businesses to begin their ad spending early, and ramping it up after the Thanksgiving holiday.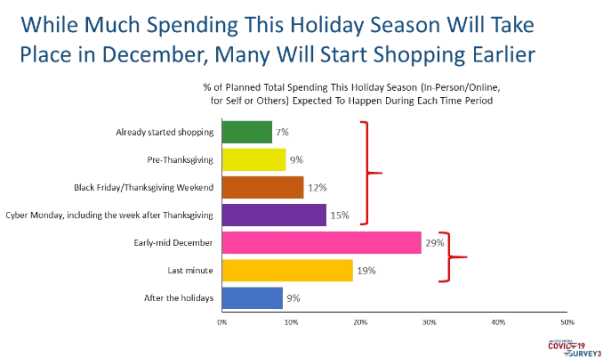 Radio holds a unique position in its ability to drive audiences to local businesses. While the survey finds four in ten (42%) plan to spend less money this holiday season than last, eight in ten (79%) agree or strongly agree with the statement: "For my holiday shopping this year in particular, I feel I should support local/small businesses in my area."
"Radio salespeople are going to have to work harder and more creatively than ever this holiday season," remarked Jacobs Media Vice President/General Manager Paul Jacobs. "But this study provides a playbook, not only for them, but also for local businesses. This is a collaborative moment. Armed with this data, salespeople will be well-positioned to not only share their audience information, but also help clients find the best ways of being successful this holiday season."
"Radio has traditionally closed out the last quarter of the year with strong revenues and we want to help broadcasters ensure similar results even in a different looking holiday shopping season," said RAB President and CEO Erica Farber. "This very timely listener insights study, reflecting the current consumer mindset, will help enable broadcasters to provide local clients with incredible insights into their customers' intended holiday spend, while providing strategies for their holiday advertising plans."
For more information about the COVID3 study, go to jacobsmedia.com/covid-19-survey-3-results.
Advertisement

Latest Radio Stories
America's Top Testing Christmas Songs 2020
Are America's all-Christmas stations playing the right songs? P1 Media Group and MRC Entertainment tested the appeal of the 40 most-played and 40 most-streamed Christmas songs from the 2019 Holiday Season, according to BDSradio, a service that More
Nielsen Webinar Discusses October 2020 PPM Data
Nielsen held a client webinar Tuesday on October, 2020 PPM data. This is the first monthly PPM data release that will see the results of its headphone adjustment and outlier mitigation enhancements, announced last month. The October PPM survey More
Advertisement


Townsquare Names Ish Johnson MP/CRO of Killeen-Temple, TX
Townsquare Media Inc. has named Ishmael Johnson Market President and Chief Revenue Officer for its Killeen-Temple local media cluster in addition to his current role of Market President and Chief Revenue Officer of Townsquare Lufkin. The cluster More
Podchaser Pro Debuts Access to Reach, Contacts, Demos
Podchaser, a podcast database, has announced the release of its new service for podcast professionals entitled Podchaser Pro, bringing efficiency to the process of discovering, qualifying and contacting podcasts. The service builds upon its data set More