Advertisement


Edison Research Announces Top 50 U.S. Podcasts for 2020
Edison Research has announced its first comprehensive U.S. Top 50 podcast chart. This list ranks the 50 biggest podcasts of 2020 by audience size, based on the Podcast Consumer Tracker, which measures the relative audience size and demographics of all podcast networks.
"We have sampled over 10,000 podcast listeners to determine who they are, what shows they listen to, what they buy, and the demographic profiles for every leading network and top podcast," said Edison Research SVP Tom Webster. "There is no other service available for producers or agencies that provides this information for the entire industry."
Among the top shows of 2020 are as follows: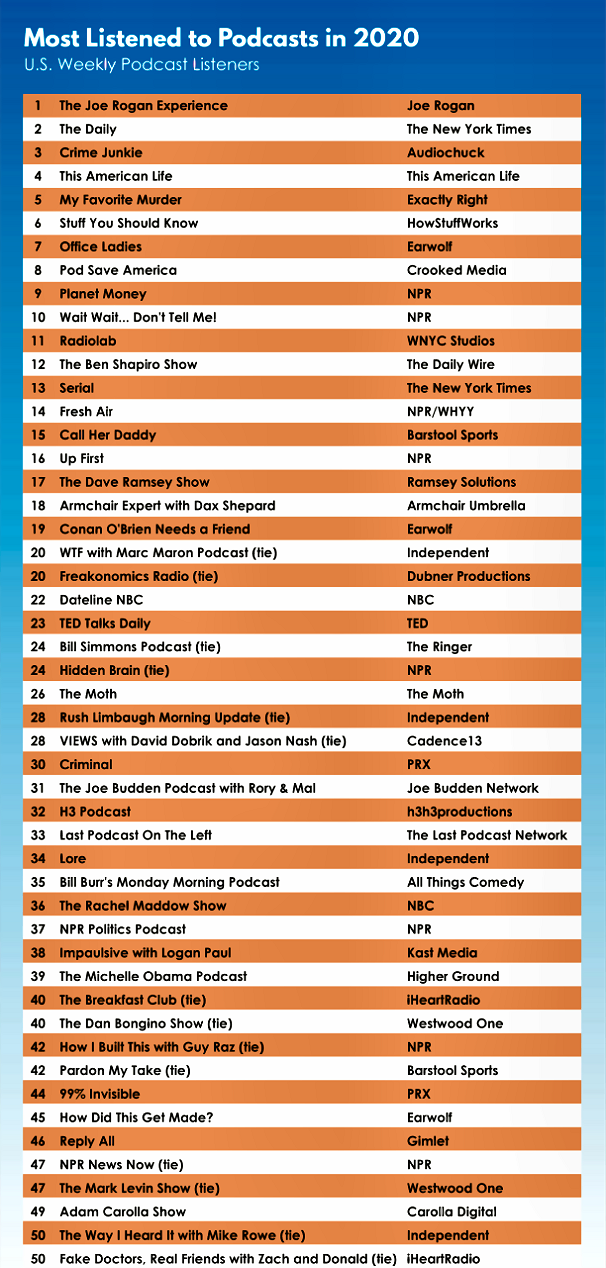 The Edison Research Top 50 Podcasts of 2020 list is derived from data collected continuously throughout 2020 from surveying weekly podcast consumers ages 18 and older. Participants indicate which podcasts they listened to in the past week along with a variety of demographic, psychographic and purchase behavior information. The results are then coded and analyzed to ascertain the genre, network, and sales representation for each podcast. The relative audience size of each podcast network is then calculated and expressed as the percentage of weekly podcast listeners reached by that network.
"Existing measures of downloads are important," noted Webster. "We aren't replacing that -- but currently we have demographic data on all major networks, how they rank against each other, and credible estimates of network size calibrated by our ongoing work on The Infinite Dial research series, which remains the most widely-used audience data in the industry. It is the only service based on actual listens, not downloads."
Current subscribers to the Podcast Consumer Tracker include half of the top 20 networks in podcasting as well as leading technology platforms, and is growing quarterly. Subscribers include Stitcher/Midroll, NPR, Wondery, ESPN/ABC/Disney, WarnerMedia and more.
"From day one of a subscription we are able to provide leading podcast networks with the size and demographic makeup of their audience. Our dataset gets more and more robust every day, and we are immensely proud of this service we can provide to the industry," added Webster.
Advertisement


Latest Radio Stories
BFA Provides Emergency Aid Quickly to TX Broadcasters
The Broadcasters Foundation of America (BFA) is providing emergency aid to broadcast colleagues, who have been hit hard by the recent extreme weather conditions in Texas and the surrounding states. More than 20 requests have come in over the past 5 More
As Podcast Audience Grows, Advertiser Focus Should Sharpen
Given consumers' on-demand lifestyles, it's not surprising that podcasts have become the darlings of the audio realm -- for consumers, content creators, and now, advertisers. But as the podcast landscape broadens, content creators and advertisers More
Alpha Media Signs Long-Term Deal With vCreative's vPPO
vCreative, a provider of media workflow software solutions, has entered into a long-term agreement with Alpha Media. This extends Alpha Media's vPPO service as well as adding the vTrade service across all of its stations nationwide. The solution was More
Advertisement


''Al Aire Con El Terrible'' Expands Coverage to 15 Markets
AIRE Radio Networks, the official radio network of Spanish Broadcasting System, has announced that its syndicated Spanish language morning show, "Al Aire Con El Terrible," is expanding its coverage and can now be heard across 15 Hispanic markets, More
Power 106.9/Omaha Announces New On-Air Lineup
Omaha's KOPW-FM Power 106.9 has announced a new on-air lineup, including the addition of The Breakfast Club, effective Monday, March 1st. The syndicated morning show will air weekdays 5:30 a.m. to 10:00 a.m. Current morning host, Chi, will move to More
iHeartMedia and Novel Partner to Launch New Podcasts
iHeartMedia has announced a new partnership with Novel, one of the UK's leading independent podcast companies, to co-produce a series of narrative, in-depth investigative podcasts. Together, iHeartMedia and Novel will launch eleven new, original More