Advertisement


''The Daily'' Closes in on Joe Rogan's Podcasting Crown
According to The Media Monitors Podcast Listener survey from March 14-31, iHeartMedia and NPR were tied this quarter, each with 12 podcasts in its Top 200 chart. iHM's resurgence from Q4 of 2020 comes with the launch of a number of new shows including "Here's the Thing with Alec Baldwin" (#64) which premiered in January.
Another newcomer to the Top 200 is iHM's "Hell & High Water with John Heilemann" (180). PodcastOne also bounced back after a Q4 dip, with "The Steve Austin Show" (#54), "Court Junkie" (#173) and "Hotboxin' With Mike Tyson" (#179).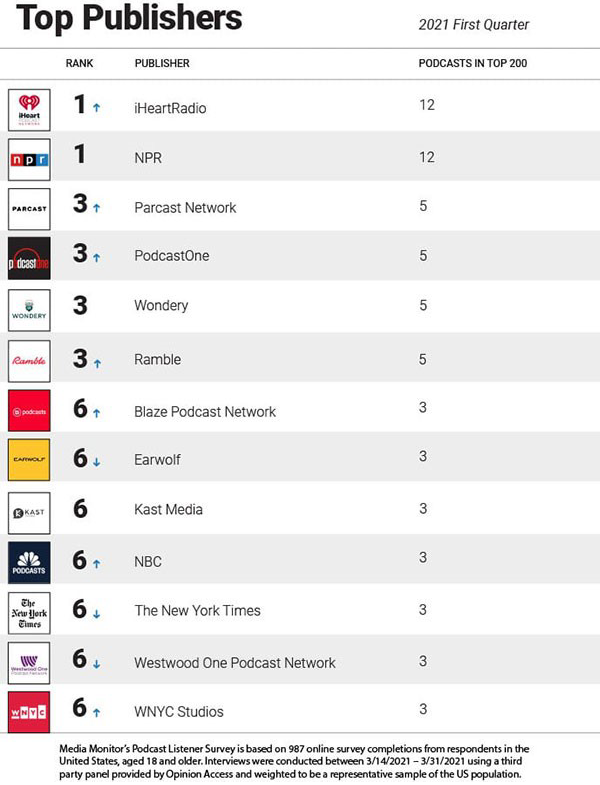 The Joe Rogan Experience saw a decline in listener share for the second straight survey cycle since becoming exclusive to Spotify in December, 2020. The drop in number of responses alongside the consistent quarter-over-quarter growth of "The Daily and Crime Junkie" indicates that there may be a new number one podcast in the coming months.
The "H3 Podcast" cracked the Top 25 this quarter. Though it has consistently been a Top 200 show, this quarter saw a surge in listenership following drama surrounding "Frenemies," one of the three distinct shows published in the feed. The H3 Podcast RSS feed publishes the titular "H3 Podcast," "Frenemies" which Ethan co-hosts with Trisha Paytas, and "H3 After Dark."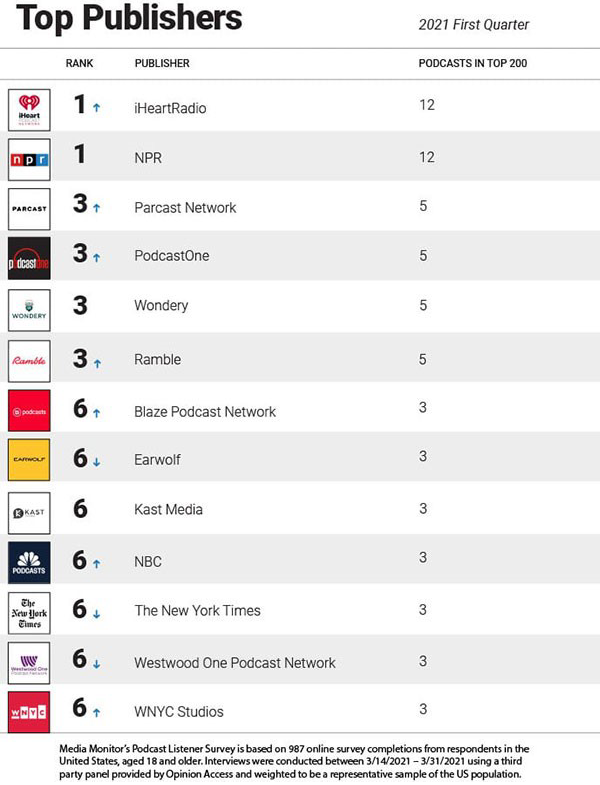 Comedy remains the most popular genre of podcast, but Society and Culture podcasts surged from 20 in Q4 to 32 in Q1 to tie for second place with News. History podcasts also saw a bump to 10 shows total in Q1, beating 4 total podcasts in Q4.
Notable Society & Culture podcasts from Q4 to Q1 in the Top 200: "Renegades: Born in the USA" (#62), "Here's The Thing with Alec Baldwin" (#64), "Wild Ride! with Steve-O" (#80), "You and Me Both with Hillary Clinton" (#129) and "An Oral History of The Office" (#183).
Advertisement


Latest Radio Stories
Journalism Competition and Preservation Act Introduced
U.S. Senators Amy Klobuchar (D-MN), Chairwoman of the Senate Judiciary Subcommittee on Competition Policy, Antitrust and Consumer Rights, and John Kennedy (R-LA) reintroduced the Journalism Competition and Preservation Act, their bipartisan More
WNNX (99X)/Atlanta Names Will Pendarvis APD/Afternoons
Atlanta Alternative Rock radio personality Will Pendarvis will return to the WNNX-FM (99X) as Assistant Program Director and afternoon talent, beginning Monday, April 17. Pendarvis is one of the original members of the 99X on-air team launching 99X More
WBAP/Dallas Morning Host Hal Jay Returns on April 3
WBAP (Newstalk 820)/Dallas morning host Hal Jay is returning to DFW airwaves on Monday, April 3 -- almost two months after receiving a heart transplant. Jay had been absent from the WBAP Morning News after the holidays, and at 6:18am on January 16, More
Advertisement


BetQL Network Adds Ed Egros as Co-Host of ''BetQL Daily''
Audacy adds Ed Egros as co-host of "BetQL Daily" on the company's BetQL Network. He'll join co-hosts Joe Ostrowski and Erin Hawksworth, weekdays from 9am-12pm ET beginning April 3. Most recently, Egros served as an analyst with the Next Gen Stats More
Jayn Returns to 94/7 Alternative Portland for Middays
Jayn is named midday host on KNRK (94/7 Alternative) in Portland, OR. She'll be heard weekdays from 12-2pm PT beginning April 3. Jayn currently serves as afternoon host and Music Supervisor for KLLC-FM (Alice @ 97.3) and Music Supervisor of KITS-FM More
KZIA (Z102.9) Introduces ''Those Girls In The Afternoon''
KZIA (Z102.9) Cedar Rapids, IA launches the "Those Girls in the Afternoon" show, pairing station veterans Destiny and Taylor. Taylor, an Anamosa native and a University of Iowa graduate who has been hosting afternoons on Z102.9 since 2021, is joined More