Advertisement


Study: Vast Differences in Music Tastes on Streaming Services
In a recent analysis of the top 20 most streamed songs on the five most popular music streaming services, Integr8 Research finds dramatic differences in the styles of music that users play most on each service.
"Among Amazon Music and Pandora users, Country is huge, comprising 40% of the most-played songs. On Apple Music, however, Country is virtually nonexistent," noted Integr8 Research President Matt Bailey. "Conversely, Hip Hop dominates the 20 most-played songs among Apple Music users and is also big on YouTube. Other than mass-appeal hits, however, Hip Hop is entirely absent from Amazon Music's Top 20."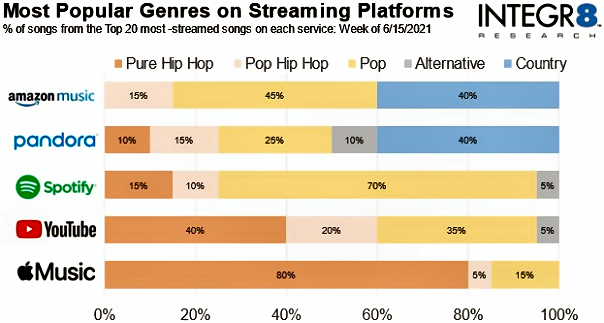 Spotify, the leading streaming music service in the U.S., lies in-between the extremes of Amazon Music and Apple, with Mainstream Pop the leading genre among the 20 titles its users played most.
What's most striking about Spotify, Bailey added, "is how consumers use it like a record store. When a big artist like Oliva Rodrigo dropped her new album, her fans flocked to Spotify to sample every track. It's a stark contrast to Amazon Music, where the biggest songs suggest people use it more like a replacement for radio."
The findings reflect the publicly released charts for each service during the week of June 15. Integr8 Research shares these findings and what they mean for radio programmers here.
Advertisement


Latest Radio Stories
Triton Digital Unveils U.S. Podcast Ranker for August
Triton Digital has unveiled its U.S. Podcast Ranker, covering the data from July 31 to September 3. This report showcases the performance of the SiriusXM Podcast Network, which has secured the top spot in the Top Sales Networks Report for August. More
Loud Media Launches ''104.9 KVL'' Debuts in Knoxville TN
Loud Media flips Classic Hits WKVL/La Follette, covering Knoxville, to 90s & 2000s Throwbacks as "104.9 KVL." The station is playing artists such as Destiny's Child, Jay Z, Danity Kane, Digital Underground, No Doubt, Nas, New Kids On The Block, More
Veteran WBEE/Rochester Personality Terry Clifford Retires
Veteran Rochester, NY radio personality Terry Clifford signed off the air on Friday for the final time. Clifford, co-host of the "Bee Morning Coffee Club" on WBEE-FM, is retiring after 37 years on the Country outlet. The Auburn native's radio career More
Advertisement


Bonneville, Arizona Coyotes Ink One-Year Extension
Bonneville inks a one-year extension with the Arizona Coyotes, keeping regular season and post-season games on KMVP (Arizona Sports 98.7) and KTAR (ESPN 620) for the 2023-2024 NHL season. Bob Heethuis returns to handle the club's radio play-by-play More
Matt Cooper Named PD for WCYQ (100.3 The Wolf) Knoxville
SummitMedia appoints 15-year programming vet Matt Cooper as Program Director and afternoon talent for WCYQ (100.3 The Wolf). He comes to Knoxville from the company's cluster in Louisville where he was the Assistant Program Director, Music Director More