Advertisement

NPR Slips as iHeartPodcast Tops Media Monitors Ranker
The Media Monitors Podcast Listener survey, fielded between March 14-31, found the iHeartPodcast Network retained the top slot on its top ten ranker to start 2022. NPR was conspicuously absent from the top publisher list this quarter, replaced by a number of larger commercial podcast publishers such as SiriusXM, Amazon Music/Wondery and Audacy, while Spotify's overall total was boosted by several True Crime podcasts.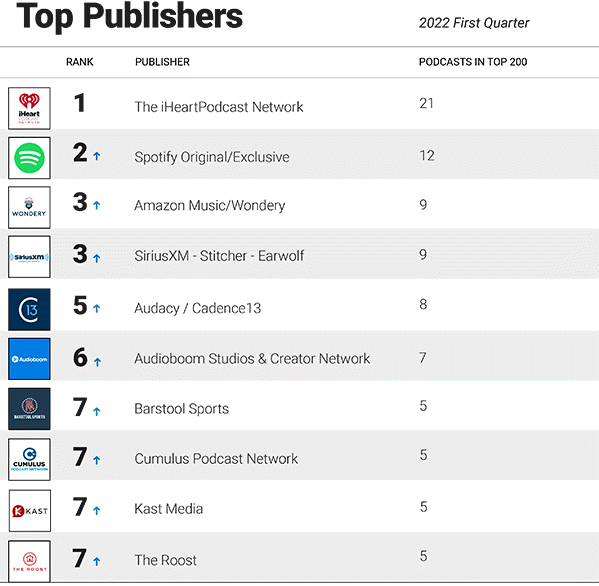 The Joe Rogan Experience (#1) was still the #1 podcast in the Media Monitors survey. This is unlikely to change in the near future, as the nearest quarterly competitor The Daily from The New York Times, fell from #2 to #6 overall.
Anything Goes with Emma Chamberlain made its Top 25 debut this quarter, and The Joe Budden Podcast (#21) has regained its popularity after drama surrounding its participants caused a shakeup in hosting.
Both of Bailey Sarian's podcasts Dark History (#8) and Murder Mystery & Makeup (#14) produced by Audioboom Studios made the Top 25 this quarter. Bailey is a YouTube personality with over 6.27 million subscribers, so it seems she has been able to convert those viewers to avid listeners.
Top 10 Categories from Top 200 Podcasts
Comedy retains its spot as the most popular genre of podcast, True Crime has held strong after significant gains last quarter (36 Podcasts in Q4 2021, 35 in Q1 2022).
Notable True Crime podcasts from Q1 in our Top 200: Rotten Mango (#35) from Audacy, Lights Out Podcast (#39) from Mile Higher Media, Murder With My Husband (#49) from The iHeartPodcast Network, MrBallen Podcast: Strange, Dark & Mysterious Stories (#70), Cold (#117) from Amazon Music/Wondery.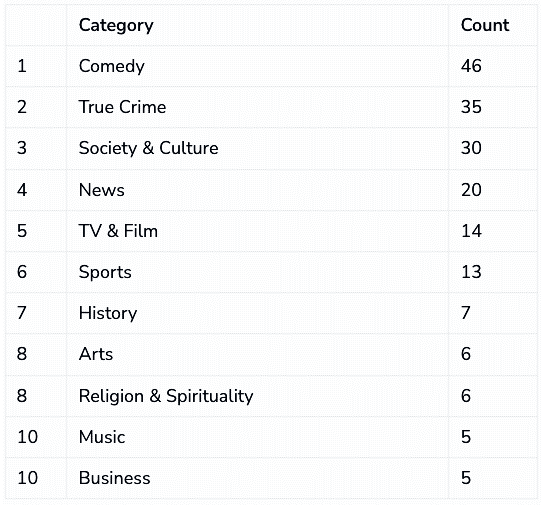 Participants aged 18+ were screened on whether they had listened to a podcast in the last 7 days, then asked to list the podcast titles. Each was encouraged to consult their podcast app of choice during the survey. These unassisted responses were then individually matched back to unique RSS feeds which were polled to collect information about genre and publisher.
Advertisement


Latest Radio Stories
Parker Hillis Named Brand Manager for KILT-AM/Houston
Parker Hillis is named Brand Manager of Audacy's KILT-AM (Sports Radio 610) in Houston, effective June 6. Hillis joins KILT after previously serving as Assistant Program Director of Bonneville's KKFN-FM (104.3 The Fan) in Denver, a role he'd held More
Top Honors Presented at the 47th Annual Gracie Awards
The Alliance for Women in Media Foundation presented the 47th Annual Gracie Awards at the Beverly Wilshire Hotel in Beverly Hills, CA. Hosted by Holly Robinson Peete, the awards recognized exemplary programming created by women, for women and about More
How Many Shows Reach Majority of All Podcast Listeners
According to Edison Research, the immense number of existing podcasts and the saturation within the market, without question, is one of the most popular conversations ongoing in the industry. For an advertiser aiming to reach a large number of More
Advertisement

WLTJ-FM Welcomes ''Ya Jagoff!'' Podcast to On-Air Line Up
WLTJ-FM announces co-hosts of the popular Pittsburgh Podcast, "Ya Jagoff!" to the on-air line up starting June 6. Rachael Rennebeck and John Chamberlin, creators of the local podcast, will now bring "Ya Jagoff on Q" to 92.9 FM weekdays from 7-10pm. More
WGN Morning Host Bob Sirott to Receive 2022 Dante Award
WGN-AM/Chicago morning drive host and broadcast television and radio legend Bob Sirott will receive the Dante Award from the Joint Civic Committee of Italian Americans (JCCIA) at a luncheon on Thursday, May 26. Since its inception in 1971, more than More
SME's Global Podcast Division Launches ''The Binge''
Sony Music Entertainment's (SME) Global Podcast Division launches "The Binge," a first of its kind subscription channel providing fans with binge-access to full seasons of new podcasts each month from across SME's slate. Beginning Monday June 6, More