Advertisement


Jacobs Media Released Air Talent Survey 2022 at MSBC 34
Jacobs Media released its Air Talent Survey 2022, entitled "Radio Talent in the Post-Pandemic Era," on Thursday at the 34th Annual Morning Show Boot Camp -- which also began Thursday at the Swissotel in Chicago. The survey, which included 750 total respondents, interviewed between July 12-26, found that the average radio personality wears at least three hats.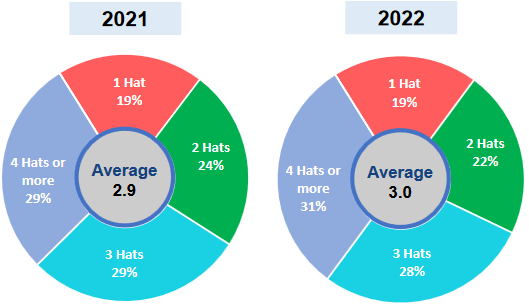 Most agreed that COVID changed their station culture, especially at bigger companies such as iHeartMedia, Cumulus Media and Audacy. More than half of women interviewed disagree there is gender equality for advancement.
The study also found that with each passing year, the appeal of music on the radio is becoming secondary to the power of its personalities.

Jacobs Media plans to schedule an industry webinar soon which will feature more data. However, the firm said initial results spoke volumes about the stress so many personalities are feeling. Even so, their passion for radio remains very high.
To view the entire study, click here.
Advertisement


Latest Radio Stories
Matt Cooper Named PD for WCYQ (100.3 The Wolf) Knoxville
SummitMedia appoints 15-year programming vet Matt Cooper as Program Director and afternoon talent for WCYQ (100.3 The Wolf). He comes to Knoxville from the company's cluster in Louisville where he was the Assistant Program Director, Music Director More
Cumulus VP Charlie Cook Receives ACM Service Award
Country radio executive Charlie Cook, who is VP, Country, for Cumulus Media, was honored by the Academy of Country Music (ACM) with the ACM Service Award. Cook was presented with the award by former ACM Award winner Chris Janson at the 16th Annual More
Advertisement


Nina Montgomery Adds PD Duties for Two Shreveport Outlets
Nina Montgomery is elevated to Program Director Hot AC KQHN (Q97.3 FM) and AC KRMD (Lite Rock 100.7) in Shreveport, LA. A staple in Shreveport radio for over twenty years, she'll continue to serve as Program Director of co-owned Urban AC KVMA (Magic More
Atlanta Radio Host Moby Loses Battle with Stomach Cancer
Atlanta Country radio host James "Moby" Carney, who was inducted into the Georgia Radio Hall of Fame in 2011, has lost his battle with stage 4 stomach cancer. He was 69. Moby was a 40-year veteran air personality who worked in Rock radio for ten More
Jim Costa and Jon Jansen to Host WXYT Mornings in 2024
WXYT-FM (97.1 The Ticket), the flagship of the Detroit Lions, launches a new weekday morning show. The Audacy Sports outlet elevates Jim Costa to new morning host alongside current morning co-host Jon Jansen. "Costa & Jansen" will be heard More