Advertisement


P1 Media Group Releases U.S. Top Christmas Songs 2022
P1 Media Group has releases its annual Christmas Music Research. P1 surveyed radio listeners nationwide likely to listen to an all-Christmas music radio station during the holiday season. The company tested the appeal of the 40 most-played and 40 most-streamed Christmas songs from the 2021 Holiday Season, a total of 60 unique songs, according to Luminate's holiday charts.
"Rockin' Around the Christmas Tree" by Brenda Lee is America's #1 Christmas song, edging "Jingle Bell Rock" by Bobby Helms for the first time in five years by a fraction of a percentage point. "Christmas music's appeal remains as strong as ever amongst American radio listeners who listen to All Christmas stations 'frequently' or 'sometimes' and personally enjoy Christmas music on a local radio station during the holiday season," said P1 Media Group Partner, and co-founder Ken Benson, "As we often see, there is a lot to learn when we compare radio airplay to on-demand streaming data, even with holiday music. Understanding streaming data can help broaden the appeal of your station."
This following list includes the 19 Christmas songs from the Top 40 most-streamed that didn't make the Top 40 most-played airplay chart. The research suggests that these 19 songs should be considered for airplay.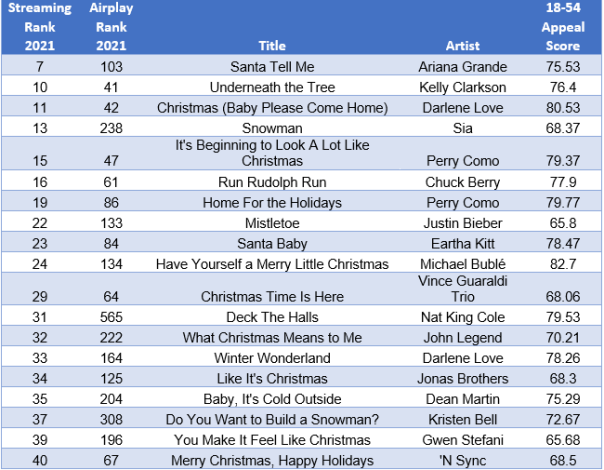 Key Findings
The Holiday Classics rule the Top 20, including "Rockin' Around the Christmas Tree," "Jingle Bell Rock," and two versions of "Holly Jolly Christmas," "Rudolph, the Red-Nosed Reindeer," "It's Beginning to Look a lot like Christmas," and "Sleigh Ride."
2021's #1 Stream and Airplay song "Mariah Carey's "All I Want for Christmas is You" from 1994 is the newest song in the Top 20 and is the 6th highest testing Christmas song this year.
27% say Christmas Music should begin in early November. 24% Beginning of December, 21% Thanksgiving, 21% mid-November and 9% mid-December.
70% of Women want Christmas music to begin sometime in November versus on 57% of Men
The most surprising finding in the study is that 48% say Christmas music programming should stop on New Year's Eve. 24% on December 26, 16% Christmas Day, 7% December 27 and 6% some other time.

Advertisement


Latest Radio Stories
Journalism Competition and Preservation Act Introduced
U.S. Senators Amy Klobuchar (D-MN), Chairwoman of the Senate Judiciary Subcommittee on Competition Policy, Antitrust and Consumer Rights, and John Kennedy (R-LA) reintroduced the Journalism Competition and Preservation Act, their bipartisan More
WNNX (99X)/Atlanta Names Will Pendarvis APD/Afternoons
Atlanta Alternative Rock radio personality Will Pendarvis will return to the WNNX-FM (99X) as Assistant Program Director and afternoon talent, beginning Monday, April 17. Pendarvis is one of the original members of the 99X on-air team launching 99X More
WBAP/Dallas Morning Host Hal Jay Returns on April 3
WBAP (Newstalk 820)/Dallas morning host Hal Jay is returning to DFW airwaves on Monday, April 3 -- almost two months after receiving a heart transplant. Jay had been absent from the WBAP Morning News after the holidays, and at 6:18am on January 16, More
Advertisement


BetQL Network Adds Ed Egros as Co-Host of ''BetQL Daily''
Audacy adds Ed Egros as co-host of "BetQL Daily" on the company's BetQL Network. He'll join co-hosts Joe Ostrowski and Erin Hawksworth, weekdays from 9am-12pm ET beginning April 3. Most recently, Egros served as an analyst with the Next Gen Stats More
Jayn Returns to 94/7 Alternative Portland for Middays
Jayn is named midday host on KNRK (94/7 Alternative) in Portland, OR. She'll be heard weekdays from 12-2pm PT beginning April 3. Jayn currently serves as afternoon host and Music Supervisor for KLLC-FM (Alice @ 97.3) and Music Supervisor of KITS-FM More
KZIA (Z102.9) Introduces ''Those Girls In The Afternoon''
KZIA (Z102.9) Cedar Rapids, IA launches the "Those Girls in the Afternoon" show, pairing station veterans Destiny and Taylor. Taylor, an Anamosa native and a University of Iowa graduate who has been hosting afternoons on Z102.9 since 2021, is joined More