Advertisement


P1 Media Releases America's Top Christmas Songs 2023
P1 Media Group's annual Christmas Music Research is here. The company surveyed radio listeners nationwide likely to listen to an all-Christmas music radio station during the holiday season. It tested the appeal of the 40 most-played and 40 most-streamed Christmas songs from the 2022 Holiday Season, a total of 60 unique songs, thanks to Luminate's holiday charts.
Key Findings:
"Jingle Bell Rock" by Bobby Helms is America's #1 research Christmas song, reclaiming the #1 position it has held for six of the last seven years. "Christmas music's appeal remains as strong as ever amongst American radio listeners who listen to All Christmas stations 'frequently' or 'sometimes' and personally enjoy Christmas music on a local radio station during the holiday season," said P1 Media Group Partner and co-founder Ken Benson. "As we often see, there is much to learn when we compare radio airplay to on-demand streaming data, even with holiday music. Understanding streaming data can help broaden the appeal of your station."
The Holiday Classics rule the Top 20, including two versions of "Jingle Bell Rock," "Holly Jolly Christmas," and "Rudolph the Red-Nosed Reindeer."

2022's #1 Stream and Airplay song "Mariah Carey's "All I Want for Christmas is You," ranked #26 in total appeal this holiday season, albeit it trails this year's #1 song by less than three percentage points. Mariah's classic ranks #1 with 18-24s.

This list includes the 16 Christmas songs from the Top 40 most-streamed that didn't make the Top 40 most-played airplay chart. The research suggests that these 16 songs test well enough to be considered for airplay.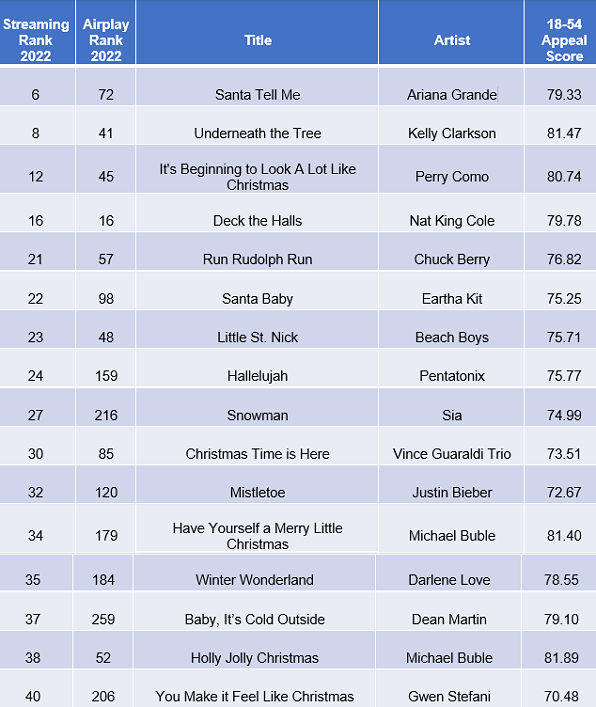 Kelly Clarkson's "Underneath the Tree" from 2010 and Ariana Grande's "Santa Tell Me" 2014 are the two highest-testing original Christmas songs from the 2000s, ranking #11 and #29, respectively. Both songs scored much higher this year.

Christmas songs tested considerably higher this year, with 50 of the top 60 Christmas songs testing with an appeal score of 75 or higher on a 100-point scale.

More say Christmas Music should begin on Thanksgiving last year.

23% Early November
20% Beginning of December
27% Thanksgiving (21% in 2022)
19% mid-November
12% mid-December

The most surprising finding in the study is that 60% (48% in 2022) say Christmas music programming should stop on New Year's Eve.

13% on December 26th
17% Christmas Day
7% December 27th
3% some other time
America's Top 60 Testing Christmas Songs 2023
"Jingle Bell Rock," Bobby Helms (1957) 83.29 (18-54 score)
"Holly Jolly Christmas," Burl Ives (1964) 82.56
"Feliz Navidad," Jose Feliciano (1970) 82.39
"Last Christmas," Wham! (1986) 82.35
"Rockin' Around The Christmas Tree," Brenda Lee (1964) 82.22
"Jingle Bells," Frank Sinatra (1957) 82.02
"You're A Mean One Mr. Grinch," Thurl Ravenscroft (1966) 81.93
"Holly Jolly Christmas," Michael Buble (2011) 81.89
"The Christmas Song," Nat King Cole (1960) 81.83
"Rudolph the Red-Nosed Reindeer," Burl Ives (1964) 81.64
"Underneath the Tree," Kelly Clarkson (2010) 81.47
"Have Yourself A Merry Little Christmas," Michael Buble (2011) 81.4
"Sleigh Ride," Ronettes (1963) 81.34
"Jingle Bell Rock," Brenda Lee (1964) 81.25
"Rudolph The Red-Nosed Reindeer," Gene Autry (1957) 81.2
"Santa Claus is Coming To Town," Jackson 5 (1970) 81.12
"It's Beginning to Look a lot like Christmas," Perry Como (1951) 80.74
"Wonderful Christmastime," Paul McCartney (1979) 80.71
"It's the Most Wonderful Time of the Year," Andy Williams (1963) 80.41
"Carol of the Bells," Mannheim Steamroller (1974) 80.33
"Linus and Lucy," Vince Guaraldi Trio (1964) 80.15
"Christmas Eve/Sarajevo 12/24," Trans-Siberian Orchestra (1996) 80.11
"It's Beginning to Look a lot like Christmas," Bing Crosby (1951) 79.92
"Here Comes Santa Claus," Gene Autry (1947) 79.88
"Deck the Halls," Nat King Cole (1960) 79.78
"All I Want for Christmas," Mariah Carey (1994) 79.6
"Sleigh Ride," Leroy Anderson (1948) 79.47
"Jingle Bell Rock," Hall & Oates (1983) 79.46
"Santa Tell Me," Ariana Grande (2014) 79.33
"Winter Wonderland," Amy Grant (1992) 79.21
"It's Beginning to Look a lot like Christmas," Michael Buble (2011) 79.21
"Christmas (Baby Please Come Home)," Darlene Love (1963) 79.17
"Carol of The Bells," David Foster (1993) 79.15
"Baby It's Cold Outside," Dean Martin (1953) 79.1
"Let It Snow, Let It Snow, Let it Snow," Dean Martin (1959) 79.03
"It's Beginning to Look a lot like Christmas," Johnny Mathis (1986) 78.87
"Winter Wonderland," Darlene Love (1963) 78.55
"Ring Christmas Bells," Ray Conniff (1962) 78.25
"It's the Most Wonderful Time of the Year," Amy Grant (1992) 78.1
"Happy Holiday/The Holiday Seas," Andy Williams (1963) 77.88
"Happy Xmas (War is Over)," John Lennon (1971) 77.2
"I Saw Mommy Kissing Santa Claus," Jackson 5 (1970) 76.98
"Run Rudolph Run," Chuck Berry (1959) 76.82
"White Christmas," Bing Crosby (1943) 76.42
"Blue Christmas," Elvis Presley (1957) 76.26
"Do You Want to Build a Snowman," Kristen Bell (2013) 75.89
"Hallelujah," Pentatonix (2016) 75.77
"Little Saint Nick," Beach Boys (1964) 75.71
"Santa Baby," Eartha Kitt (1953) 75.25
"White Christmas," Drifters (1955) 75.16
"Snowman," Sia (2021) 74.99
"Please Come Home For Christmas," Eagles (1978) 74.57
"Christmas Time Is Here," Vince Guaraldi Trio (1965) 73.51
"Christmas Canon," Trans-Siberian Orchestra (1998) 73.3
"Do They Know It's Christmas," Band Aid (1985) 72.89
"Mistletoe," Justin Bieber (2011) 72.67
"You Make It Feel Like Christmas," Gwen Stefani (2017) 70.48
"God Rest Ye Merry Gentlemen," Pentatonix (2017) 69.91
"Like It's Christmas," Jonas Brothers (2020) 69.12
"Someday at Christmas," Lizzo (2022) 68.16
Advertisement


Latest Radio Stories
Cumulus Media Promotes Beth Coughlin to Regional VP
Cumulus Media elevates Beth Coughlin to Regional VP for its clusters in Buffalo, Erie PA and Syracuse. Coughlin currently serves as VP/Market Manager of its local group in Syracuse and adds responsibilities for the company's five stations in More
Roberts Metro Broadcasting Debuts Foxy 106.9 in St. Louis
Roberts Metro Broadcasting launches "Foxy 106.9 FM" on K295CQ in St. Louis as the "Best Mix of R&B and Throwback Jams." Officially hitting the airwaves on Friday at 6am, Foxy 106.9's "The Real Breakfast Crew" debuts in weekday mornings featuring More
Podtrac Issues List of the Top New Podcasts of 2023
Podtrac has published its year-end ranking of the Top 25 New Podcasts for 2023. The ranking is based on average downloads per episode. The 2023 list is headed up by Scamanda from Lionsgate Sound, followed by The Retrievals (Serial Productions), The More
Advertisement


iHeartRadio Releases the Top Artists & Songs of 2023
As we near the end of 2023, iHeartRewind has released the most listened to music and artists of the year. iHeartRewind is compiled by tallying the the total audience spins (TAS) and streams across iHeartRadio stations nationwide and on the More
Skyview Inks Multi-Year Renewal with CBS Audio Network
Skyview Networks and Paramount's CBS Audio Network ink a multi-year renewal of their distribution and network audio sales partnership. Since initially partnering in 2018 and following the renewal in 2020, the network and the audio solutions company More