Advertisement


Study: Ratings Participants Dropping Morning Show Habit
It's challenging news for morning radio from NuVoodoo's recently completed Ratings Prospects Study 18 which reveals that more than 40% of 14-54 year-old radio listeners most likely to participate in ratings say that they have gotten out of the habit of listening to local morning radio shows. NuVoodoo will be presenting the findings in a series of webinars beginning on Wednesday July 21st. Interested attendees can sign up for free HERE.
The study, conducted in June with over 3,000 14-54 year-old radio listeners, shows that 21% of overall study respondents say they've "gotten out of the habit of listening to local morning radio shows" since the start of the pandemic. That number rises to 27% among the heaviest FM listeners (those who listen to FM at least an hour a day).
Approximately one in five respondents within NuVoodoo's study sample profile as likely to participate in PPM or diary methodology ("RPS Yes"). Yet, 41% of that group say they've gotten out of the habit of listening to local morning radio shows - and that number rises to 48% among the small, but critical subset of the "RPS Yes" ratings likelies who listen to broadcast radio at least an hour a day ("RPS 60") and can make or break ratings.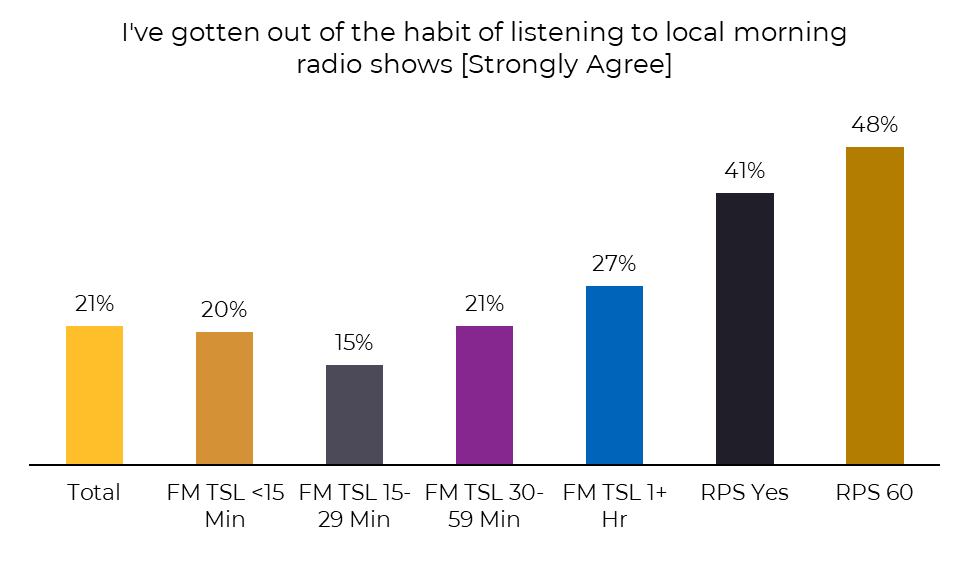 Leigh Jacobs, EVP, Research, NuVoodoo Media Services, said: "It will be critical for morning shows to be at their very best as we approach back-to-school season and more workers resume their morning commutes. While many music radio morning show users listen for music alone, the majority include hosts in their calculus (and some listeners just want to hear the hosts). Most morning listeners place humor high in their ranking of needs. The good news is that radio continues to get a laugh from those most important listeners."
36% of those in NuVoodoo's overall sample say they "laughed out loud at something on the radio" within the last week. That number rises to over 50% among the "RPS Yes" ratings likelies and climbs to nearly 70% among the TSL-heavy "RPS 60" ratings likelies.
PJ Kling, VP, Marketing, NuVoodoo Media Services commented: "Morning shows aren't the only sources of laughs on radio, but they're certainly the hub for much of the humorous content. Luckily, our findings show the audience would view as credible any marketing messages about delivering laughs in the morning. There are incredible tools available that can help deliver a free sample of "funny" that broadcasters can leverage to remind the audience where to rediscover funny content and to make morning humor on the radio a habit once more. We'll be sharing the list of optimal marketing channels and tactics in our upcoming webinar series."
Carolyn Gilbert, President, NuVoodoo Media Services, noted: "Of course, not all formats are striving for "funny." Some need to deliver good feelings - and we've looked at that issue in Ratings Prospects Study 18, as well." Gilbert added: "NuVoodoo develops free Ratings Prospect Study presentations twice a year to support our partners in the industry. But I cannot think of a time when study findings are more critical to radio's success path than the data we'll share during our upcoming "Reboot the Commute" webinars in July and August."
In its free summer webinar for radio professionals, NuVoodoo will dive deeper into its new study findings and review data about the return to the workplace and what that means for radio. The 45-minute webinar, "Reboot the Commute" will cover topics essential to radio for capitalizing on rising PUMM levels and leveraging increased average quarter hour ratings. The webinar will reveal not only how listeners in general think, but also that all-important subset likely to participate in the radio ratings. NuVoodoo's marketing and research experts will take attendee questions following the presentation.
Advertisement


Latest Radio Stories
SBS Names Donny Hudson EVP/Local Media for Markets
Spanish Broadcasting System names native Miami executive Donny Hudson as Executive VP of Local media for Radio/TV and Digital for all SBS markets. He'll retain his role as General Manager, working out of the SBS offices in Miami. Hudson was recently More
Audacy/Chicago Ups Solk to VP/Programming & Operations
Audacy promotes Greg Solk to Vice President of Programming and Operations for its Chicago market, effective August 1. In this role, Solk will oversee programming and operations for WXRT-FM (93XRT), WBMX-FM (104.3 JAMS), WUSN-FM (US99), More
Advertisement


iHeartMedia and NBA Team Up for New Slate of Podcasts
iHeartMedia and the National Basketball Association (NBA), today announced a multi-year podcast partnership, which will feature the launch of more than 20 new iHeartRadio-NBA co-produced podcasts. The new slate of NBA podcasts will be distributed More
Mark Elliott Joins Local Radio Networks as Fill-in Host
Mark Elliott, who handles mornings for WLXT (Lite 96.3) in Petoskey-Traverse City, MI, joins Local Radio Networks as a fill-in host. Elliott will be working with various formats in the Local Radio Networks realm starting this weekend. "I've worked More